Amma Sri Karunamayi Visits Melbourne, Australia

Friday, October 20, 2017 at 7:00 PM

-

Sunday, October 22, 2017 at 3:00 PM (AEDT)
Event Details
ABOUT AMMA SRI KARUNAMAYI
Revered around the world as an embodiment of divine, unconditional love Her Holiness Amma Sri Karunamayi is a living saintly mother from India.  From her childhood, Amma's innate compassionate nature earned her the nickname 'Karunamayi' which means 'the compassionate one.'  Later in her teens, Sri Karunamayi left the comfort of her family's home to spend the next 12 years of her life immersed in deep meditation in the remote forest of Penusila Kshetram, Andhra Pradesh, India.  At the end of this inward period, Amma Sri Karunamayi began her external mission of alleviating the suffering of humanity and spreading compassion and peace around the world.
DIVINE DISCOURSE, INDIVIDUAL BLESSINGS, & SACRED FIRE CEREMONY (HOMA)

We are very pleased to announce that Amma Sri Karunamayi will be visiting the Melbourne area for three days of public programs, all free of charge and open to people of all faiths. The Divine Discourse program will take place at the Fitzroy Town Hall. Individual Blessings will take place at the St Kilda Town Hall. The Sacred Fire Ceremony (or Homa) program with take place at the Sri Durga Temple, Rockbank.
DIVINE DISCOURSE & MEDITATION FOR PEACE
Amma Sri Karunamayi will inspire us with a public talk and short group meditation for world peace on Friday October 20th, from 7 PM to 9 PM at the Fitzroy Town Hall.  Amma's talks are given in English and focus on the essential human values and the timeless truths that are the foundation of all religions and transcend race, culture and gender.  But more than that, simply being in Sri Karunamayi's presence and feeling Amma's unconditional motherly love can transform our lives, open our hearts and heal our souls.  All are welcome to attend this special engagement with a true saintly mother from India.
INDIVIDUAL BLESSINGS AND SARASWATI DIKHSA
Amma will be giving individual blessings in the Melbourne area on Saturday, October 21st from 11 AM onwards (concluding approximately at 5 PM) in the St Kilda Town Hall. All Individual Blessing programs are free and open to everyone. This is a very special opportunity for you to meet one-on-one with Amma and convey any specific questions, concerns, or blessing requests to her. (Please note: that each person may only receive one individual blessing).

Individual Blessings are a chance for families to come before Amma to receive her gift of profound love and spiritual energy. Amma considers all of creation as her own family and all beings as her very own children. This divine motherly love inspires Amma to tune in directly to the specific requests her children bring to her. Individual Blessing programs are free and open to everyone. This is a very special opportunity for you to speak one-on-one with Amma and convey any specific questions, concerns, or blessing requests to her.
For many people the Individual Blessing is an encounter with the Divine in the form of a human being – a saint, a teacher, a spiritual guide, a loving mother. Great peace and inner silence comes easily in the presence of our beloved Amma.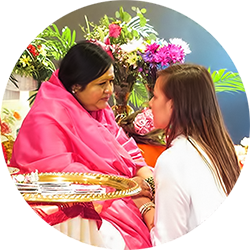 Timeless moments with Amma are extremely rare. Individuals who receive a bless with Amma have the opportunity to write down any of their concerns on an index card which Amma will read in their presence. Some people seek her words of wisdom. Some come to her to receive her spiritual touch which awakens the chakras and the higher mind and opens the heart to the path of unconditional love. Amma often blesses people's personal belongings, charging them with spiritual energy. Please bring your children and infants as they most are welcome.
Amma offers a special blessing, Saraswati Diksha, for students ages four to 24 in which she gives them a special mantra that enhances their memory skills and helps them with their studies. If you are interested, please register for this event when you check in on Blessing Day. While Blessing Day is free to all, Saraswati Diksha follows the ancient Vedic tradition where students offer their teacher a donation. Generally, this event occurs around 1 PM and 4PM.
FULL PROGRAM SCHEDULE
The Melbourne programs will also be taking place at the following locations:
FRIDAY, 20th OCTOBER
Divine Discourse and Meditation Program , 7 PM - 9 PM
Fitzroy Town Hall - 201 Napier Street, Fitzroy VIC 3065
* Limited parking - contact us for details
SATURDAY, 21st OCTOBER
Individual Blessings and Saraswati Mantra Diksha, 11 AM – 5 PM
**Doors open at 10 AM -- First come first served.
St Kilda Town Hall - 99A Carlisle Street, St Kilda, VIC 3182
More information:  Individual Blessings
SUNDAY, 22nd OCTOBER
Homa (Sacred Fire Ceremony), 10 AM – 2 PM
Sri Druga Temple    705 - 715, Neala Road, Rockbank, VIC 3335
More information:  Homa - (Sacred Fire Ceremony)


VOLUNTEERS WANTED:   For all further information, including to help prepare for Amma's visit and volunteer during the programs, and also to pre-register for Saraswati Mantra Diksha, please contact the Melbourne coordinator at: melbourne@karunamayi.org.   Contact also by phone or text message to 0490 886 215 or 0490 862 710.

We look forward to a blissful time with Amma basking in her radiant love, taking in her blessings and absorbing her Divine grace and wisdom!
To find out more about Amma Sri Karunamayi please visit www.karunamayi.org. 

Om Shanti Shanti Shanti
Lokah Samastah Sukhino Bhavantu
When & Where

VIC
Australia

Friday, October 20, 2017 at 7:00 PM

-

Sunday, October 22, 2017 at 3:00 PM (AEDT)
Add to my calendar