Description
EVENING DIVINE DISCOURSE, INDIVIDUAL BLESSING DAY, 1 DAY SILENT MEDITATION RETREAT, & HOMA (SACRED FIRE CEREMONY)
We are very pleased to announce that Amma Sri Karunamayi will be holding her Spiritual programs again this year in Cleveland, Ohio from June 20–23, 2019. The Evening Divine Discourse, Individual Blessings and 1 Day Silent Meditation Retreat will take place at the Unity Spiritual Center. The Homa (Sacred Fire Ceremony) will be hosted at a private residence (specific location information is provided below).

EVENING DIVINE DISCOURSE - (Free Public Program)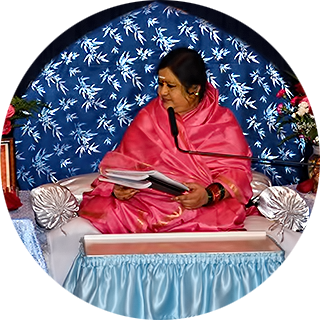 We cordially invite you to join Amma for an evening of divine knowledge and discourse in Cleveland, OH on Thursday, June 20 from 7 PM to 9 PM at the Unity Spiritual Center Westlake – 23855 Detroit Rd, Westlake, OH 44145. This talk is free and open to the public for all to attend. Participants will be spiritually nourished by Amma's serene presence, and profound divine knowledge.
This program is a wonderful introduction to Amma, her divine presence, and profound spiritual wisdom. Amma often gives her divine discourse after a brief period of meditation for world peace. The subjects include the spiritual and philosophical, as well as practical advice on developing inner purity, compassion, and how to live one's spiritual life dedicated to serving society. Darshan takes place at the conclusion of the program, and is a special time to receive the personal touch and blessings from Amma. This healing touch purifies the mind and heart, and awakens the cosmic energy within us
INDIVIDUAL BLESSING DAY - (Free Public Program)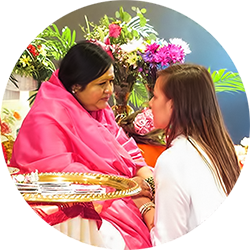 Amma will be giving individual blessings from 11 AM to 5 PM on Friday, June 21 at the Unity Spiritual Center Westlake – 23855 Detroit Rd, Westlake, OH 44145. All Individual Blessing programs are free and open to everyone. This is a very special opportunity for you to speak one-on-one with Amma and convey any specific questions, concerns, or blessing requests to her.
(Please note: that each person may only receive one individual blessing per yearly tour. First time attendees who have never received an individual blessing from Amma before will be given priority in the group).

Individual Blessings are a chance for families to come before Amma to receive her gift of profound love and spiritual energy. Amma considers all of creation as her own family and all beings as her very own children. This divine motherly love inspires Amma to tune in directly to the specific requests her children bring to her.
For many people the Individual Blessing is an encounter with the Divine in the form of a human being – a saint, a teacher, a spirutal guide, a loving mother. Great peace and inner silence comes easily in the presence of our beloved Amma.
Timeless moments with Amma are extremely rare. Individuals who receive a blessing with Amma have the opportunity to write down any of their concerns on an index card which Amma will read in their presence. Some people seek her words of wisdom. Some come to her to receive her spiritual touch which awakens the chakras and the higher mind and opens the heart to the path of unconditional love. Amma often blesses people's personal belongings, charging them with spiritual energy. Please bring your children and infants as they are most welcome.

Amma offers a special blessing, Sarawati Diksha, for students ages four to 24 in which she gives them a special mantra that enhances their memory skills and helps them with their studies. If you are interested, please register for this event when you check in on Blessing Day. While Blessing Day is free to all, Saraswati Diksha follows the ancient Vedic tradition where students offer their teacher a donation. Generally, the event ocurrs around 1:00 PM.
In India, ten of thousands of people show up for Amma's blessings. Don't miss this special, intimate opportunity to spend time in Amma's company. We look forward to seeing you there!
Please note that due to the large number of people attending this program, individuals arriving after 2:30 pm are not guaranteed an Individual Blessing with Amma.
1 DAY SILENT MEDITATION RETREAT - (Half Day options are available)


We cordially invite you to join Amma for a 1 Day Meditation Retreat in Cleveland OH, on Saturday, June 22 from 8 AM to 6 PM at the Unity Spiritual Center. All meditators, from beginners to those with an established practice will benefit from the special retreat atmosphere. The retreat is being offered so that more people can take advantage of this precious time with Amma without disrupting their busy schedules. Participants will be spiritually nourished by Amma's serene presence, silent meditations, discourses, and spiritual chanting. The retreats will provide an invaluable opportunity for devotees to deepen their meditation practice and to listen to the inspirational wisdom of Amma's divine discourses.
Please register early since these retreats tend to fill up fast. A light vegetarian lunch and snacks will be provided as part of the registration fee.
Refund Policy: Refunds can be given through June 14 (with a $15 cancellation fee). After this date no refunds can be issued.


HOMA SACRED FIRE CEREMONY - (Free Public Program)



Join Amma to participate in a Homa, a Sacred Fire Ceremony in Cleveland OH, on Sunday, June 23, from 9 AM to 1 PM. Homa is the most ancient and sacred ceremony in the Vedic tradition of Sanatana Dharma. It is a fire in which forms of the Divine are invoked through the power of mantra and profound spiritual intention. Special offerings are cast into the fire while Sanskrit mantras are chanted, and the combined energy of the fire, offerings, and mantras generates powerful spiritual vibrations that bless and purify everyone present, spreading peace and healing through the world. The smoke that rises from a homa contains a powerful healing energy, and as it rises to the heavens it purifies the atmosphere, both physically and subtly, encouraging a peaceful environment and gentle weather.
Homa sponsorships will be available at the program and can also be pre-registered online here!

---
FULL PROGRAM SCHEDULE
The Cleveland programs will also be taking place at the following dates, times & locations:
EVENING DIVINE DISCOURSE
Thursday June 20: 7 PM – 9 PM
LOCATION: Unity Spiritual Center Westlake – 23855 Detroit Rd, Westlake, OH 44145
More information: Evening Discourse
INDIVIDUAL BLESSING DAY
Friday, June 21: 11 AM – 5 PM
LOCATION: Unity Spiritual Center Westlake – 23855 Detroit Rd, Westlake, OH 44145
More information: Individual Blessings

1 DAY MEDITATION RETREAT
Saturday June 22: 8 AM – 6 PM
LOCATION: Unity Spiritual Center Westlake – 23855 Detroit Rd, Westlake, OH 44145
More information: Meditation Retreat

HOMA (SACRED FIRE CEREMONY)
Sunday June 23: 9 AM – 1 PM
LOCATION: Private Residence - 187 Windbrook Dr, Elyria, OH 44035
More information: Homa - (Sacred Fire Ceremony)
If you have any questions please contact the Cleveland co-ordinator at: Cleveland@Karunamayi.org.

We look forward to a blissful time with Amma basking in her radiant love, taking in her blessings, bhajans and absorbing her Divine grace and wisdom!
For more information on Amma's 2019 US Tour please visit: www.karunamayi.org/world-tour/north-america.

To find out more about Amma's world wide non-profit charities or to help with donations click on either of the buttons below.



Also visit our spiritual gift shop where what you buy goes to help others!


Om Shanti Shanti Shanti
Lokah Samastah Sukhino Bhavantu