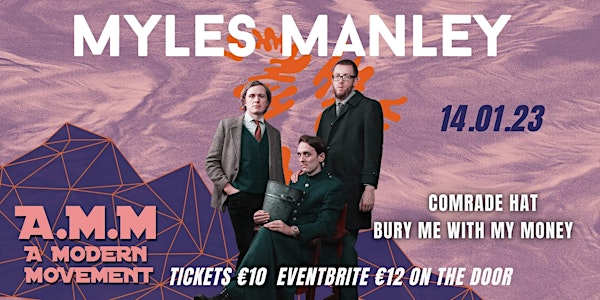 AMM # 1.5 - MYLES MANLEY, BURY ME WITH MY MONEY, COMRADE HAT.
AMM #1.5 -WE'RE DELIGHTED TO BE BRINGING MYLES MANLEY, BURY ME WITH MY MONEY AND DERRY ARTISTS COMRADE HAT, TO ARAS NA GAEL.
When and where
Location
Áras na nGael 45 Dominick Street Lower H91 E1NY Galway Ireland
Refund Policy
Contact the organizer to request a refund.
About this event
MYLES MANLEY
Myles Manley is Ireland's foremost DIY popstar, blurring lines between folksinger sincerity and conceptual art. His 3-piece band with Chris Barry and Solamh Kelly plays minimalist, rhythmically blistering rock music in pop-size chunks, à la an hibernian Wire or latter-day Micachu and The Shapes.
Praise for Myles Manley's Cometh the Softies (2020)
The Quietus: "Brimming with plenty of pop sensibilities as hooks abound, [Cometh the Softies] is an album that deserves the listeners undivided attention ... thought-provoking, sincere, biting and wildly funny" (album review)
Clash Magazine: "[Cometh the Softies] is a remarkable document, with his left-field pop and multi-faceted lyricism - often allowing the personal and political to intersect - working on a variety of different levels. Indeed, Myles' free-thinking stance puts us in mind of Richard Dawson - not sonically, but more in the sheer independence running through their work" (music video premiere)
The Irish Times: "Highlighting topics such as gender, individualism, acceptance and disrespect, Manley is adept at laying bare evident inequities. Factor in the buoyant rumpus of the music and you have an end-of-year album for all seasons" (album review)
The Thin Air: No. 5 in top 50 Irish releases of 2020
"Cometh the Softies is a worthy and well overdue full length debut from one of the country's most unique artists" (album review)
Jersey Beat: Paul Silver's top 25 records for 2020
"This is one of the most unique, fascinating, and fun records I've heard this year" (album review)
MYLES MANLEY - CINEMA/MILD MANNERS.
BURY ME WITH MY MONEY
Bury Me With My Money are an extraordinary, electronic rock foursome from the west of Ireland. Singer-songwriter Tomás Concannon plays synths and fronts the group, backed up by producer and bassist Joseph Padfield, known himself as the man behind math rock group Bannered Mare. On drums is Adam Downey who is also the percussionist for the folk artist Tracey Bruen and on guitar is the youngest member of the band, Oisin Brennan.
COMRADE HAT
Comrade Hat is the songwriting arm of Derry-based multi-instrumentalist/composer Neil Burns. With a background in Classical composition and jazz, a large back catalogue spans acoustic, electronic & experimental work. Steadily building a cult following, he has found critical acclaim for his music, which is equal parts lounge lizard, soul searching balladeer and cosmic adventurer.
Comrade Hat has featured regularly on national radio, North and South, with live appearances as far away as Canada at Canadian Music Week, while sharing bills with the likes of O Emperor, the Bonk and Robocobra Quartet at home. He was invited to perform with a string quartet at the 2019 Toronto Summer Music Festival, has collaborated with Phil Kieran and the Ulster Orchestra (2018) and artists including cult Canadian guitarist/songwriter Thom Gill (Bernice, Martha Wainwright, Knower, Chaka Khan).