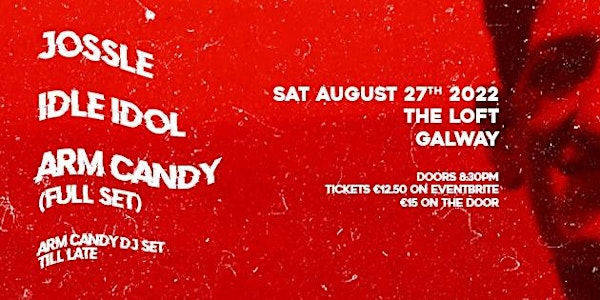 AMM #10 - JOSSLE, IDLE IDOL AND ARM CANDY.
A Modern Movement #10 is bringing back Galway act JOSSLE for a show in SEVEN, joined on the night by, Idle Idol , Arm Candy.
When and where
Location
Seven Bridgestreet 5-7 Bridge Street H91 A588 Galway Ireland
About this event
A Modern Movement are delighted to present our 10th club night, and this time we're bringing you a night of hip hop, alternative emo garage, and alternative indie with a line up made up of acts from both Dublin and Galway.
Headliners on the night is Galway's JOSSLE-
JOSSLE -
Jossle is the indie passion project of singer-songwriter and producer Joshua O'Leary. From his bedroom in his hometown of Kinsale, Joshua began writing and recording his own music under the alias "Jossle" during the Summer of 2019. Taking inspiration from folk, indie and pop music Joshua combines classical guitar, sampled drums and synthesizers to create an interesting and textured sound. With the successful release of his debut single "Garden Couch" along with supporting bands such as Fizzy Orange, Houseplants and NewDad, Jossle is carving out his own space in the Irish indie music scene."
JOSSLE - ALL MY PLANTS
IDLE IDOL
Idle idol are a double lead singer fronted indie rock band made up of a perfect cocktail of pretentious galwegians, crusty dubs and one balding limerick man with a sound that combines fuzzy britpop-esque tunes with new wave sensibilities. New on the scene and fresh off the back of their first two gigs being sold out, they're excited for what's to come.
ARM CANDY -
ARMCANDY are an Irish hip-hop collective bidding goodbye to Earth in search of the sweetest audible candy in the galaxy, taking their audience along for the voyage. Formed in 2017 as a beatmaking project, ARMCANDY stepped up to the foreground in 2020 when they found an old Mars commercial that stated 'the best candy on earth comes from Mars'.
With the addition of Galway powerhouse rapper, producer, singer and actor extraordinaire IIIA, ARMCANDY had a clear vision to document their adventures through space and beam them back to earth as they went. With the release of their debut single 'Bon Bon Voyage',
ARMCANDY show they are a force to be reckoned with as IIIA boasts he 'sits on tracks so well you'd swear he was the luas!!
DJ SET - ARM CANDY TILL LATE!
Tickets available here.....
Posters by Shane Serrano @ Crude Films.