AML Challenge: Final Pitch Event
About this Event
Omfanget af byrder i forbindelse med bekæmpelse af hvidvask er stigende, så hvordan kan åbne offentlige data bruges til at lette disse byrder?
Dette er overskriften på den AML Challenge 2019, som Erhvervsstyrelsen og Partnerskabet for Åbne Offentlige Data i øjeblikket afholder. En challenge hvor både startups, professionals m.fl. har mulighed for at byde ind med løsninger der er værdiskabende for erhvervslivet. Der er deadline for løsningsforslag d. 21. november.
De bedste finalister præsenterer til finaleeventet
En vigtig del af AML Challenge 2019 er at samle erhvervslivet omkring udfordringen med øget byrder i forbindelse med hvidvask, og derfor inviterer vi dig til at være en del af finaleeventet. Vi har sammensat et program med 2 spændende keynotes samt de udvalgte finalisters præsentationer.
Finalisterne bedømmes på dagen af en kompetent jury med ekspertise indenfor AML. De to bedste løsninger honoreres med henholdsvis 40.000 kr. og 60.000 kr. til at tage idéen til det næste niveau.
Juryen
De profiler der skal være med til at bedømme løsningerne er:
Louise Buchter, Advokat, Director, Kammeradvokaten/advokatfirmaet Poul Schmith
Tony Johansen, Head of Regulatory Risk, Deloitte
Kjeld Gosvig-Jensen, Juridisk Direktør, Finans Danmark
Adam Sandenholt, Director at EY, Cybersecurity & Financial Crime

Keynotes
Bent Dalager, Equity Partner, NewTech and Financial Services Nordic at KPMG
Nicholas Meilstrup, CEO, Crediwire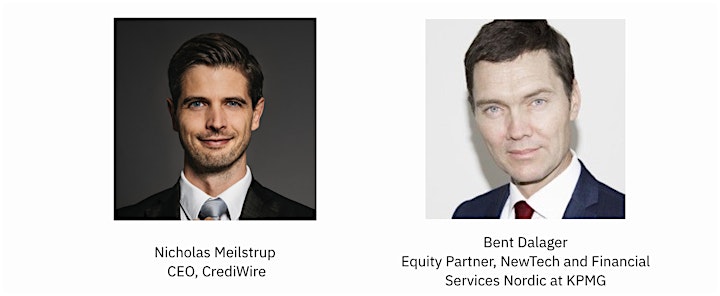 Program
15.00 - 15.15 - Ankomst, Registrering og Networking
15.15 - 15.30 - Velkommen v. Lasse Chor, Moderator
15.30 - 15.55 - Keynote: Bent Dalager, Equity Partner, NewTech and Financial Services Nordic at KPMG
15.55 - 16.30 - De udvalgte finalister præsenter deres løsningsforeslag
16.30 - 16.55 - Pause med kaffe & kage mens juryen voterer
16.55 - 17.20 - Keynote: Nicholas Meilstrup, CEO, Crediwire
17.20 - 17.30 - Juryen annoncerer vinderne af AML Challenge 2019
17.30 - 18.00 - Tak for idag og networking
Praktisk info
Lokation: IDA, Kalvebod Brygge 31, København
Tidspunkt: 15.00 - 18.00
Hvordan kan jeg deltage?
Det er gratis at deltage, men der er begrænset antal pladser, og du skal tilmelde dig her på eventbrite.
Har du spørgsmål, kan du kontakte Linda M. Pedersen på tlf +4591538873 eller på mail linda@happy42.dk
Du kan også læse mere om AML Challenge 2019 på: https://challenges.dk/da/challenge/anti-money-laundering-aml-challenge-2019