Description
AMINTA'S 8TH FAIR & EXPO UNITES BUSINESSES IN CORAL GABLES
RSVP AMINTA 305-934-4299 AmintaUnitedRealtor@gmail.com WATCH WWW.YOUTUBE.COM AMINTA'S FAIR
ENJOY A DELIGHTFUL AFTERNOON OF HORS D'OEUVRES, MUSIC, FASHION SHOW & NETWORKING AMONGST FRIENDS.
IN A LOVELY AND ELEGANT ATMOSPHERE YOU WILL HAVE A DISPLAY OF BEAUTIFUL STORES WITH DIFFERENT PROFESSIONAL SERVICES , EXCLUSIVE JEWERLY, CLOTHES, ACCESORIES, ALL KINDS OF ORIGINAL GIFTS FOR CHRISTMAS OR ANY OCASSION.
MUSIC WILL BE IN THE AIR, AS WELL AS GREAT VOICES SINGING OPERA AND CHRISTMAS CAROLS.
AT AMINTA'S FAIR YOU WILL BE ABLE TO STOP AT THE TABLE " GLORY HOUSE IN MIAMI" FOR HUMAN TRAFFIC VICTIMS, SUPPORTING DOMESTIC VIOLENCE AWARENESS.
IN THE AFTERNOON YOU WILL ENJOY A FASHION SHOW FROM DESIGNER MARITZA GUEVARA TO BENEFIT THE POOR FAMILIES OF CENTRAL AMERICA.
FAMOUS PANAMANIAN ARTIST MAI YAP WILL DONATE A BEAUTIFUL PAINTING TO BE RAFFLED AT THE EVENT.
DOOR PRIZES AND MORE.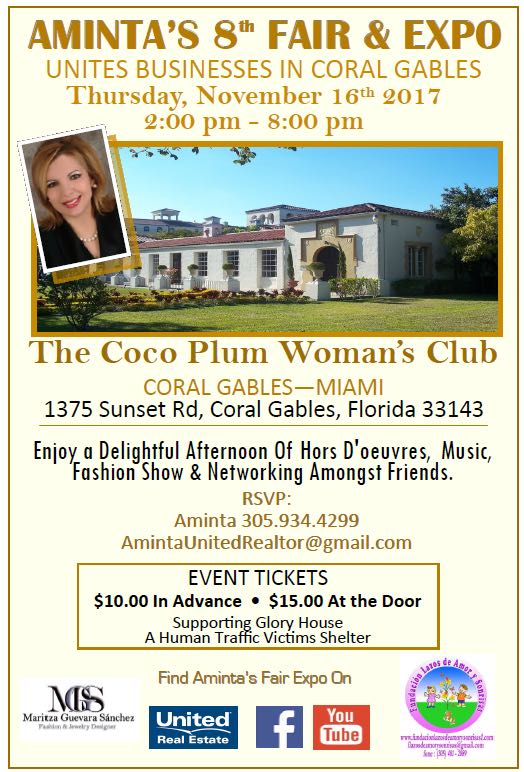 https://youtu.be/WXPM4op1BEI