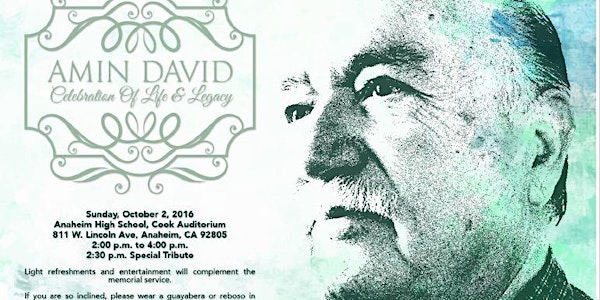 Amin David - a Celebration of His Life, His Journey, and His Legacy!
Location
Anaheim High School
Cook Auditorium
811 W. Lincoln Ave, Anaheim 92805
Description
AMIN DAVID - A Celebration of His Life & Legacy!
Please join us to celebrate Amin's incredible life, his journey, and his legacy!
WHEN: Sunday, October 2, 2016 - 2:00 p.m. to 4:00 p.m. - 3:00 p.m. Special Tribute
WHERE: Anaheim High School, Cook Auditorium, 811 W. Lincoln Ave., Anaheim, CA 92805
HOW: If you can, we ask that you wear a Guayabera or rebozo in honor of Amin!
WHAT: At the event, you will have the opportunity to write a personal note or record a brief video message that will be shared with Amin's family.
Light refreshments and entertainment will be provided to complement this celebration.
We look forward to seeing you, your loved ones and friends!
¡Nos Gusta Ayudar!
LOS AMIGOS OF ORANGE COUNTY


PLANNING COMMITTEE
Dr. José Moreno, President Teresa Mercado-Cota
Sandi Aduna Alfredo Amezcua
John Ayala Francisco "Paco" Barragán CPA, CIA
Dr. Alejandro González Arturo Montez
Dr. Richard Ramírez

EVENT CO-SPONSORS:
Anaheim Municipal Employees Association (AMEA)
Anaheim Union High School District
BROS Anaheim HS
CAIR
Centro Cultural de México
CLUE - Clergy &Liturgy United for Economic Justice
CROWN Anaheim HS
Cypress College
Fullerton College
Hermandad Mexicana
Los Amigos de Santa Ana
LULAC Anaheim Council #2848
LULAC Santa Ana Council #147
Migrant Education Program Region 9
North Orange County Community College District
OCCCO
OCCHC / Stepping Up!
OCCORD
OC Human Relations
Orange County Immigrant Youth Coalition (OCIYC)
Puente AUHSD / California
RAIZ
Rancho Santiago Community College District
Reforma OC
Relámpago del Cielo
Santa Ana College
UFCW Local 324
UNITE HERE Local 11
United Mexican-American Veterans Association (UMAVA)