Amiguitos de La Peña presents Rumi x 7 = Tales from the Masnavi

Saturday, May 4, 2013 at 10:30 AM (PDT)
Who's Going

Loading your connections...
3 of your friends are going.
Share it to get more people on board!
Share

Sara Haughty
San Francisco, California

Luke Picard
London, United Kingdom

Rick Vespucio
Florence, Italy
Event Details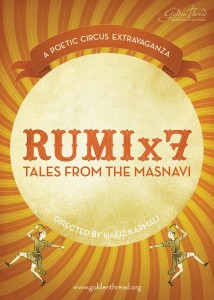 A lyrical fusion of circus arts and classical Persian poetry performed by an ensemble of actors, acrobats, dancers and musicians.
Directed by Hafiz Karmali.
Produced by Golden Thread Productions in partnership with the Islamic Cultural Center of Northern California. Funded in part by grants from the San Francisco Arts Commission, California Arts Council and the East Bay Foundation.
Golden Thread Productions proudly presents Hafiz Karmali's Rumi X 7 = Tales from the Masnavi, a poetic circus extravaganza that is both entertaining and inspiring. Seven tales by the globally admired Sufi poet Rumi selected from his masterwork, the Masnavi, are presented as fun-filled vignettes that fuse classical Persian poetry with circus arts and commedia dell arte. Performed by a seven-member ensemble of actors, acrobats, musicians and dancers, the fables include familiar tales such as The Elephant in Darkness and The Grammarian and Boatman, as well as lesser-known gems; together they celebrate the cycle of life and humanity's universal bond. Originally performed in the mountains of Northern Pakistan and subsequently in a mosque courtyard in Tashkent Uzbekistan, Rumi X 7 = Tales from the Masnavi premiered in the US in November 2011 and is slated to tour in spring and fall 2012.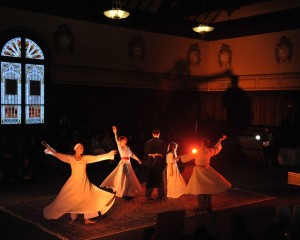 Rumi comes to life as never before through this lively adaptation of one of the world's greatest poets in Rumi x 7= Tales from the Masnavi. Rumi's timeless tales explore the ties that bind human kind to the natural world, to their dreams and to their infinite potential. Seven breathtaking vignettes fuse classical Persian poetry with a dazzling panorama of circus arts and commedia dell arte. Let your imagination soar through this awe-inspiring journey that celebrates the cycle of life and humanity's universal bond.
With Rumi X 7 = Tales from the Masnavi Golden Thread embarks on a ground-breaking program to create innovative professional performances based on Islamic arts and ideas presented in an eclectic style fusing eastern and western traditions. Offering youth and families an opportunity to experience Islam in an inspiring and entertaining way, Golden Thread aims to provide the general public alternative images of Islam while providing the Muslim community self-affirming narratives that help connect the younger generation with their heritage's playful side. Rumi X 7 is the first play in a new series, Islam 101, designed to educate the public about Islam through theatre. Director Hafiz Karmali has undertaken the development of this series which will first and foremost explain the emergence of Islam as an Abrahamic faith that is the third dimension of what until now has been exclusively known as the Judeo-Christian tradition. Karmali has a special interest in cross-cultural performances with a view to showcasing indigenous performing arts of the Islamic world. He began his tenure at Golden Thread in 2006 directing the US premiere of Island of Animals based on encyclopedic writings by Ikhwan al-Safa (Brethren of Purity, a group of Muslim scholars). In addition to Rumi x 7, Karmali directed Tawfiq al-Hakim's War & Peace at ReOrient 2012, and the world premiere of Night Over Erzinga, by Adriana Sevahn Nichols in 2011 at Golden Thread Productions.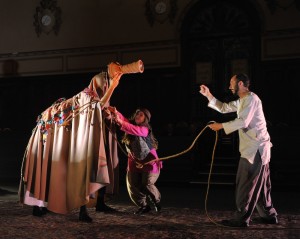 RUMI'S MASNAVI is widely recognized as one of the greatest collections of Sufi poetry ever written and is revered throughout the Middle East and around the world as the Quran in Persian. The thirteenth-century Sufi poet Jalal al-din Rumi composed this edifying work for the benefit of his students in the order named after him, popularly known as the whirling dervishes. In order to convey his message of divine love and unity he threaded together entertaining stories and allegorical homilies. Drawing from folk tales as well as sacred history, Rumi's poetry is often comic as well as spiritually profound. The Masnavi was composed during the final years of Rumi's life. He began dictating the first book around the age of 54 circa 1258 and continued composing verses until his death in 1273. The sixth and final book would remain incomplete.
Background information about Golden Thread Productions
Golden Thread Productions is a nationally recognized non-profit organization acknowledged as the leading theater company devoted to Middle Eastern voices and experiences. Founded in 1996 by Torange Yeghiazarian, Golden Thread's mission to give voice to Middle Eastern writers is a national treasure, made more urgent and vital given current events in the Middle East.
For 15 years, Golden Thread has pioneered the field of Middle Eastern-American theatre. The organization's mission is to make the Middle East a potent presence on the American stage and a treasured cultural experience. Through its work, Golden Thread aims to create a world where the common human experience supersedes cultural and political differences. To that end, Golden Thread has supported countless Middle Eastern artists in all phases of their careers. From live performances to educational outreach, Golden Thread plays a vital role in the production of original stories about topics rarely explored on the American stage.
In 2008, Golden Thread launched a multifaceted Education program. The main elements are: Theatre Curriculum inspired by Middle Eastern Arts & Literature; Teaching Residencies; Student Matinee Performances of Main Stage Productions; and the Fairytale Players: Inspired by popular performance traditions in the Middle East the Fairytale Players employ epic story-telling, physical theatre and circus arts techniques in creating performances based on stories from the Middle East.
Artist Biographies
Hafiz Karmali (Director) most recently directed the highly acclaimed world premiere of NIGHT OVER ERZINGA by Adriana Sevahn Nichols in San Francisco. Other Golden Thread credits include: three new plays at the ReOrient Festival in 2009: ABAGA by Torange Yeghiazarian; A MARRIAGE PROPOSAL (Egyptian Chekhov) and THE REVIEW (via "skype") both by Yussef El-Guindi; as well as in 2006, the Ikhwan al-Safa's fable ISLAND OF ANIMALS. Hafiz has a special interest in cross-cultural performances with a view to showcasing indigenous performing arts of the Islamic world. With theatre productions of esoteric/mystical fables such as Attar's CONFERENCE OF THE BIRDS (Ismaili Centre, London) Hafiz seeks to promote a better understanding of the arts and ideas of the Muslim world. To this end, he has directed AZAAN – A COURT ENTERTAINMENT in collaboration with performers from Ismaili communities in London and Tajikistan (Guest of Honor: His Highness the Aga Khan); Rumi x 7 – Tales from the Mathnavi sponsored by the EEC with an acting company in Uzbekistan; Water for Life, AKF London, in collaboration with a dance company from Gujarat ; and with folk artists of Karimabad, Hunza, Legend of the Baltit Fort. More recently, Hafiz co-wrote and directed ALI TO KARIM – A Tribute to the Ismaili Imams, an international touring theatre production. After pursuing his MFA in Directing at Carnegie-Mellon University, Hafiz served an apprenticeship at the American Repertory Theatre where he assisted internationally renowned directors Robert Wilson and Andrei Serban. While at the A.R.T, Mr. Karmali was a teaching fellow in the English Department at Harvard University for courses taught by Professor Robert Brustein. A recipient of an AKF Scholarship, Hafiz spent one year conducting research in Iran and is currently based in Paris where at École Pratique des Hautes Etudes (Sorbonne) he is finalizing his doctorate thesis on classical Ismaili philosophy.
Torange Yeghiazarian (Dramaturg, Producer) is the Founding Artistic Director of Golden Thread Productions, where she has devoted her professional life to exploring Middle Eastern cultures and identities through theatre arts. In this capacity, Torange launched, ReOrient, an annual festival of short plays showcasing alternative perspectives of the Middle East. Torange's latest play, 444 Days received a staged reading at Golden Thread in 2011. Her play Call Me Mehdi is included in "Salaam.Peace: An Anthology of Middle Eastern-American Drama" published by TCG in 2009. Other plays include Waves, Dawn at Midnight, Behind Glass Windows, Abaga, and Publicly Resting. Torange's articles on contemporary theatre in Iran have been published in American Theatre Magazine and Theatre Bay Area Magazine. In 2008, Torange adapted the poetry of Simin Behbehani to the stage in I Sell Souls. In 2007, she collaborated with Iranian, Israeli and American artists on creating Benedictus. Other directing credits include A Girl's War by Joyce Van Dyke, Nine Armenians by Leslie Ayvasian, Tamam by Betty Shamieh, Three Stops and Scenic Routes by Yussef el Guindi. As a teaching artist, Torange has taught playwriting to at-risk youth and led acting and play development workshops for youth and adults at Golden Thread. Born in Iran and of Armenian heritage, Torange holds a Master's degree in Theatre Arts from San Francisco State University.
Jesse Brownstein (Stage Manager) served as assistant stage manager for Golden Thread's West Coast premiere of Yussef El Guindi's Language Rooms last fall, and is pleased to be working with them once again for Rumi x 7. In addition to Golden Thread, Jesse has worked with other renowned Bay Area theatre companies such as Shakespeare Santa Cruz, Porchlight, College of Marin and the San Francisco Mime Troupe, where he is currently an Emerging Artist in Residence. As a graduate student at SF State, he studies playwriting and English with the hope to go on and earn a PhD in dramatic literature.
Jim Cave (Lighting) recently designed Night Over Erzinga for Golden Thread. Other designs include The Soldier's Tale and The Eccentricities of a Nightingale for the Aurora Theatre and The Islanders and Olive Kitteridge for Word for Word. He directed and designed The Residents' musical extravaganza Sam's Enchanted Evening and will be directing Erling Wold's opera Certitude and Joy, the prayer of a mother on drowning her three children in the bay, at Bindlestiff Theatre in March. He is the Stage and Production Supervisor for the Laney College Theatre.
Jamie Coventry (Ensemble) Raised in central California by a family of eccentrics, Jamie studied theatre arts in Santa Fe, music in San Luis Obispo and education in San Francisco. Clowning seemed like the next logical step, so Jamie completed two years of study at the Clown Conservatory at San Francisco Circus Center. Jamie has traveled the globe performing and teaching music, theater, and clown, and believes that education through art can change the world. He has worked with Flynn Creek Circus, Circus of Sound, New Pickle Circus, The Pickle's School Tour, and is one half of the award winning clown duet, Coventry and Kaluza.
Laine Forman (Education Coordinator, Ensemble) is a San Francisco-based artist and educator. For the last ten years, she has been developing and teaching theater-based educational curriculum utilizing the tools of performance to the task of consciousness-raising and the methods of education to the challenges of cross-cultural understandings. Her extensive teaching background has led her to work with a variety of populations from preschoolers to at-risk youth, prison inmates to educators. She is currently completing her masters in Expressive Arts in Conflict Transformation and Peace building from the European Graduate School.
Aylin Guvenc (Ensemble) born and raised in Turkey is the progeny of a Turk and a Texan (who auspiciously fainted during a whirling dervish ceremony in Konya before Aylin's birth). Once an angst-filled performer in New York City, Aylin weathered four bumpy years at Sarah Lawrence College during which she transformed college flora in the name of performance and installation art. In her spare time, between instigating and collaborating on art-making schemes, she obtained an MA in Special Ed. She has never kept good records, and still believes the process can be more interesting than the product.
Taylor Gonzalez (Sound Design), a 22 yea- old student studying theater at Laney College. This is Taylor's first show with Golden thread productions. This past summer he traveled to Edinburgh, Scotland with the Fusion Theater Company to perform "Polaroid Stories" by Naomi Iizuka in the Edinburgh Festival Fringe as a sound designer.
Mahsa Matin (Ensemble) is a living cartoon character. Her comedy is reminiscent of the golden age of silent films, with a touch of breakdancing thrown in. Mahsa is thoroughly musical, playing trombone, trumpet, and various percussion contraptions in performance. Her physicality is playful and vibrant. She can often be seen high in the sky performing on stilts, or playing trumpet atop her eight-foot unicycle.
Aliah Najmabadi (Ensemble) is a performer and scholar of Central Asian dance. Aliah holds a Master's degree in Performance from the University of London and B.A.'s in World Arts and Cultures & Iranian Studies from UCLA. Locally, Aliah performs with Ballet Afsaneh for which she served as assistant director from 2005-2006. Aliah first worked with Hafiz Karmali in Golden Thread's production of Island of Animals and is now excited to be a part of this multi-talented cast which includes her husband, Maruf Noyoft. Aliah thanks cast & crew for lovingly including their young son, Shams in the creation of Rumi x 7.
Maruf Noyoft (Ensemble) is a native of Tajikistan. He holds BA degree in music from Tajikistan's University of Art and Culture. Since childhood Maruf has had a love of music, theater and film. Maruf first began acting for Tajik TV and has since transitioned to his working behind the camera as a freelance filmmaker. Maruf is happy to be once again on the stage with such a creative cast and crew and is honored to be a part of Rumi x 7 because he admires Golden Thread's pursuit to bring to the stage his shared culture to American audiences.
Ninva Warda (Costumes) comes from an Interior Design background. she has been involved with art and design all her life. Rumi X 7 is her fourth attempt at Costume Design but, first time working with Golden Thread Productions. Ninva has a passion for all forms of art and literature: dance, theatre, music and poetry. She is always inspired and energized working with talented people and fascinated by the magic of theatre!
Daniel Yelen (Props) has been props master for Donld Pippin's Pocket Opera, Lamplighters Music Theater, and the San Francisco Mime Troupe. His costumes have appeared on the boards of Masquers Playhouse, Curtain Theater, and the San Francisco Free Civic Theater. He fancies himself an actor as well, and is currently enjoying the role of Dr. Chasuble in The Importance of Being Earnest, produced by the 16th Street Players. His next appearance will be in The Gondoliers, arguably the finest operetta in the Gilbert and Sullivan canon.
Have questions about Amiguitos de La Peña presents Rumi x 7 = Tales from the Masnavi?
Contact La Peña
When & Where

La Pena Cultural Center
3105 Shattuck Ave.
Berkeley, CA 94705


Saturday, May 4, 2013 at 10:30 AM (PDT)
Add to my calendar
Organizer
La Peña
La Peña is a community cultural center with a national reputation and a global vision that promotes peace, social justice and cultural understanding through the arts, education and social action.

As a welcoming gathering place, La Peña provides opportunities for artists to share diverse cultural traditions, to create and perform their work, and to support and interface with diverse social movements.

Annually, La Peña presents over 200 events with emerging and established artists; organizes an arts education program; produces new works by local artists, presents internationally and nationally renowned artists, and houses a Latin American cafe which complements the organization's mission.
Amiguitos de La Peña presents Rumi x 7 = Tales from the Masnavi