Event Information
Location
Easton's Beach
175 Memorial Blvd
Newport, RI 02840
Description
The Amica Newport Marathon will take place on October 13, 2019 and feature all of the beauty and grandeur the City By The Sea has to offer. The course is simply astounding: winding ocean-side roads, miles of waterfront views, and sweeping vistas of the grand mansions along Bellevue Avenue.
The race will begin at 7:30 AM in Newport, Rhode Island and travels through the city, as well as neighboring, Middletown. The race will utilize a USTAF-certified course and can be used as a qualifier for the Boston Marathon and all other major marathon events.
2019 Medals & Athlete Shirts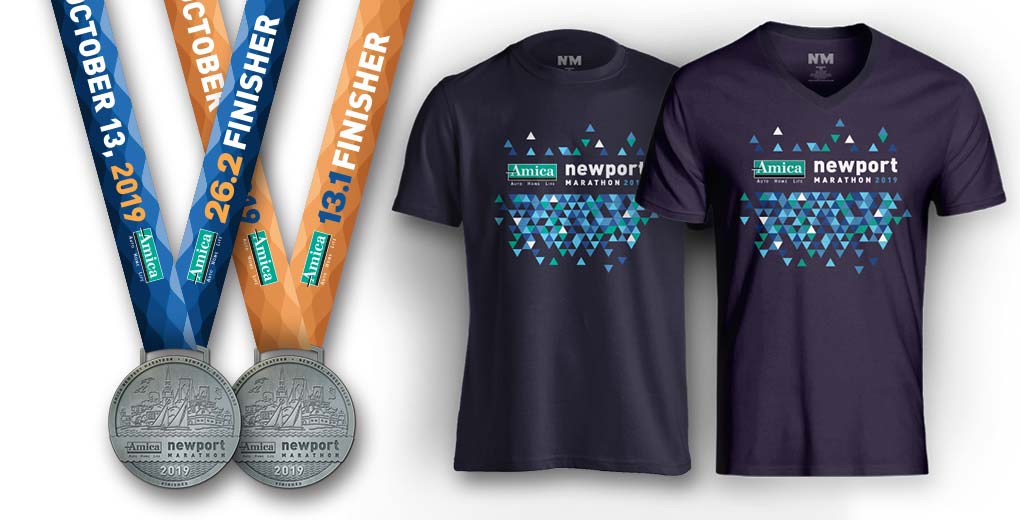 Award Winning Race
The Amica Newport Marathon was voted as the "Best Marathon in Rhode Island" and a "Top 20 Half Marathon in the USA" in 2018. In 2016 the race was voted as the "Best Half Marathon" and "Best Race Swag" in the Northeast by Competitor Magazine. The event has a set capacity so be sure to register soon to secure your spot at the starting line in October!
Contact Us:
For more information please visit www.newportmarathon.com
Facebook Page
Twitter Page
Instagram Page
REFUND POLICY - 45 DAYS
Absolutely no requests after: August 30, 2019


Registered runners may request a full refund of their paid fee up to 45 days prior to the event. No refunds will be granted in the final 45 days before the event. Please contact us about refunds at info@graymattermarketing.com.


REGISTRATION TRANSFERS - ONE WEEK
Absolutely no requests after: October 6, 2019


A request must be sent no later than one week prior to the event by the runner who purchased the registration with the name, address, email, gender and date of birth of the runner taking their place to info@graymattermarketing.com. A registration transfer processing fee of $25 will be incurred.


DEFERRALS - ONE WEEK
Absolutely no requests after: October 6, 2019
A deferred registration is $40. Those who request to defer to the following year will be provided with a registration link and instructed to register their deferral as soon as possible through Eventbrite.com. Upon receiving a confirmation email after registering the deferral, they will be registered for the coming year's event and it will require no further action. Contact us at info@graymattermarketing.com to request a deferral.

Location
Easton's Beach
175 Memorial Blvd
Newport, RI 02840