Amherst Slow Art Day - Mead Art Museum at Amherst College - April 12, 2014
Description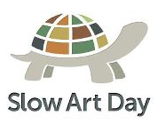 Mead Art Museum at Amherst College
Art viewing: 11:00 AM - 1:00 PM
Refreshments: 1:00 PM - 2:00 PM
Cookies and tea in the Mead's historic Rotherwas Room
Host: Wendy Somes
Email: wsomes@amherst.edu
Slow Art Day is a worldwide celebration of art that encourages people to look at art SLOWLY – and thereby experience art in a new way. You can see more about Slow Art Day and the mission behind it on our website: http://SlowArtDay.com.
As Slow Art Day approaches, you'll hear from your host with more information, as well as instructions about what to do when you arrive for Slow Art Day.
More info about Slow Art Day movement: facebook | twitter | tumblr
Organizer of Amherst Slow Art Day - Mead Art Museum at Amherst College - April 12, 2014
Named for its founder, William Rutherford Mead (an 1867 graduate of Amherst College and a partner in the storied architectural firm of McKim, Mead & White), the Mead holds the art collection of Amherst College, celebrated for its American and European paintings, Mexican ceramics, Tibetan scroll paintings, English paneled room, ancient Assyrian carvings, Russian avant-garde art, West African sculpture, and Japanese prints.
With an active program of free exhibitions and events, late-night open hours, and a museum shop-café, the Mead is a must-see attraction in Western Massachusetts.