Description
Join the AMG Unmanned Vehicle Group for fun and informative fly time at the Piedmont Dragway in Julian NC.
Fee is $5 (plus Eventbrite fee) per person. Register for ticket via Eventbrite and bring that ticket with you.
This is a fundraiser for the group's upcoming STEM Medical / EMT Delivery Assistance Drone Project.
5 Reasons to Attend:
Family friendly event for new and seasoned pilots, and for those who just want to learn more.
Learn and be educated about flying your drone safely and within FAA Regulations.
The dragway location is wide open and and awesome place to fly!
Witness various flights including drone racing, First Person View (FPV) planes and more.
Help fund STEM events in our community!
What you should bring:
Your small electric RC plane, helicopter, multirotor or car. Or there will be some on hand for you to try.
Charged battries
A lawn chair
5.8 GHz FPV equipment is allowed, but must be approved when you check in.
Date & Time:
Saturday, 9/22
10am – 1pm (weather permitting)
Location Details:
Piedmont Dragway
6750 Holts Store Road
Julian, NC 27283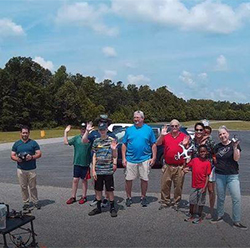 The AMG Unmanned Vehicle Group meets the 1st Thursday of each month at 7pm, at Steam Junction in downtown Burlington. Open to AMG members and their guests. Anyone can be our guest for a meeting or two.
Join Alamance Makers Guild to take place in any AMG interest group meeting throughout the year and support STEM education in the community. > > > > alamancemakers.org.