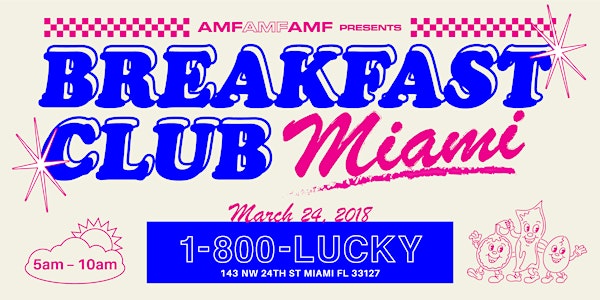 AMFAMFAMF Presents... Breakfast Club Miami
When and where
Location
1-800-Lucky 143 Northwest 23rd Street Miami, FL 33127
Description
AMFAMFAMF PRESENTS BREAKFAST CLUB: AN EARLY MORNING AFFAIR DURING MIAMI MUSIC WEEK HOSTED BY DESTRUCTO WITH A SURPRISE LINE-UP
DATE: SATURDAY, MARCH 24, 2018 5:00AM - 10:00AM
VENUE: 1-800-LUCKY IN MIAMI'S WYNWOOD ARTS DISTRICT
DESTRUCTO will host the early morning party stacked with surprises.
The 21+ party will kick off at 5:00am and stretch past sunrise to 10:00am.
Breakfast will be availabe for purchase.
www.AMFAMFAMF.com
Friends - We are excited to start our next adventure together. We'll watch the sun come up in Miami on March 24th, from 5 AM - 10 AM. I'll play some tunes with some of my best friends. Some of them will come by just to hang out and have fun with all of us. Some of your best friends will be there too. You'll even make some new friends along the way. Looking forward to seeing everyone soon!