Description
Join AmeriCorps Alums and The Heller School at WorkBar for a fun night of socializing and networking.

Learn more about the partnership in which The Heller School has invested $1M in exclusive scholarships for AmeriCorps Alums. Through the National Service Scholarship Program , the Heller School seeks to recognize the contributions AmeriCorps Alums have made to civic engagement and the greater good through service to communities across the country.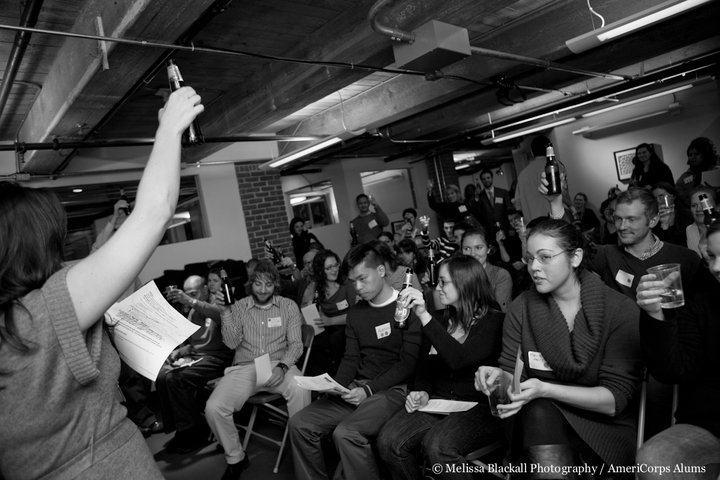 Heller School faculty and staff as well as current Heller MBA and MPP students, who are also AmeriCorps Alums, will speak on two panels and share how their service experience influenced their decision to apply to the MBA in Nonprofit Management, International Development and MPP programs.

Complimentary Harpoon beer, wine and appetizers will be served.

Heller MBA / AmeriCorps Alum Panelists

* Andrea Shaye – Heller School MBA '11, City Year Washington, DC '05
Andrea Shaye currently serves as a Program and Disability Inclusion Officer at the Massachusetts Service Alliance. At Heller, Andrea completed an MBA with a Social Impact Management concentration. In 03-04, Andrea taught Washington, DC youth to make healthy life choices as a City Year member.

* David Weatherly – 1st year MBA student, City Year Columbia 2008, 2009 and City Year staff 2009-2011

A native of South Carolina, David Weatherly is a first year MBA in Nonprofit Management student with a concentration in Social Impact Management. He served two years as an AmeriCorps at City Year Columbia, and then served as a staff member at City Year for two years. His last position was Senior Program Manager, where he coordinated the work of two teams and was responsible for implementing leadership development curriculum and training programs. David received his Bachelor of Arts in History and German from the University of South Carolina.

* Rachael Weiker - 1st year MBA/MPP student, VISTA '07
Rachael graduated in 2006 from the University of Wisconsin-Madison with a B.A. in Anthropology and Women's Studies. She then served as an AmeriCorps member with Dane County Habitat for Humanity and was awarded the 2006 title of Outstanding Young Philanthropist from the Madison Association of Fundraising Professionals. Rachael is an MBA/MPP candidate at the Heller School for Social Policy and Management at Brandeis University.

Heller MPP / AmeriCorps Alum Panelists

* Aaron Chalek – 1st Year MPP Student, focus on Healthcare Policy; VISTA '07
Aaron Chalek is a first-year graduate student at the Heller School with a concentration in health care policy and management, and is a 2012 Eli J. Segal Fellow. Before coming to Heller, Aaron worked as the Director of Operations at Progressive Business Leaders Network (PBLN). Prior to PBLN, Aaron served as an AmeriCorps VISTA member in 2006-2007 as a Development Coordinator at the United Teen Equality Center in Lowell, Massachusetts, a non-profit youth center which addresses the holistic development of "at-risk" and under-served youth. Aaron has recently held internships at the Boston office of Senator John Kerry, the Massachusetts Joint Committee on Public Health, and the Disparities Action Network. Aaron received his Bachelor of Arts in International Relations and Government from Clark University in 2006.

* Rich Sheward – 1st Year MPP student, Youth and Family Policy, VISTA '09
Richard Sheward spent a year volunteering with AmeriCorp VISTA (2008/2009) as the Program Coordinator of the Urban Environmental Health and Justice Initiative at Siena College where he implemented an environmental education-based youth development program, the 4-H Earth Clubs. The program model connected college students with at-risk Albany middle school students and provided educational activities including; urban ecology, environmental justice, civic leadership development, health nutrition, urban gardening, and ecological restoration. He most recently worked as the Development Associate for the youth development non-profit America SCORES. As an MPP candidate at the Heller School, Richard's concentration is in children, youth, and families policy.

* Laxmi Tierney – 2nd Year MPP Student, City Year Boston '06, '07
Laxmi Tierney is a student at the Heller School, earning her Masters in Public Policy with a concentration in Health Policy. She served with City Year Boston from 2005 to 2007.
The event will be hosted by WorkBar (right across from South Station) – a cool venue that supports entrepreneurs during the day, and connects like-minded professionals in the evening.

Check out the photos from last year's event (all photos by Melissa Blackall, Photographer and AmeriCorps Alumna. Check out her website here).

Reserve your spot today for the largest networking event of the year that connects AmeriCorps Alums and current members. Please spread the word to your AmeriCorps friends.

We look forward to seeing you on February 23rd!
AmeriCorps Alums Boston Board
Organizer of AmeriCorps Alums Networking Social with The Heller School
AmeriCorps Alums Greater Boston is a group of professionals with a shared passion for reconnecting to fellow alumni and a lifetime of service. We are specifically committed to and driven by our members' passions and work to support endeavors that our alums are affiliated with. Using our collective power and leadership we aim to make change through meaningful service, advocacy and social and professional development events.