Description
The Americas Member Meeting offers a consolidated place for marketing and technical personnel of member companies to learn about and act upon relevant technology initiatives, product market preparedness based on industry need, and upcoming trends and deliverables.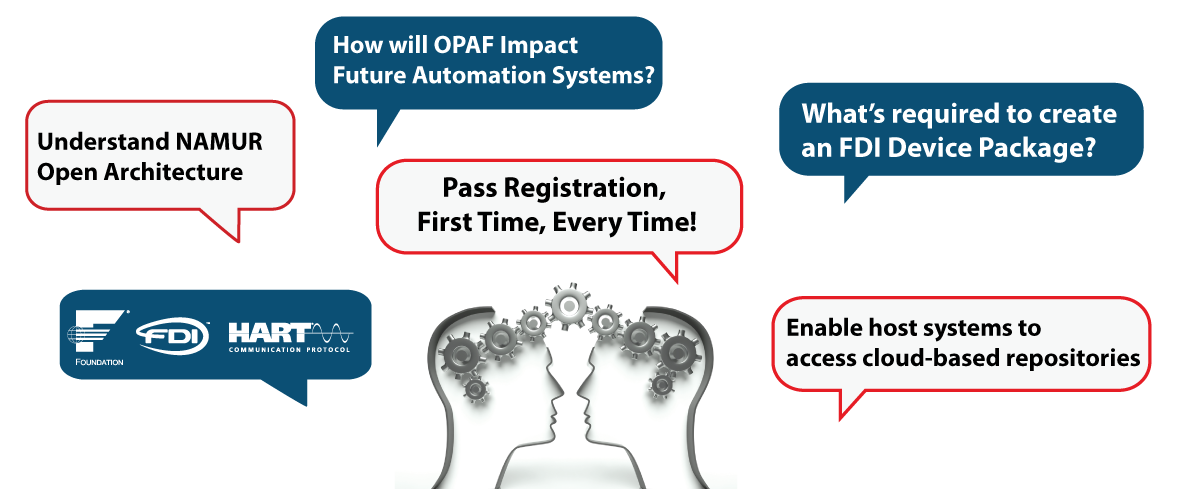 Gain valuable insights into industry direction & outlook by ARC & Putman Media

Find out specifics about FDI:

How FDI & OPC UA enable enterprise-wide analytics for better business decisions

The announcement of a new FDI IDE to replace protocol specific tools

Learn about the technology roadmap for advancements in HART and FOUNDATION Fieldbus

Receive an update of the emerging technologies Advanced Physical Layer (APL) and Process Automation Device Information Model (PA-DIM) and what this means to you

Network with FieldComm Group staff and member companies
We look forward to welcoming you at this event and please share this opportunity with your colleagues!
---
EVENT DETAILS
---
WHO: Americas-based Members of FieldComm Group
WHAT: Americas Member Experience Meeting
WHEN: April 24-25, 2019 (24th – Welcome Reception, 25th – Meeting)
WHERE: Austin, TX
COST: FREE to all Members
---
AGENDA
---
APRIL 24
Welcome Reception
6:30 - 8:30 pm: TopGolf Austin (please plan your own transportation)
Address: 2700 Esperanza Crossing, Austin, TX 78758
APRIL 25 - Crowne Plaza Austin

General Session
8:00: REGISTER
8:30: Welcome – Ted Masters
8:45: Keynote on Industry Outlook – Larry O'Brien, ARC Advisory Group
9:30: The State of Digital Transformation – Keith Larson, Putman Media
10:00: BREAK
10:30: Technology Status
FDI (Positioning within other industry initiatives e.g. IIoT, OPC UA, NAMUR, OPA) – Achim Laubenstein
−What is the status of released Hosts & Devices
−How FDI addresses cyber security & IIoT/I4.0
−Status of UIP


FF (Usability & ITK 7) – Sean Vincent

HART (HART-IP & WirelessHART) – Sean Vincent
12:00: LUNCH
Breakout Session (Business Track)
1:00: Upcoming Technologies APL & PA-DIM – Ted Masters
1:30: OPC UA/IIoT – Tom Burke, OPC Foundation
2:15: New Tooling & Online Repository Improves Business – Paul Sereiko
2:45: BREAK
3:15: New Product Registry – Talon Petty

Breakout Session (Technical Track)
1:00: Creating FDI Packages – Sean Vincent
1:45: Product Registration Case Study: Passing on 1st Attempt – Heather Whilden
2:15: Open Source Development/HART IP – Wally Pratt
2:45: BREAK
3:15: Technical Review & Demo of the Online Repository – Donny Goff

Combined Wrap-up (Track 1 & 2)
3:45: FDI Demonstration – Paul Sereiko
4:30: Training, Education & Support - Stephen Mitschke
---
HOTEL INFORMATION

---
The meeting will take place at the following hotel:

6121 North IH 35, Austin | Texas | 78752
Hotel reservation can be made at the following link: Fieldcomm Group
Our negotiated room rate is $119/night.
---
SPECIAL THANKS

---
Special thanks to the members of the North American Marketing Committee below for help with this event.