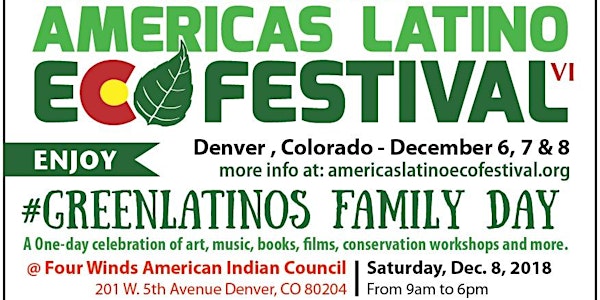 Americas Latino Eco Festival VI - FAMILY DAY
Location
Four Winds American Indian Council
201 West 5th Avenue
Denver, CO 80204
Description
ALEF 2018 CLIMATE SOLIDARITY: POWERING CULTURAL + ECOLOGICAL RESILIENCE
The region of Honor: Del Golfo al Caribe
Country of Honor: Puerto Rico
#GreenLatinos #LatinoEcoFest
The Americas Latino Eco Festival is the nation's premier, public meet up of Latino American environmental minds and a multicultural gathering place for artists, scientists, advocates, public policy leaders and community from across the Americas to discuss novel solutions to advance a healthy environment, locally and globally, through arts advocacy, education, and engagement of culturally diverse populations. This exciting festival with over 200 presenters and participants and an audience of over 3,000 has something for everyone!
#GREENLATINOS FAMILY DAY
A One-day celebration of art, music, books, films, conservation workshops and more.
Workshop River Sisters Mural by Promotores Verdes - AFC+A and Artivist Ambassador, Chicago-based Alfonso "Piloto" Nieves will facilitate a workshop to kick-off the mural project of the River Sisters Partnership in the United States. To produce a mural in 2019 with Denver artists and local community members that will serve as a visual and local community anchor to the River Sisters Partnership-US programs. The goal is for the mural itself to be a demonstration project that will initiate an artivist movement lead by Latino/Chicano/Mexican muralists in other great and growing cities that rely on the Colorado River as its lifeblood (e.g. Colorado, Phoenix, Las Vegas, Los Angeles, Albuquerque, San Diego) to help bring the Colorado River, with public art, back to the Sea and to the people of Mexico.
ART Workshops - In the leading hands of our renown clay-recycle and ceramic Artivism-Artists: Alfonso 'Piloto' Nieves & Jose Ortiz Bracamonte
#Colorado Rewild Book Fair - AFC+A's Mandel Vilar Press, annual Rewild Colorado Book Fair wiith books for everyone on themes that advance diversity and conservation in publishing. A storytelling conrner for little ones!
AFC+A & Denver Arts & Venues - Feature presentations: Series of movies and documentaries:
A Hispanic Access Foundation film presentation "Honey Milk"
Screening of "India´s Healing Forest" movie, a Nature RX message from Child and Nature Network.
Series of short EcoFilms
"Reflexion #I'mXochimilco #YoSoyXochimilco" & "Mr.Guaperrimo presents" award 'Mobilidad Sustentable'
EcoFilm 2018, Rodolfo Lionel Salinas Roca
ALEF is an initiative of Americas for Conservation + the Arts (AFC+A) and is co-presented with GreenLatinos & CREA Results in partnership with The Nature Conservancy, the U.S. Forest Service, National Latino Farmers & Ranchers Trade Association, Bonfils Stanton Foundation, the City of Denver, and Benitez Strategies.
FAQs
Where can I contact the organizer with any questions?
http://www.americaslatinoecofestival.org/contact-us
Do I have to bring my printed ticket to the event?
Yes. Space is limited. Please register to gain our #DescubreElBosque Passports for free entries with your family to different Museums and Entertainment in Denver Metro Area. Proof of registration is mandatory.