About this Event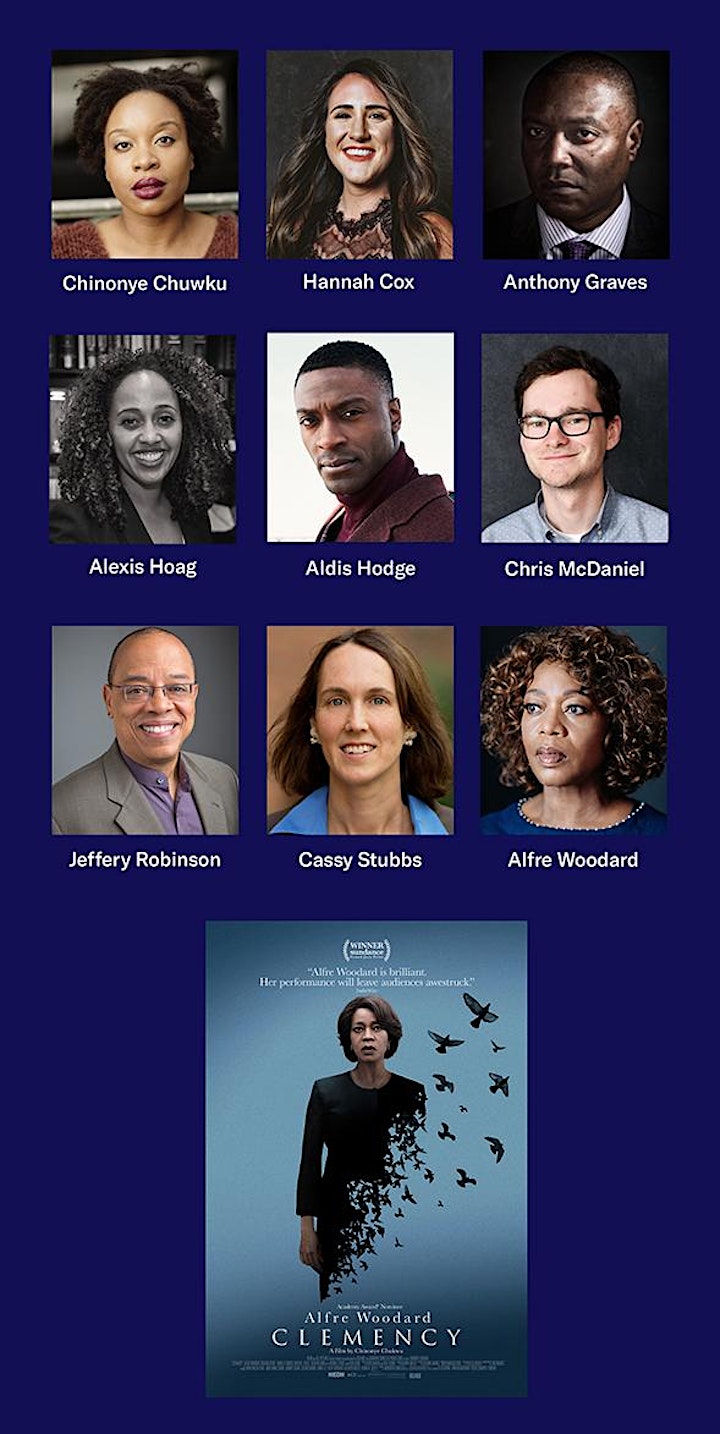 WHAT: Part of Cooper Union's Right Makes Might series, this free event will focus on why states around the nation are turning their back on the death penalty at the same moment the federal government is reinstating it.
The event will start with a five-minute clip of the Sundance winning film, "Clemency." The film, which launches on December 27, is about the emotional and psychological toll that the death penalty takes on the people forced to carry it out, especially Warden Bernadine Williams (Alfre Woodard). The clip will be followed by a short conversation with writer / director Chinonye Chukwu, as well as actors Alfre Woodard and Aldis Hodge.
They will then turn it over to a larger panel of people closest to the issue — activists, lawyers, an exoneree, a journalist — for a conversation about the current state of the death penalty in America. It will make for a spirited, educational evening.
General public should reserve a space. Please note seating is on a first come basis; an RSVP does not guarantee admission as we generally overbook to ensure a full house.
WHEN: Thursday, October 10; 6:30 - 8 pm ET (doors at 5:30)
WHERE: The Great Hall, Cooper Union, 7 East 7th Street (East Village)
WHY: The people our government kills concerns all of us
WHO:
Alexis Hoag is the inaugural Practitioner in Residence at the Eric Holder Initiative for Civil & Political Rights at Columbia University and a Lecturer at Columbia Law where she teaches a practicum on abolishing the death penalty. Hoag has spent over a decade as a civil rights and criminal defense lawyer, primarily representing capitally convicted clients in federal post-conviction proceedings. She has authored amicus curie briefs before the U.S. Supreme Court and state supreme courts in support of capitally convicted individuals challenging their sentences due to racial discrimination. Prior to the Holder Initiative, Hoag served as Senior Counsel at the NAACP Legal Defense & Educational Fund, Inc., and as an Assistant Federal Public Defender in Nashville, Tennessee, representing death sentenced individuals in federal habeas and related state court proceedings. Hoag graduated from Yale College and NYU School of Law.
Anthony Graves is an organizer, activist, author of "Infinite Hope" and U.S. Death Row Exoneree #138. He spent 18 ½ years behind bars, 16 of these years in solitary confinement and 12 years of my sentence on death row. In October 2010, all charges against him were dropped and he was set free. Prosecutors reviewing the case found not only that he was innocent, but that then prosecuting attorney Charles Sebesta had engaged in numerous acts of prosecutorial misconduct. Graves has turned the tragedy of his wrongful conviction into a fight for a smarter criminal justice system. Today Graves works in Texas, and travels around the country and the world enlightening politicians, criminal justice reform organizations, law students, and the general public about the injustices of our system and our need for comprehensive criminal justice reform.
Cassandra Stubbs is the Director of the ACLU Capital Punishment Project. Stubbs joined the project in 2006 and since then has served as lead and associate counsel on behalf of death row inmates and defendants in trials and appeals throughout the South, including Alabama, Mississippi, Louisiana, South Carolina, North Carolina and Tennessee. Her clients have included Levon "Bo" Jones, a North Carolina death row inmate who was exonerated in 2008 when the state dismissed all charges against him, and Richard C. Taylor, a severely mentally ill man who was sentenced to death after a sham trial in Tennessee, but who won a new trial on appeal and was subsequently sentenced to life imprisonment.
Chris McDaniel is the news producer at Last Week Tonight. He has reported on lethal injection for more than five years. In 2013, he revealed that Missouri was obtaining its execution drugs from a pharmacy that was not licensed in the state. In 2018, he revealed that Texas' drugs were made by a pharmacy whose license was on probation. McDaniel has reported extensively on states' attempts to illegally import lethal injection drugs, and has an ongoing FOIA lawsuit over the federal government's attempts to obtain execution drugs. Prior to Last Week Tonight, McDaniel was an investigative reporter at BuzzFeed News. He lives in Brooklyn with his dog, Ampersand.
Hannah Cox is the National Manager of Conservatives Concerned About the Death Penalty and a Newsmax Insider where she writes about criminal justice reform at her column, Life and Liberty. She previously worked as the Director of Outreach at the Beacon Center of Tennessee, a free market think tank that works on legislative reforms and public interest litigation, and prior to that she was a Policy Advocate for the National Alliance on Mental Illness. Hannah holds a degree from Belmont University and spent eight years working in Nashville's music industry before deciding to transition into advocacy.
Moderated by: Jeffery Robinson is a deputy legal director and the director of the ACLU Trone Center for Justice and Equality, which houses the organization's work on criminal justice, racial justice, and reform issues. Since graduating from Harvard Law School in 1981, Jeff has three decades of experience working on these issues as a public defender, in private practice, and at the ACLU. He has tried over 200 criminal cases to verdict, including one capital case, and has tried more than a dozen civil cases. Jeff was one of the original members of the John Adams Project and worked on the behalf of one of five men held at Guantanamo Bay charged with carrying out the 9/11 attacks. Jeff travels around the country, speaking to diverse audiences on the role of race in the criminal justice system.