Witchcraft for Social Justice in Unprecedented Times
About this Event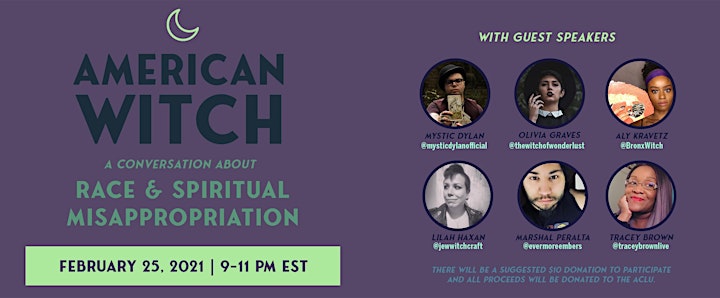 When terrorists stormed the US Capitol last month, at the center stage was the so-called QAnon Shaman.
Wearing a horned hat, fur and facepaint; adorned with tattoos of Norse spiritual symbols, he is a white supremacist who has stolen and reappropriated iconography that do not belong to him.
This is only one recent example of sacred spiritual traditions being misused for hate.
It's a frustrating feeling, seeing our culture being misrepresented-- But we can fight to take back what's ours.
The Olde World Emporium presents "American Witch: A Conversation About Race & Spiritual Misappropriation," a round table discussion headed by BIPOC practitioners. Hosted on Zoom (of course) this discourse will empower witches from all backgrounds to tackle important topics like:
-The role of witchcraft in combating white supremacy
-Witchcraft as a form of protest
-How to deal when hate groups have misappropriated symbols associated with your spirituality
-Witchcraft's colonialist history, avoiding practices not meant for you, and inspiring practitioners to create their own rituals
-How to be a better ally to witches who look and practice differently than you
The panel will culminate in an "eradicate hate" spell led by Mystic Dylan focused on manifesting social justice, equality and peace in the United States.
Guest speakers include: Mystic Dylan (@mysticdylanofficial), Olivia Graves (@thewitchofwonderlust), Aly Kravetz (@BronxWitch), Lilah Haxan or Jew Witch (@jewwitchcraft), Marshal Peralta (@talkmore_silentless), Tracey Brown (@TraceyBrownlive) and The Tan Witch (@thetanwitch)
A zoom link will be sent the day of the event.
There will be a suggested $10 donation to participate and all proceeds will be donated to the ACLU.
Located in Santa Clarita, California, Olde World Emporium is a metaphysical shoppe and community hub that celebrates diverse spiritual practices and cultures from around the globe.