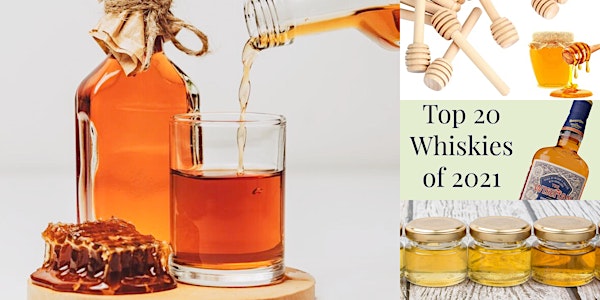 'American Whiskey & Artisanal Honey Pairing' Webinar w/ Curated Tasting Kit
Sales Have Ended
Registrations are closed
Looking to register for the replay? Visit AdventureClub.com > Virtual Events > Active Replays to browse our active replays, which expire one week after the program's original air date.
Can't make it live? Register and get access to the full replay for one week! New York Adventure Club | www.AdventureClub.com
About this event
If you think whiskey is only meant to be enjoyed in the winter, then think again! With a dollop of high-quality honey, whisky can easily be transformed into be the perfect summer spirit to keep you refreshed no matter the temperature. Believe it or not, but honey is a common tasting note found in whiskeys from all over the world; and just like whiskey, contains different varietals and flavor profiles depending on where on the planet it's being harvested. It's time to taste through five different bourbons and ryes, each paired with a local New York State varietal of honey — all from the comfort of your home.
Join New York Adventure Club for a curated bourbon and rye whiskey tasting experience that pairs a delicious and diverse selection of American whiskeys with hand-selected New York State honeys from from Tremblay Apiaries.
Led by Whisky Specialist Holly Seidewand, this interactive journey will include:
A brief overview of the history of bourbon and rye whiskey in America
A primer on how to see, smell, and taste whisky, along with some important do's and don'ts
A guided tasting of five fantastic whiskeys (see 'Whiskey & Honey Kits' section below for more details)
A curated selection of four varietals of New York State honey specially paired with a whiskey (see 'Whiskey & Honey Kits' section below for more details)
Afterward, we'll have a Q&A with Holly — any and all questions about the featured whiskeys or honey are welcomed and encouraged!
Can't make it live? Don't worry, you'll have access to the full replay for one week!
See you there, virtually!
*must be 21 or older to participate, and please drink responsibly
**Once registered, you will receive a separate, automated email containing the link to join this webinar
***For the best possible viewing experience, please ensure you're using the latest version of your internet browser — Google Chrome is the most compatible. Exact technical requirements and a webinar user guide will be shared in the automated confirmation email upon registration.
****A full replay will be available after the experience for all registered guests
WHISKEY & HONEY KITS
The Observer: $10
Admission to the webinar (feel free to bring your own whiskey and honey!)
Whiskey-Only Experience: $89 (order cut-off: 6/13)
Admission to the webinar
Small Snifter Whiskey Glass
Tasting Card
Sample #1: James E. Pepper 1776 Barrel Proof Rye
Sample #2: Kentucky Owl Wiseman Bourbon
Sample #3: Rough Rider Cask Strength Rye Whiskey
Sample #4: Leopold Brothers Colorado Bourbon Single Barrel
Sample #5: Mad River Vermont Roasted Rye (no honey pairing, but this rye is a dessert on its own with a chocolate, roasted malt profile!)
Whiskey & Honey Pairing Experience: $105 (order cut-off: 6/13)
Everything included in the Whiskey-Only Experience
4 Honey Jars
4 Wooden Spoons
1 Wooden Honey Stirrer
Honey Sample #1: Linden Honey (mint, lemon)
Honey Sample #2: Summer Flower Honey – (bright & fruity)
Honey Sample #3: Goldenrod Honey – (rich with butterscotch notes)
Honey Sample #4: Fall Harvest Honey – (nutty & robust)
*Bottles and honey are subject to change based on availability
**Price inclusive of shipping & handling
***Whiskey & Honey Kits can only be delivered to addresses in the continental United States. Kits will be scheduled for delivery roughly 10 days before the event — shipment takes up to one week depending on location within United States.
****Whiskey samples are roughly 1oz each — honey jars are 1-2oz each
About Holly
Holly became a single malt enthusiast during her time working in retail store design in New York City. Not finding an education that was fitting to further her knowledge of whisky, she created her own study program by visiting over 130 distilleries throughout the world to interview producers, evaluate whiskies, and learn everything she could about the industry.
Holly has worked at Knockdhu Distillery (anCnoc) and Gordon's Fine Wine & Spirits, and more recently held the role of North American Brand Ambassador for the Dewar's Single Malt Portfolio, which includes Aberfeldy, Craigellachie, Aultmore, Royal Brackla, and The Deveron. She has always had an affinity for the History of Scotch and Irish Whiskey and can't wait to share a dram with everyone!
You can follow her whisky journey on her blog and on Instagram @herwhiskylove.
Testimonials
"It was informative and great fun. The presenter knew her stuff." -Mary
"Holly did an amazing job of speaking to a group of people with various degrees of background knowledge. Her personable way of answering questions was impressive." -John
"I liked the topic, the obvious knowledge of the presenter, nice accompanying slides." -Marina
"So detailed and host was VERY knowledgeable! Makes me want to visit Scotland ASAP! Can't wait to attend another one!" -Matthew
"Very informative!! Holly is very knowledgeable and enthusiastic about whisky. I certainly learned a lot. Good visuals in the presentation." -Kathleen
"Very engaging presenter who was technologically competent and even managed to keep up with comments and questions during her presentation. Delicious whisky samples. Clever concept of mailing samples to taste during the webinar." -Charles
"Well done. Presenter was excellent, of course I had a number of drinks in me, so that helped." -Lawrence
"I loved Holly's knowledge and information delivery." -Pattie
"The presenter was articulate, highly knowledgeable about the topic, and very accessible and encouraging in response to questions. A+" -Judith
"Holly was extremely knowledgeable and it was super fun to drink alongside the group." -Eve
"The speaker was knowledgeable. She was a very good, clear speaker. She answered questions!" -Barb
"The variety of harder-to-find scotches was fun to try and enjoy." -Christian
"The leader was very knowledgeable. Great photos and videos." -Elizabeth
"Learned a lot about whisky. Got to sample many varieties." -Annamarie
"Very astute and knowledgeable presentation on regions of Scotland and how scotch is made. Having the scotch handy was an added plus." -Philip
"Holly shared a great amount of knowledge while keeping an entertaining pace. She was terrific!" -Cathy
"Presenter's range and depth of knowledge, presenter's presence, good screen aids." -Gy
"The Moderator had a great deal of knowledge, a good sense of humor and kept things moving along nicely." -Randolph
"Loved this - it was informative and learned about the various tasting notes for each brand of Whiskey." -Rosemarie
"Good presenter, geographic information, variety of types." -Sonia
"Knowledge Sharing with participants around the globe. Excellent presenter!" -Rose
"I love the history, photos and enthusiasm about the whiskey." -Maggie
"Great info and education; would like more detailed photos/videos of the malting and distilling process." -Samuel
"Holly was simply the best ambassador to take us on this tour of scotch whiskies." -Ana
"Holly was great. And I'm impressed that the technology worked so well. Great slide show and video." -Amy
Disclaimer
By attending a New York Adventure Club experience, you accept our terms of service.
Main Photo: Glutto Digest
Categories: Virtual, Food & Drink