Real Estate Agents: Join us to attend a very special AWI Event. Receive your AWREP Certification with 3 Hours of CE!
About this event
12:00 pm - 1:00 pm - Registration (Your registration fee includes lunch, CE credit, and a signed copy of Sean Parnell's book)
1:00 pm - 4:00 pm - AWREP Training (Approved for 3 (three) Clock Hours) - Lunch provided
4:00 pm - Sean Parnell Presentation & Veteran Giveaway Presentation
Happy Hour to Follow!!!
Fairway Independent Mortgage Corporation, through its American Warrior Initiative, invites you to attend a very special American Warrior Real Estate Professional Boot Camp, a continuing education credit class and certification event for real estate professionals.
The objective in offering the AWREP Program is to provide a platform whereby real estate professionals can be trained and equipped to handle with excellence the home purchase needs of active duty and former military clients.
The mission of Fairway's American Warrior Initiative is to educate, encourage and inspire Americans to give back to our active duty and veteran clients. A key part of this initiative is the education platform for real estate professionals. Please check out the videos on www.AmericanWarriorInitiative.com to see how AWI has changed the lives of many of the wounded heroes of America.
Immediately following the CE course, Sean Parnell will share with the audience some of his experiences while serving in the U.S. Army in Afghanistan. Captain Parnell is the NY Times best-selling author of Outlaw Platoon and a combat veteran, who penned the story of his platoon's crucible of combat in Eastern Afghanistan. Captain Parnell will be on-hand to personalize copies of his book immediately following the event.
This is a unique opportunity to become a "watchdog" for the warrior by pursuing excellence in serving the home purchase needs of military and veteran clients.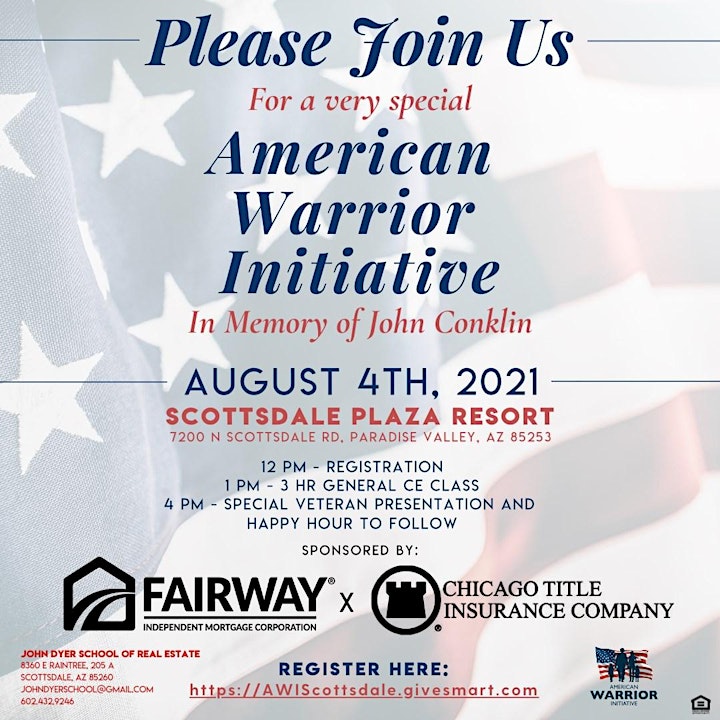 Organizer of American Warrior Initiative RE Event!