Description
Join us for a conference sharing instruction on how to contribute to your regional food supply using whatever land resources are available to you. ​Whether that's a backyard garden area or 100 acres, get the information you need to start producing local foods your way.​ Featured Speakers include:
Teddy Gentry, Country Music Legend and Cattle Breeder


Teddy Gentry, bass player for the county music group Alabama, was born and raised on Lookout Mountain in Fort Payne, ALABAMA. He, and his wife, Linda, have two children, five grandchildren, and one great grandchild. After receiving his first check from RCA records in 1980 for $61,000, he purchased 60 acres from his grandfather, which he called Bent Tree Farms. Teddy developed the South Poll breed in 1989 when he got the idea to genetically combine the best traits of our maternal Bos Taurus breeds to form a more heat tolerant animal that would work for his cattle operation. The South Poll is a four way cross of Hereford, Red Angus, Senepol, and Barzona. He wanted an animal with a gentle disposition and would produce tender beef on grass. South Poll cattle are known for their efficient size, fertility and longevity. Teddy will be speaking both days.


Ellen Polishuk, Author and Farmer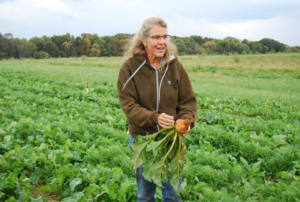 Ellen is a full time workshop leader and farm consultant. She leverages her 35 years of biological vegetable farming experience to help growers around the country to reach their farm dreams. Ellen is passionate about working with farmers to improve their soils, their labor management practices and their businesses so that they can increase farm profits and achieve a joyful balanced life. Ellen is a well-known dynamic speaker. She is very down-to-earth and can make complicated topics accessible to all kinds of listeners. Ellen was one of three owners of Potomac Vegetable Farms in Northern Virginia where she grew Ecoganic produce for 7 farmers markets, a 550 member CSA and two roadsides stands. Ellen is a co-author of the newly released book Start Your Farm. She also writes the farmer to farmer profile column for Growing For Market magazine. She lives in suburban Maryland with her husband, where she gardens like crazy.
Other Topics include:
Beginning Farming Certification Classes
Cattle Farming
Growing Elderberries
Small Ruminates
Homesteading 101
Pigs and Chickens
High Tunnels Intro/Intermediate
Beekeeping
Growing Cut Flowers
Intro to Hydroponics/Greenhouses
Farm Profits and Efficiency
And much more!