Event Information
Location
The University of Texas at Austin Thompson Center
2405 Robert Dedman Drive
Austin, TX 78712
Description
AmPA! 2016 No-Kill National Conference
There are lots of animal welfare conferences, but there is only one conference with one, single objective: teaching you exactly how to save more lives.
The American Pets Alive! Conference was started with a clear purpose. In just three days, attendees can learn what otherwise may take months or years. At AmPA!, you'll leave with detailed, proven strategies to stop killing in your community. Whether you're a shelter director or employee, a volunteer, foster or community advocate, you'll go home with the tools and knowledge to make immediate change.
Ringworm and mange? FeLV and FIV? Parvo puppies? We'll show you have to save them all. Don't know what to do with your dogs with behavioral challenges? Need help with managing seasonal or disaster related space crises? We have the answers.
Here in Austin, we have the benefit of five years of proven No Kill Success under our belts and at AmPA!, you can take our lessons learned and apply them in your own community!
---

Thank you to the Ron Fletcher Estate, Maddie's Fund (www.maddiesfund.org / #thankstomaddie) and Best Friends (www.bestfriends.org) for supporting AmPA!

Topics include. See schedule here: www.americanpetsalive.org .
– Rescuing Dogs & Cats from the Euthanasia List
– How to Start/Attracting & Retaining a Volunteer Workforce
– Managing Staff & Creating Valuable Teamwork
– Advocating for Animals to Save Lives
– The Ultimate No Kill Plan
– Working with the City Shelter to Save More Lives
– Medical & Handling Disease without Euthanasia
– How to Start & Run each Program: Parvo Puppy ICU, Bottle Baby Kittens, FeLV Positive Cats, Ringworm Ward & Feral Barn Cats
*New & Noteworthy Seminars to Follow*
Past & Present Guest Speakers Include:
– Dr. Ellen Jefferson, Executive Director of Austin Pets Alive!
– Ryan Clinton, Founder of FixAustin
– Tawny Hammond, Chief of Austin Animal Services
– Mike Kaviani, Dog Behavior Specialist
Local Accommodations:

We are pleased to present you with the Embassy Suites rate of $159 for King (sleeps up to 4 including the pull out couch) / $169 for Double (sleeps 6 including pullout couch) . You can register for the discounted rate at the link below. Please note, only service animals are allowed to due to renovations and transportation to the Thompson Conference Center will be on your own (see average ride costs here: https://ride.guru/). We will also provide list of nearby transportation options including a code for 50% off with GetMe rideshare for the duration of the conference to registered attendees: http://bit.ly/1Ug7YnJ
For budget, pet-friendly and walking distance options to the Thompson Conference Center, please see this link: http://bit.ly/1spiQTM
For AirBnB options: http://bit.ly/25ywNAs
Local Transportation:
See options and ride costs here: https://ride.guru/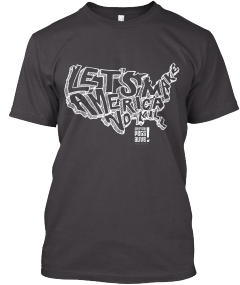 American Pets Alive! No Kill Swag
$19.99
We partnered with Teespring to create some awesome merchandise for this event. Show your support and look good wearing it. Check it out!
Date and Time
Location
The University of Texas at Austin Thompson Center
2405 Robert Dedman Drive
Austin, TX 78712