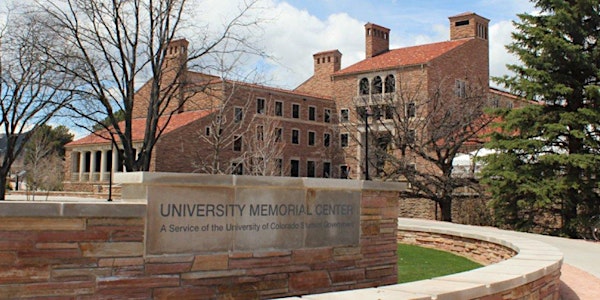 American Modelica Conference 2020
A chance for Modelica users from North America and around the world to get together to discuss work they are doing using Modelica.
When and where
Location
University Memorial Center 1669 Euclid Ave, Boulder, CO 80309 Boulder, CO 80309
Refund Policy
Contact the organizer to request a refund.
Eventbrite's fee is nonrefundable.
About this event
American Modelica Conference 2020 Call for Papers
The Modelica Association (MA) develops, maintains and promotes related and interoperable standards in the domain of systems modeling and simulation. All Modelica standards are freely available from their respective websites, and all standard development projects are open for contributions by interested parties. 
Modelica is a freely available, equation-based, object-oriented language for convenient and efficient modeling of complex, multi-domain cyber-physical systems described by ordinary differential, difference, and algebraic equations. 
The Functional Mockup Interface (FMI) is a freely available standard for the tool-independent exchange of models and for co-simulation. It is supported by many Modelica and non-Modelica tools and is the key to utilizing Modelica models in non-Modelica environments.
System Structure and Parameterization (SSP)standard describes how model components are connected and possibly (hierarchically) composed into composite components, as well as how model parameterization data is stored and exchanged between them. The SSP is compatible with FMI by design
The Distributed Co-simulation Protocol (DCP)standard is an application level communication protocol. It is designed to integrate models or real-time systems into simulation environments. The DCP is compatible with FMI by design
The Modelica conference will bring together people using Modelica and/or FMI for modeling, simulation, and control applications, Modelica language designers, Modelica and/or FMI tool vendors and Modelica library developers. 
Potential attendees from outside the United States who need a formal invitation to the conference should email their invitation request to modelica2020americas@modelica.org.
Please review  the full Call for papers for a list of topics at https://modelica.org/events/modelica2020Americas/call-for-papers 
Paper submission
You are encouraged to submit a full paper of at least 4 pages with a maximum of 10 pages. The full paper in PDF format should be submitted to the Conference Management System. Please see Author's Guide for further information. The final paper has to be submitted together with a one-page abstract.
Papers and extended abstracts for presentations can be submitted via the EasyChair conference management system:
https://easychair.org/conferences/?conf=modelica2020us
The conference proceedings will be published by the Modelica Association on its website and by Linköping University Electronic Press. Each paper will be individually referenced by a DOI.
Call for Presentations
Industrial or academic Modelica Users can alternatively also submit an extended abstract for a presentation-only contribution, as it has been done for Modelica Users' meetings by NAMUG. The abstract will be peer-reviewed by experts in the field, but no paper will be published.  
Hotels
The following hotels are close to the conference venue:
Boulder Inn Best Western Plus
770 28th Street, Boulder, C0 80303Rate: $119/room (king bed)Booking: link or phone 800-233-8469 and reference "Modelica"
Hotel Boulderado
2115 13th Street, Boulder, CO 80302Rates: $189/room (1 queen or king), $209/room (2 queen) + $10 per additional guestBooking: email, link or phone 800-433-4344, option #1 - Group Code 84224
Residence Inn Marriot
2550 Canyon Boulevard, Boulder, CO 80302Rate: $169/roomBooking: link or phone 888-236-2427 and reference "American Modelica Conference 2020"  
Important Dates
November 15th, 2019 Submission of full papers for reviewed papers

January 15th, 2019 Submission of extended abstracts for presentation-only contributions

January 22nd, 2020 Notification of acceptance for papers and presentations

February 15th, 2020 Submission of final papers and one-page abstracts