About this Event
Join us again as we celebrate middle school math achievement by offering Marin's fourth-ever open session of the prestigious American Mathematics Competition, from the Mathematical Association of America.
WHO: Kids in grades 6-7-8. Also younger kids who are doing, and enjoying, math at a middle school level. Eighty participants max.
WHEN: Saturday November 14, from 10am to 12noon.
WHERE: Online over Zoom, from home or wherever you like. Adult supervision required.
COST: We're keeping this inexpensive to participants, to attract talented young people from all over Marin. Please support this important work with your tax-deductible donation of $25 or more. Scholarships available.
WHAT: The AMC8 is a 25-question, 40-minute, multiple choice examination in middle school mathematics designed to promote the development of problem-solving skills. The AMC8 provides an opportunity for middle school students to develop positive attitudes towards analytical thinking and mathematics that can assist in future careers. Students apply classroom learned skills to unique problem-solving challenges in a low-stress and friendly environment. The material covered on the AMC 8 includes topics from a typical middle school mathematics curriculum. Possible topics include but are not limited to: counting and probability, estimation, proportional reasoning, elementary geometry including the Pythagorean Theorem, spatial visualization, everyday applications, and reading and interpreting graphs and tables. In addition some of the later questions may involve linear or quadratic functions and equations, coordinate geometry, and other topics traditionally covered in a beginning algebra course.
PARENTS: We're doing this online this year -- no driving around. For that to work we need you to proctor/supervise your child or pod for the 40 minutes they take the exam. You will help assure the quality of this year's results.
DO BRING #2 pencils with good erasers, and unmarked scratch paper. You MAY bring scratch paper, graph paper, rulers, protractors, and erasers.
DON'T BRING calculators or electronic devices of any kind. No AMC8 questions require the use of a calculator, and we won't allow their use.
PREPARATION: AMC8 leverages concepts taught in middle school. Special preparation is not required. But it is good to practice, and we will email you practice materials. Start with these sample problems.
FAQs
I WILL TAKE AMC8 AT MY SCHOOL; CAN I TAKE THIS ONE, TOO? No, sorry, you can take AMC8 only once per year. If you're lucky to go to one of the few Marin schools that offer it and you take it there, you cannot also do it with us. If for some reason you cannot take it at your school, then yes, of course you can take it with us as a replacement. But no taking it twice. 
MY SCHOOL DOESN'T OFFER THE AMC8, CAN I DO THIS WITH MVGATE? Yup, that's the whole idea! Too few schools around here support the AMC. Plus lots of homeschoolers are eager to give this a try. So MVGATE is offering Marin's only open session of this exciting competition in collaboration with the Marin County Office of Education.
IS MY CHILD TOO YOUNG FOR THIS? With decades of experience, the MAA has designed the AMC8 to measure what kids learn in middle school. Grade 8 is the max; there is no min. So the typical 8th grader will have some advantage over the typical younger child, but there are nonetheless plenty of younger kids who can handle this. (In 2017 our top-scorers were all 7th graders.) Nationwide last year 42,000 8th graders got an average score of 8.86, vs. 18,000 6th graders, who averaged 7.92. So there is a gap but it's not that large. Even younger kids are welcome at our open session, but do be aware that only the rare 4th or 5th grader has studied the material. Please try the sample problems to make sure this is a fit for your child. 
CAN MY POD OR HOMESCHOOL PARTICIPATE? Are you kidding? We love podders, homeschoolers, unschoolers -- you name it. All we care about is bright, curious kids having extraordinary learning experiences.
MEH, WHY SHOULD I CARE ABOUT THIS? The AMC8 is the Mathematical Association of America's entry-level for some of the world's most prestigious mathematical competitions, including the William Lowell Putnam Mathematical Competition and the International Mathematical Olympiad. If your child cares about math, or about STEM in general, he/she may want to give the AMC8 a try with us. This'll be a fun, friendly, low-impact way to dip a toe into the ocean.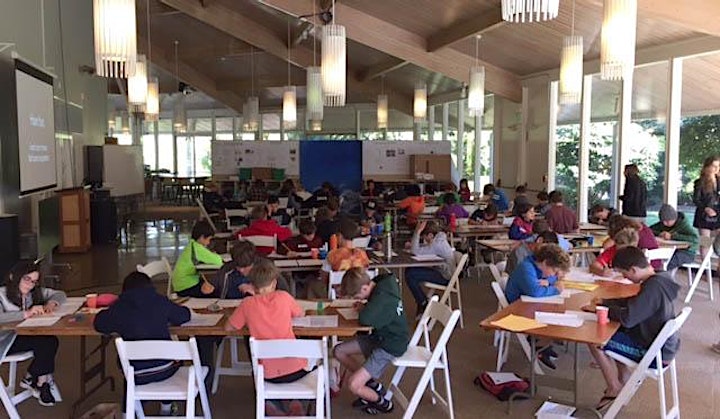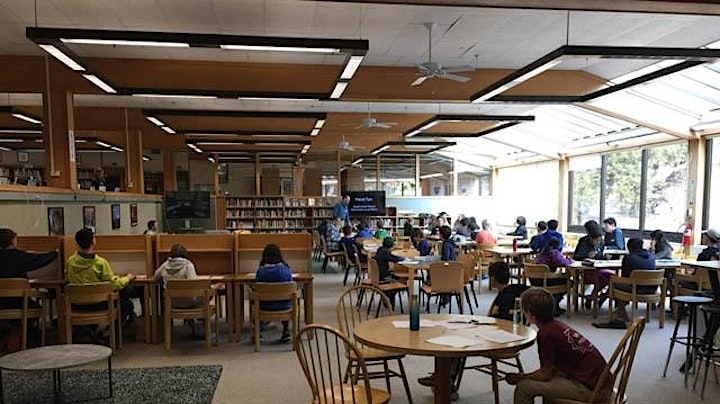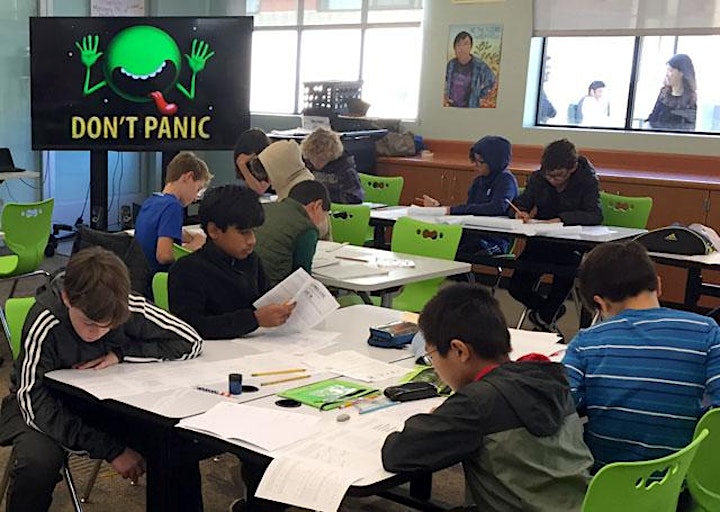 Date and Time
Location
Refund Policy