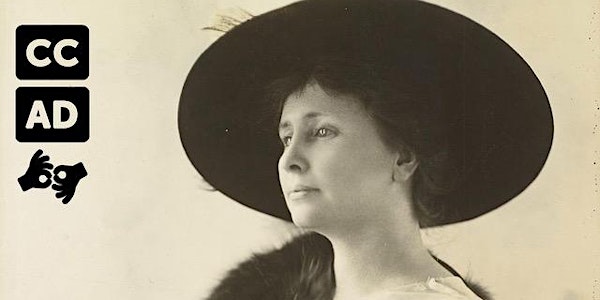 American Masters: Becoming Helen Keller Screening & Q&A-Disability Studies
Virtual screening and Q&A discussion of the new PBS documentary, "American Masters: Becoming Helen Keller." - Disability Studies
About this event
Join Lights! Camera! Access! and the Society for Disability Studies for a virtual screening and Q&A discussion of the new PBS documentary, "American Masters: Becoming Helen Keller." We will be joined by SDS Co-Presidents Karen Nakamura and Joseph Stramondo; Professor Beth Haller, Dept. of Mass Communication and the Applied Adult Disability Studies minor at Towson University. The Q&A will be emceed by comedian, professional speaker, and author Nina G.
This event is open to all. We encourage Disability Studies faculty, students, and allies, along with disabled students on college and university campuses.
While most coverage of Helen Keller fixates on her as the "eternal child" around that "aha" moment at the water pump with her teacher Anne Sullivan, immortalized in play and movie "The Miracle Worker," this new documentary "Becoming Helen Keller" shatters that disability myth, transcends that image, takes back the narrative, and unlocks little-known and multi-faceted aspects of her life and commitment to social justice, disability rights, women's rights, voting rights, civil rights, disabled veterans, support of the NAACP and ACLU, setting up State Commissions for the Blind and "talking books," to name a few.
This dynamic documentary features little-known aspects of Keller's social justice activism and includes captions, audio description, extended audio description, ASL interpreters, and descriptive transcript so that DeafBlind audiences can experience this film independently. The Q&A will have captions and ASL interpreter.
You can find out more at http://pbs.org/americanmasters.
To RSVP and request accessibility accommodations for this event, please email your request with Becoming Helen Keller - Disability Studies in the subject line to lights.camera.access.info@gmail.com
This event is being hosted on Zoom.
Click here to join the event
Alt Text: Six brightly colored "pie" shape wedges for a circle over the words Lights! Camera! Access!

Alt Text: The words "society for disability studies" appear on a black rectangular background with aqua blue lines above and below.