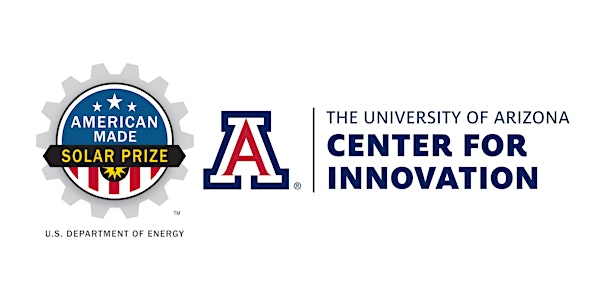 American-Made Solar Prize Round 6 - Power Connector Support
Learn more about Round 6 of the American-Made Solar Prize and meet past Round 4 Grand Prize Winner, r&d Labs.
About this event
As a Power Connector for the American-Made Solar Prize , UACI is hosting an informational webinar to share how UACI and fellow Power Connectors provide support to applicants.
This webinar will also feature R+D Labs Solar Prize Round 4 Finalist, who will share their American-Made Solar Prize success and experiences.
Join us on Wednesday July 27, 2022 from 11am-12pm PT to learn more about the application process for Round 6, how Power Connectors can support your submission, and to learn from past participants.
For more information about the Solar Prize, click here: https://americanmadechallenges.org/challenges/solarprize/round6/
More About UACI:
The University of Arizona Center for Innovation (UACI) is a startup incubator network with outposts across the Southern Arizona region and a mission to grow scalable science and technology startup ventures that fuel the Arizona economy. For nearly two decades, the program has directly served over 160 companies and impacted thousands of entrepreneurs. This is done through providing access to people, programming and places that help entrepreneurs take their companies from idea to market. Startups go through a structured program that takes them through a continuum of education provided by mentors, advisors and community collaborators.
The University of Arizona Center for Innovation (UACI) was selected by the U.S. Department of Energy's National Renewable Energy Laboratory (NREL) to collaborate in the American-Made Solar Prize as a Power Connector to support its goal to boost US solar manufacturing through innovation. The American-Made Solar Prize is a $3 million prize competition designed to revitalize U.S. solar manufacturing through a series of contests and the development of a diverse and powerful support network that leverages national laboratories, energy incubators and other resources across the country.
The UACI has been part of the American-Made Network as a connector since the beginning of the program three years ago and was recently elevated to the official role as a Power Connector for the program serving as the nation's hub for the Southwest region, which include the states of Arizona, New Mexico, Utah and Nevada. The service of the Power Connectors is vital to enhancing the engagement and effectiveness of the AMC Network by mentoring and supporting the 2021 competition teams with guidance and resources.