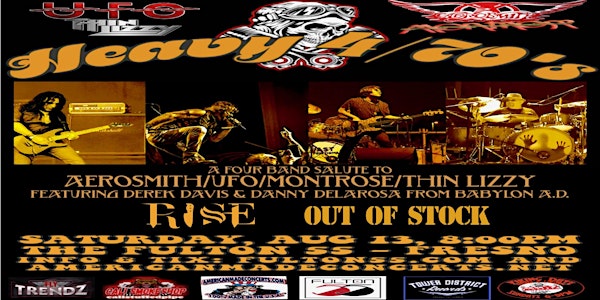 American Made Concerts Presents Heavy 4/70's
Location
Fulton 55
875 Divisadero
Fresno, CA 93721
American Made Concerts Presents Heavy 4/70's
About this event
American Made Concerts Presents Heavy 4/70's with special guests RISE. Doors at 7:30, show at 8.
HEAVY 4/70's band members are veteran world renown musicians with 17 Albums between them, years of extensive touring across the U.S and Europe give the band a built in audience at any venue they perform. The band has its own unique take on some of the most influential Hard Rock bands of all time.
A four band salute/tribute to Aerosmith, UFO, Montrose and Thin Lizzy is the engine that fuels the bands energy which completely dominate their explosive live shows.
Hailing from the San Francisco Bay Area, the band consist of
Derek Davis/Vocals - Danny De La Rosa/Guitar - Mike Holsworth /Bass and Marty Schuchardt on Drums.
Derek Davis, Vocalist/Front-Man, is a former Arista Records Recording Artist with hard rock band "Babylon A.D.' signed by the legendary music mogul "Clive Davis". While at Arista Records, the band released two critically acclaimed CDs, the self-titled Babylon A.D. (1990) and Nothing Sacred (1992). The band's first release, Babylon A.D., went Gold and produced three "Top 10" songs on the A.O.R Metal charts: "Bang Go the Bells," "Hammer Swings Down," and "Kid Goes Wild" which was also the trailer track featured in the Orion Pictures' film RoboCop 2. In 2018 the band signed to Frontiers Records and released "Revelation Highway" with 5 single/videos with multiple tours in Europe and the U.S. all told Babylon A.D has released 7 albums. To date: Derek has released 12 records with various artists including his three solo records, 'Revolt', 'Revolutionary Soul' and last years critically acclaimed release 'Resonator Blues' He is the consummate songwriter, musician, producer and showman and has done extensive tours across the U.S and Europe.
Guitarist, Danny De La Rosa Is also a former member of Babylon A.D. Danny 's guitar playing has put him in an elite club of sought out professional hired guns on many studio recording as well as his contribution to Babylon A.D.s success. A native of the San Francisco Bay Area Danny's first big break came at the age of 19 when he was discovered by Mike Varney of "Varney Records" and introduced to Gene Simmon of "KISS". an audition soon followed and altho he did not get the gig, his band "Johnny " was signed to Genes label. Unfortunately the band soon dissolved and Danny was asked to join Babylon A.D. Danny is also a talented songwriter in his own right. Danny 's first solo record "12 weekends". was recently released on The Label Group to rave reviews. Currently Danny is writing and recording his second record scheduled for an early 2023 release.
Drummer, Marty Schuchardt, began his professional career in the late 80's with the well known Bay Area act "The Shakes" A powerful Pop/Rock band who left a big imprint on the music scene with multiple tours and recordings.
As drummer for "The Jimmy Lyon Band," guitarist/songwriter for Eddie Money who wrote such hits as "Two Tickets To Paradise/Baby Hold On To Me"! Marty was a driving force behind the hit songs and live performances.
Marty was also a long time member of the "Greg Kihn Band" recording and touring nationally for over 11 years. Over the last 30 years Marty has established himself as one of the most sought after session and live drummers on the California West Coast. He is the ultimate professional and a master of his craft.
Bassist, Mike Holsworth, is a multi talented musician from Livermore CA. At a very young age Mike was influenced by classic rock bands like Rainbow, Black Sabbath, Dio and Aerosmith, which spilled forth through his playing abilities. Mike's first professional band "US" built up a large following playing at all the CA Keystone clubs and venues the California music scene had to offer. Over the years he's shared the stage with many world renown bands like, Motley Crue, Dokken, Wasp, Poison, and many others.
Mike's bass expertise is in high demand and he has been part of the S.F Bay Area music circuit for many years. His versatile talent has landed him in many different types of bands, Jazz, Soul, Blues,Thrash Metal, Hard Rock' he's done it all, recording with various artists and playing live venues across the state.
The band is tight, explosive and put on an unforgettable live show.
Tickets available at www.fulton55.com, Tower District Records Calismokeshop2 (The Stuffed Pipe across from Fresno State) and at FlyTrendzClothingClovis at the corner of Barstow and Clovis Avenues in Clovis.