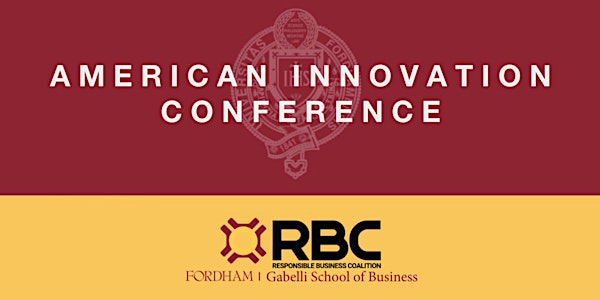 American Innovation Conference
Join us for our 5th Annual American Innovation Conference
When and where
Location
Fordham University School of Law - Costantino Hall 150 West 62nd Street New York, NY 10023
About this event
The American Innovation Conference is dedicated to sharing, collaborating, and celebrating customer-focused innovation and its impact on company success. Companies that are perceived to be innovative by their customers are more attractive, enjoy higher loyalty, and are ultimately more successful than companies that lag in innovativeness.
Join us to hear success stories and lessons learned from the most innovative companies in America, as well as insights from the authors of the American Innovation Index. Previous year's speakers and attendees included many award winners, such as: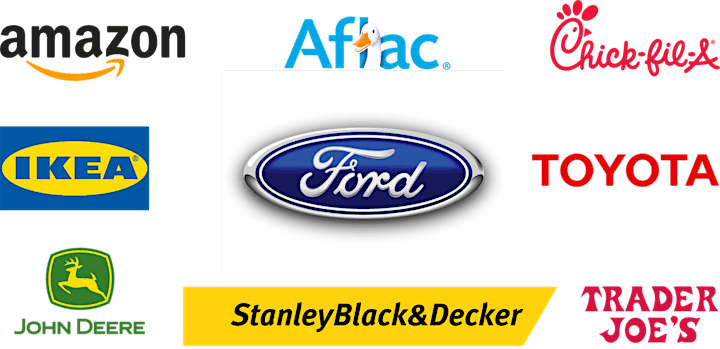 Who Should Attend? Anyone with an interest in learning more about improving customer-focused innovativeness of companies, including students, faculty, executives and management in innovation strategy, branding and marketing.
The conference is designed to ensure you come away with ideas for driving your company's innovation strategy that will be applauded by your customers.
Conference Schedule
9:00AM-11:00AM- Special Session: Credit Union Workshop
9:00 - 9:10 Welcome
9:10-9:30 - Keynote: Christie Kimbell, Chief Product Officer, Filene Research Institute
Credit Unions for the 21st Century: Member-Focused Innovation
What is the role of the credit union in the 21st century? Consumer financial services has undergone remarkable transformation—especially for an industry that has been pigeonholed as slow to change. The landscape is becoming more crowded and more competitive, consumer needs are evolving rapidly, and technology is changing the way people go about their financial lives. These changes pose both risks and opportunities for credit unions. How can credit unions adapt to new realities while taking advantage of their traditional strengths? In this talk, Christie Kimbell, Chief Product Officer for the Filene Research Institute—the world's premier credit union think tank—offers a field guide for credit union and financial services innovation, describing how credit unions can leverage their focus on member needs to build innovation capacity and balance immediate marketplace demands with the need to explore and evolve to take advantage of emerging opportunities.
9:30-9:50 - Credit Union Innovation Success Index
10:00-10:45 - Roundtable Discussions
Credit Union Innovation from the Frontline to the Back Office
Innovation pays off when it translates into value for consumers, but innovation also requires investments in infrastructure, process, talent, and culture. How are credit unions building the foundation for member-centric innovative organizations? What strategies are credit unions using to be more vigilant and adaptive, explore and experiment with new ideas, empower employees, and invest in new ways of doing business and serving members?
The Credit Union Difference: Social Innovation and Competitive Differentiation
In an increasingly competitive financial services landscape, how can credit unions stand out from the crowd? Today, many credit unions are embracing social innovation as a way to create a compelling and defensible value proposition and differentiate themselves from banks and other financial services providers.
11:00AM-3:45PM - American Innovation Conference
11:00-11:10 - Welcome , Lerzan Aksoy, Interim Dean, Gabelli School of Business
11:10-11:45 - Keynote, Fran Horowitz, CEO Abercrombie & Fitch
12:00-1:00 - Lunch
1:00-1:30 - 2022 American Innovation Index Results
1:30-2:00 - INNOVATION PANEL: Inserting the "Voice of the Customer" into the Design of Your Offer
Moderated by Bill Sickles, Professor and Senior Lecturer, Ground Floor & Career Exploration IP, Gabelli School of Business
Kim Majerus, Vice President, US Public Sector Education, State, and Local Government, Amazon Web Services
Brian Kiser, Vehicle Training Specialist, Toyota
Customer-focused innovation requires creating products and services that meet customer needs, and doing so better and faster than competitors. Consistently meeting customer needs requires including customer feedback into the design process to understand customers' expectations and preferences. Learn from innovation leaders how they include voice of the customer insights to deliver innovative products and services.
2:15-2:45 - SOCIAL INNOVATION PANEL: Making ESG Meaningful for Consumers
Moderated by Timothy de Waal Malefyt, Ph.D., Clinical Professor of Marketing; Program Director, online MS in Strategic Marketing Communications, Gabelli School of Business
Ellis Jones, VP & Chief Sustainability Officer, Goodyear
Mark Moran, Head, John Deere Technology Innovation Center
Courtney Thompson, Executive Director, Global Sustainable Finance, Morgan Stanley
Environmental, Social, and Governance issues and metrics have risen in prominence since their introduction. Research finds that consumers overwhelmingly support the goals of ESG efforts, but few consumers know much about ESG or how the companies they purchase from perform on various ESG initiatives. Hear from social innovation leaders how their firms make ESG-related initiatives relevant to their customers.
2:45-3:15 - SERVICES SOCIAL INNOVATION PANEL: Making Sustainability Everyone's Job in the Company
Moderated by Kelly Ann Ulto, MBA CPA, Associate Clinical Professor of Accounting, Gabelli School of Business
Katherine Hunter, Impact Finance & Advisory; Head of Advisory, JP Morgan
Pam Piligian, Chief Marketing Officer, SVP, Navy Federal Credit Union
Buffy Swinehart, Senior Manager, Corporate Social Responsibility, Aflac
In some firms, social innovation is primarily handled by a small group within the organization. More socially innovative companies, however, have broad involvement throughout their organizations. Learn from leading services companies how they encourage employees across functions to be involved in social innovation efforts, and to feel that they personally invested in the success of the firms' sustainability efforts.
3:15-3:45 - Awards Ceremony & Celebration
General Inquiries: Please email Leigh Anne Statuto, Director of the Responsible Business Coalition at Fordham Gabelli School of Business (Lstatuto@fordham.edu)
Please Note: Fordham expects guests to be fully vaccinated and boosted against COVID-19.