American Ink , Circus Trees & Evil Felipe bring us a night of killer trio punk/post rock music.
About this event
American Ink (Punk Rock)
American Ink is a Boston-based alt rock band comprised of drummer Nick Fauza, guitarist Michael Romano, and bassist Aidan Crotty. Their debut EP 'Hand-Drawn Hearts' and their 2019 album 'Please Forget You Knew My Name' explore everything from hardcore punk to acoustic-driven balladry. In January 2021, they released 'Up Next On…' which is the bands first self-produced(and self-recorded) album. Mixed and mastered by Nick Fauza, 'Up Next On…' adds a new window of experimental production to American Ink's already unique sound. .
Stream & Follow:
https://linktr.ee/americanink
Circus Trees (Post Rock)
Circus Trees wield an anguish that beckons. Droning through a weighty sadness, their musical spell extends a hand, instead of turning in on itself, offering an open invitation to all misery-loving company. This is how the Marlborough, Massachusetts-based band started in 2018, and that's how it has remained as members and sisters Giuliana, Finola, and Edmee continue to spin their sadness into listless post-rock. (cont. below)
Stream & Follow:
Instagram - https://www.instagram.com/circus_trees/
Spotify - https://open.spotify.com/artist/7D0Mn9mtyH3m7UnCQh9jzX?si=gmMkLMRHTDq9EOplhSTb7A
YouTube - https://www.youtube.com/channel/UCUayh9n13xhAI7Xh2sgduyA
Evil Felipe (Surf Punk)
Despite the misleading name, Evil Felipe is an all-female trio from central MA, taking on a unique combination of indie, alternative, surf punk and punk rock sounds. Formed back in 2016, the band began with sisters Ella and Maya Staltare along with Emma Bain, who remain the core of the group to this day.
Stream & Follow:
Instagram - https://www.instagram.com/evilfelipe/
Spotify - https://open.spotify.com/artist/3UQRxMf7yK2CVXVnKWRVsE?si=EeWTZAgCR-iFJYpjyR_cGw
YouTube - https://www.youtube.com/channel/UCW3WWDHWA8WvUSfqXHZ1mOA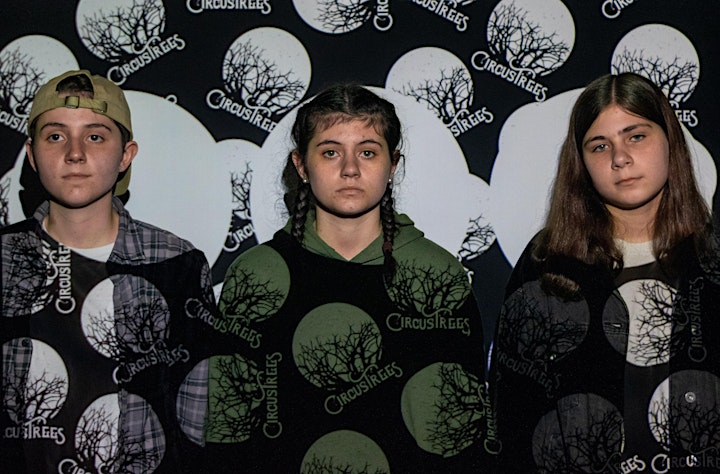 Circus Trees bio continued...
Formed three years ago during their adolescence, Circus Trees brandished a unified tone from the start, as their first singles - 2018's "Floating Still" and "Impermanence" - revealed their sunken melodies, carrying an emotional weight far beyond their years. "Impermanence" in particular was recorded at The Record Co. in Boston with Vanessa Silberman via her independent label and music company, A Diamond Heart Production. Their first music video, created for "Floating Still," bears Circus Trees' DIY ethos, captured entirely in nearby Lowell, Massachusetts against a fitting backdrop of busted 'n' bruised bricks and cobblestones. To date, the video has reached over 3,600 views.
The band chronicled their formative days in 2018 with a half-hour documentary also named Impermanence, making their formal introduction to the world from Five By Two Studios, their musical home base. Their arrangement remains the same in 2020: Finola, now 16, plays guitar and sings, Giuliana, 18, keeps the languid beat behind the drum kit, and Edmee, 14, holds down the band's heaviness on bass.
2019 saw the release of the band's first EP, Sakura, released digitally and on vinyl on March 3. The four-track effort was recorded at Getaway Studios in Haverhill, Massachusetts with Boston producer and studio owner Jay Maas.
Aside from shows scattered throughout New England in cities like Manchester (NH), Worcester (MA), and Burlington (VT), the sisters earned multiple opportunities to take the stage with musically similar peers at major events last year, such as TRC Fest at the Sinclair, Post New England at Jewel Nightclub, and Post Fest in Indianapolis, Indiana. Along the way, they caught the attention of Caspian guitarist Erin Burke-Moran, who proudly sported a Circus Trees shirt every night of Caspian's 2019 tour with Minus The Bear. By the end of the year, Circus Trees had garnered a Boston Music Awards nomination for "Best Metal Act" alongside other established scene staples like Set Fire, Worshipper, and Glacier.
For their debut full-length record Delusions, Circus Trees tapped Jay Maas once again to work with them on this especially pointed collection of six new songs.
Delusions is a record that's fortified with feeling, yet malleable; brimming with emotion, the trio twists heady sadcore into something vacant, leaving space for the listener to safely and subconsciously mingle with their moods. Delusions is a harsh place, but it's a human place, too, bringing a new intimacy to Circus Trees' songwriting dynamic. A vinyl pressing of the record will follow.
"The songs on this album are much more personal than the last, where we focused on themes of love and loss in the abstract," Circus Trees share of Delusions. "This album reflects more introspection, and comes from the emotions felt personally from one or more members of the band, based on events that naturally happen growing up. Still love and loss and sadness, but much less distant to us as individual human beings."
Evil Felipe bio continued...
Like so many, the Evils were born into the hard-scrabble environs of mid-state Massachusetts blue collar life, growing up in a world transitioning before their eyes from idyllic small-town to the crumbling bricks and sagging roofs of foreclosed businesses and shutdown mills. But infused with the punk ethos of their dads, themselves long-time musicians and bandmates in in the local scene, the Evils managed to grasp and claw and clutch and hold onto the fun that comes from making music in the basement with their dads' equipment, and riding out summer days on the local lake, and trudging along abandoned train tracks in the dead of winter, to produce some promise, some hope, in the simple joys of being alive and making music.
That isn't to say, however, that there isn't some sting and poison behind the fun, surf-rock vibes the band is putting out. No young person, certainly no young woman, can grow up in today's world immune to the overt and covert effects of racism, sexism, classism and discrimination that for too long have been par for the course in not only the music scene, but in every day life. The Evils are no exception, and their carefully crafted lyrics, and public positions on social justice causes, provide the right bite back to those who think they can remain on the sidelines, or worse, on the wrong side of history. Central Massachusetts, like AnyTown USA, forms the crucible into which so many inequalities and injustices are poured and smashed together, with the resultant bitter pills coming out most especially in the myriad forms of art: music, paintings, murals, poems; and the Evils are right there to serve up this brand of music for you to swallow.
Their first EP, 'June Gloom', was, appropriately and literally, recorded out of their basement with their dad's help, in October of 2019. This collection of upbeat songs with deep hints of anger in the lyrics were most especially welcomed during their local live shows, where the band would rip off song after song in a fast-paced, aggressive, but surprisingly steady and polished pace. This is where the band first caught the eye of members of the recording label, Five By Two Records. In the midst of the collapse of the live scene due to pandemics and shutdowns, the Evils accepted the invitation of the label to come and record in-studio in August of 2020. The results, an EP with happy melodies layered over lyrics of troubled love, will get you groovin' and is slated for an October 2020 release.