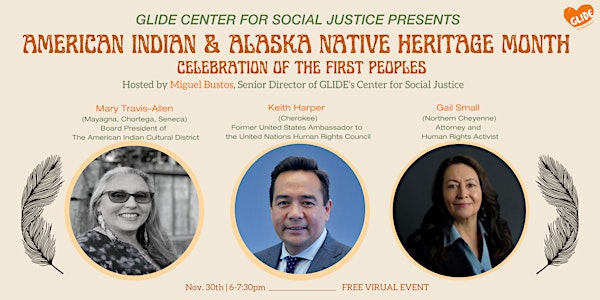 American Indian & Alaska Native Heritage Month
American Indian and Alaska Native Heritage Month: Celebration of The First Peoples
About this event
GLIDE is celebrating American Indian and Alaska Native Heritage Month, as we honor the culture and history of the Indigenous People of this land. Join GLIDE's Center for Social Justice for an educational experience with leaders from the community and hear about their untold history; the fierce resiliency of the American Indians and Alaska Natives for Social Justice; and how we can be genuine allies to the Indigenous Communities.
Get your tickets now; this is an event you surely do not want to miss!
Hosted by Miguel Bustos, Senior Director, GLIDE's Center for Social Justice
Our panelists include:
Mary Travis-Allen (Mayagna, Chortega, Seneca): Board President of The American Indian Cultural District
Ms. Travis-Allen volunteers for Indian Ed and sits on the SFUSD School Names Advisory Committee. Mary was born, raised, and educated in San Francisco. She has roots with Alcatraz, Wounded Knee occupation, and the American Indian Movement. In the 1970's she frequently spoke at rallies and networked with many other emerging political activist groups in the San Francisco Bay Area that advocated for racial equality, freedom of political prisoners, and more. Mary retired after 32 years of employment with the City & County of San Francisco, SFMTA, as a Senior Operations Manager. During her employment, she focused on the needs of the people served and the employees that worked hard to provide services to the City.
Ms. Travis -Allen is privileged to know and stand with many leaders that fought against the racial and political oppression that was prevalent in this country (and still exists). "I have learned that every step you take and experience in your life takes you on your path and knowledge in this existence," Mary reflects. "We learn from those that have come before us, traditions and knowledge, to give us strength and value to live and survive this life. We learn, we cultivate and we continue to plant these ways for those that will follow."
Keith Harper (Cherokee): Former United States Ambassador to the United Nations Human Rights Council
Ambassador Keith M. Harper, a citizen of the Cherokee Nation, is the first Native American to be named a U.S. Ambassador, serving as U.S. Permanent Representative to the U.N. Human Rights Council from 2014 to 2017 based in Geneva, Switzerland. He represented the plaintiff class of 500,000 individual Indians and served as class counsel in the landmark Indian trust funds lawsuit, Cobell v. Salazar. Ultimately, the case settled for $3.4 billion, which represents the largest settlement of a lawsuit against the United States in history.
From 2010 to 2014, Ambassador Harper served on the President's Commission on White House Fellowships. He also served as a chair for Native American policy in the 2008 Obama for America presidential campaign and then as a member of the Obama-Biden Presidential Transition Team in the Energy and Environment Cluster.
Ambassador Harper was previously Senior Staff Attorney and head of the Washington, D.C. office of the Native American Rights Fund (NARF) from 1995 to 2006. During his tenure at NARF, he also taught Federal Indian Law as an adjunct professor at Catholic University, Columbus School of Law, and at American University Washington College of Law. Ambassador Harper served as a Supreme Court Justice on the Supreme Court of the Poarch Band of Creek Indians from 2007 to 2008 and as an Appellate Justice on the Mashantucket Pequot Tribal Court from 2001 to 2007.
Ambassador Harper serves on numerous boards of nonprofit organizations including the following the American Constitution Society; Defenders of Wildlife; United Nations Association – National Capitol Area and the Artistic Freedom Initiative. For the past two years, the American Bar Association President has appointed Ambassador Harper as a Special Advisor to the ABA's Rule of Law Initiative.
Gail Small (Northern Cheyenne): Attorney and Human Rights Activist
Gail Small is a member of the Northern Cheyenne Tribe and grew up on the Northern Cheyenne Reservation in Lame Deer, Montana. Her Cheyenne name is Vehon-naut, "Head Chief Woman." She comes from the extended families of Woodenlegs, Spotted Elks, Small, Rondeau, and High Back Wolf.
Gail was born and raised among her extended families on Lame Deer Creek, where she and her husband of 32 years built their ranch and continue to live today. She believes that her family and homeland have always nourished her and given her strength. She grew up in the tumultuous time of energy exploitation when the country's largest coal strip-mines and power plants surrounded the Northern Cheyenne. Gail has had a pivotal role in the protection of the Cheyenne homeland.
Head Chief Woman has dedicated her professional career to advancing the Northern Cheyenne Tribe. She has served her Cheyenne people in the following leadership roles: elected representative on the Northern Cheyenne Tribal Council from the Lame Deer District; the elected Board Chair of Chief Dull Knife College; twelve years on the Northern Cheyenne Natural Resource Committee; six years on the Northern Cheyenne Coal Bed Methane Committee; ten years on the Northern Cheyenne Water Rights Negotiating Committee; four years on the Northern Cheyenne Law and Justice Commission; and four years on the Northern Cheyenne Constitutional Revision Commission.
In 1990, she founded Native Action, one of the first nonprofit organizations established on an Indian reservation. She served as the Executive Director of Native Action for over twenty years, successfully achieving numerous national precedents pertaining to tribal sovereignty, Indian voting rights, banking discrimination, Indian education, and environmental protection.
Gail's expansive career includes teaching at public and private schools on the Reservation, in tribal colleges, and at the university level. She has traveled and lectured internationally as a leadership fellow from the WK Kellogg, Rockefeller, and Leopold International Leadership Programs.
Gail graduated from the University of Oregon School of Law and the University of Montana. She credits her greatest education to her life growing up on the Northern Cheyenne Indian Reservation amongst a family of matriarchs and warrior women. She is the mother of four and grandmother of a growing herd of young members of the Tsistsistas and Suhtaio Nation. Head Chief Woman epitomizes contemporary Indigenous leadership and responsibility as a citizen leader.
Join us!