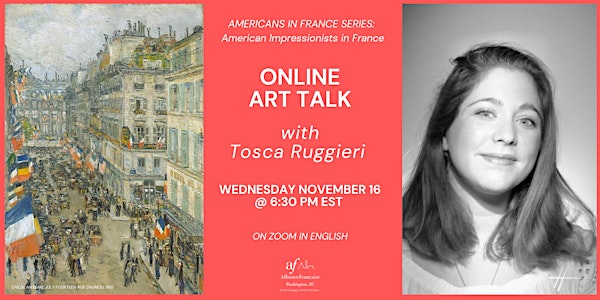 American Impressionists in France: Online Talk with Tosca Ruggieri
Tosca Ruggieri is back with another online art lecture. Don't miss it!
Refund Policy
Contact the organizer to request a refund.
Eventbrite's fee is nonrefundable.
About this event
Many American artists flocked to France after the Civil War, mostly in search for instruction, critical acclaim and patronage. In Paris, they trained under the influence of the École des Beaux-Arts and studied the "old master" works at the Louvre but then went beyond traditional practices to experiment with new ideas and techniques.
Some of them became highly admired in the French Press and advanced their careers on both sides of the Atlantic while others found success working in the style of the French Impressionists like Mary Cassatt. By the end of the 19th century, these artists had created an identifiably American Impressionism, creating a distinct national style.
Join us for an online lecture on American Impressionists with French Art Historian Tosca Ruggieri who will examine the rich variety and complexity of American painting in the advent of modernism, as French avant-garde philosophies and styles melded with American individualism.
About the speaker
Tosca Ruggieri was born and raised near Reims, a city in northeastern France and has spent a significant portion of her time in Italy.
She graduated with a Master's Degree in Art & Archaeology from the EPHE-Sorbonne in Paris in 2015. Her broad interests in art led her to conduct research on subjects such as Etruscan Jewelry and Decorative Arts in the Italian Renaissance. In London, Tosca obtained her Master's Degree from King's College London.
After a career in the art markets of Paris and London, where she worked with auctions houses, art galleries and private collectors, Tosca reconnected with her passion for art through teaching art history.
Now based in Washington, D.C., Tosca offers cultural tours of the capital's National Gallery of Art which boasts from an overflowing collection of masterpieces from the Italian Renaissance to Modern masters. She also offers a program of online lectures on a wide array of art history subjects. Her objective is to inspire through different aesthetics in art history and to transport her audience across centuries of art.