Description
LATCH COLLECTIVE & LITTLE CANDLE PRODUCTIONS BRING YOU....
A fun-packed evening with entertainment, wine & beer, hord'ouevres, and consulting with tiny house experts!
The main attraction of the evening is a theater production of the play American Home.
One out of every 54 homes in America received a foreclosure notice in 2008. Award winning playwright and author of "Love in the Time of Foreclosure," Stephanie Alison Walker, takes audiences on a deeply personal journey through recent history as she shines a light on three out of the millions of stories of loss. A young couple faces eviction from the dream house they stretched to buy; an elderly widow falls prey to a reverse mortgage scheme, and a minister of the prosperity gospel must face the flock shes led astray. Little Candle Productions' world premiere of "American Home" takes an unflinching look at the impossible choices people make when faced with losing everything, and, ultimately, celebrates the powerful resilience of community and the human spirit.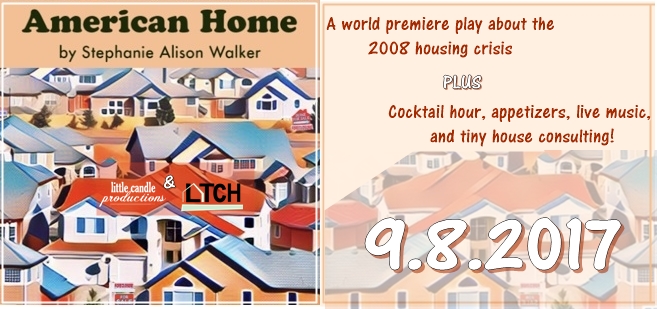 Join us before the play for some wine, beer and delicious appetizers. The play will be followed by live music and an opportunity to consult with individuals EXPERIENCED in with tiny house zoning, self-building, living tiny, and more!
Details coming soon! Reserve your ticket before it's gone!
$35 Early bird.
$40 Door.
Ticket includes entrance to the cocktail hour with food & beverage, entrance to the performance, and entrance to the after party with music and tiny house consulting!
6:30 Cocktail Hour & Hord'oeuvres
7:30 Doors open for performance
8:30 Performance of American Home
~9:45 After Party with live music & tiny home consulting
This event is a fundraiser for LATCH Collective , supporting the grand opening of a tiny house building & resource center in the heart of Los Angeles!

EYE ON FILM (UK)