Sales Have Ended
Registrations are closed
Thank you for registering for the 1st Monday Accent Reduction Coaching Webinar. I hope you learned some new ways to improve your speaking. I look forward to seeing you again next month on the 1st Monday of the Month. Subscribe to my Youtube channel for more pronunciation videos. Practice speaking your best American English with confidence. Cheers, Donna http://www.clearenglishcoach.com
Sales Have Ended
Registrations are closed
Thank you for registering for the 1st Monday Accent Reduction Coaching Webinar. I hope you learned some new ways to improve your speaking. I look forward to seeing you again next month on the 1st Monday of the Month. Subscribe to my Youtube channel for more pronunciation videos. Practice speaking your best American English with confidence. Cheers, Donna http://www.clearenglishcoach.com
Live coaching webinar on Accent Reduction and America English pronunciation. Speak your best English on the 1st Monday of each month.
About this event
Do you have to repeat yourself when you speak English?
Are you embarrassed to speak up during meetings?
Do you feel stuck in your job because of your foreign accent?
Hello, my name is Donna Durbin, owner of Clear English Coach. Join my free Accent Reduction coaching session to get live feedback on your speaking and learn simple techniques to modify your accent to sound more American.
Live Zoom coaching call on the 1st Monday of each Month 7:00 p.m. CST.
Register HERE to join the Coaching Session.
After registering, you will receive a confirmation email containing login information about joining the meeting each month.
Start improving your pronunciation with my 5 Day Accent Reduction Course.
Start today. Level up your spoken English to match your technical skills. The world needs your voice and your talents. For more information check my website.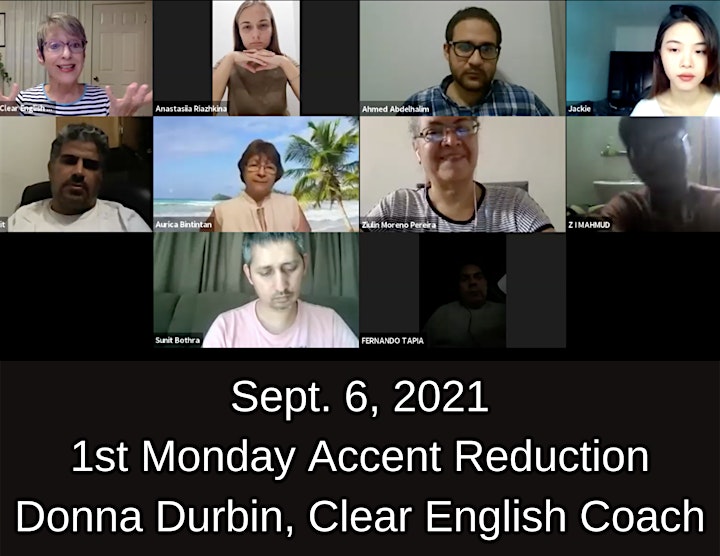 Organizer of American English Pronunciation Coaching Webinar
Donna is a world traveler, Certified American Accent Coach, entrepreneur, online course creator, University professor and professional artist. Her passion is to transform lives by teaching accent reduction and American English pronunciation to foreign professionals who want to improve their lives by speaking English effectively and to advance their business soft skills.
It's important that your personal and professional conversations are mutually respectful, understood, compassionate and rewarding. My courses provide opportunities for a global audience to listen to diverse perspectives, see new view points, share life experiences and create an understanding that produces a vibrant global economy that benefits everyone. Join me.