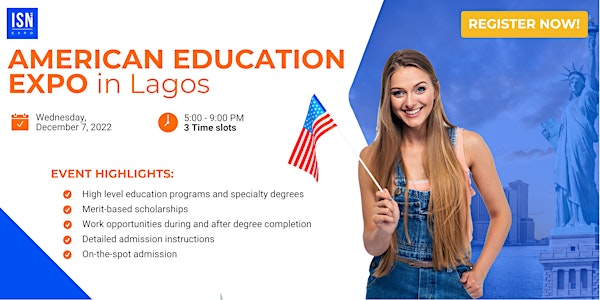 American Education Expo in Lagos
Got questions about studying in the United States? Find your answers at the upcoming American Education Expo in your city!
About this event
AMERICAN EDUCATION EVENT
Are you interested in studying in the United States? Then this is the perfect event for YOU! We will be hosting a FREE Education Event for students who are planning to get pursue Undergraduate and Post-Graduate studies in America.
Admissions Directors from prestigious universities will be presenting important information that you need to know about applying for and attending their institutions. In this face-to-face event you can:
✔️ Discover your study options in the United States 🌍
✔️ Check scholarships available 📚
✔️ Avail of a free consultation with Admissions Directors👩‍🏫
✔️ Pre-assess your eligibility 📋
✔️ Waive your application fees 💳
✔️ Submit your university applications 📩
REGISTRATION IS FREE! SIGN UP NOW!
Frequently Asked Questions
What can I learn from this event?
You will find a wide range of majors to choose from and be taught about the steps you need to take to become an international student.
How can I get a Scholarship?
Most of the universities offer merit-based scholarships to cover a percentage of the annual fees, but they do not offer full scholarships at the event. The participating universities will happily talk to you about their merit-based scholarship programs for international students. For your eligibility verification, you are encouraged to bring copies of your report cards, TOEFL scores, or any other standardized test to the event. You will learn more about getting a merit-based scholarship at the fair as you get to speak with the admissions officers directly.
What do I need to bring?
Students are not required to bring any documents to the event. However, if you bring with you your SAT/ACT, TOEFL, or IELTS scores and your high school transcripts, college representatives could give you a better idea of your eligibility for admission and merit-based scholarships. However, whether you have these documents or not, you will still get the opportunity to learn about the universities and the steps you need to take to get admitted.
Can my parents come? If I have one ticket, will I need extra ones for my parents?
Parents are always welcome to come and meet with the University representatives. All prospective students need an individual ticket to participate, but parents who are not interested in studying abroad do not need one.  
Is there a dress code?
We do not require any dress code. You are free to come as you like. But remember, always dress to impress!