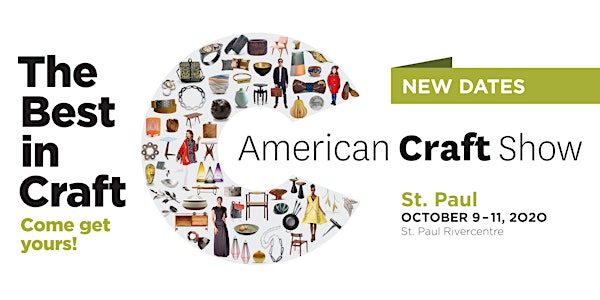 American Craft Show, St. Paul
The best in craft – come get yours in St. Paul October 9-11, 2020 (preview party on October 8).
When and where
Location
Saint Paul River Centre 175 Kellogg Blvd W St. Paul, MN 55102
Refund Policy
Contact the organizer to request a refund.
About this event
Join us to shop the work of more than 230 diverse makers from around North America, carefully chosen for the quality of their work and impact in the creative economy. Explore hundreds of thousands of unique, handcrafted objects, each with a story you can take home with you.
Show dates and hours
Thursday, October 8: 6 – 9 p.m. (preview party)
Friday, October 9: 10 a.m. – 8 p.m.
Saturday, October 10: 10 a.m. – 6 p.m.
Sunday, October 11: 11 a.m. – 5 p.m.
Accommodations
Traveling to the show? Visit acchotels.com for discounts and specials.
Tickets
Skip the lines and save money by buying your tickets online in advance through April 16.
One-day pass: $11 advance / $13 (starting October 9)
Free for ACC members* and children 12 and under
Tickets are non-refundable
*Not a member? Click the "Tickets" button and choose the "free passes with membership" ticket option for your best value.
Do you have a promo code or ACC membership? Enter your PROMO CODE or membership number by clicking on "Enter Promotional Code" on the Select Ticket page.
Special Friday-evening admission
$5 after 5 p.m. for on-site ticket purchases only. No other discounts apply.
A marketplace with impact
Produced by the national nonprofit American Craft Council, this vibrant marketplace is about more than just shopping. Experience craft through hands-on activities, get to know the next generation of makers, and see for yourself why craft matters now more than ever. Learn more about programming at the show.
Why join the American Craft Council?
Becoming a member brings creative inspiration to your life. Not only do members get in FREE to all American Craft Shows, but they also stay connected to craft through American Craft magazine. Discover the stories of artists, stay up on trends and exhibitions, and join a community of people who believe that making matters.