Description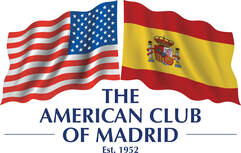 The American Club of Madrid is pleased to invite its members and candidates to the Annual 2019 General Assembly and Happy Hour on September 10th where we will present a brief overview of this past year and a preview of the 2019-2020 calendar of events. We will also recognize and thank our current Board of Directors and welcome the new incoming officers.
If you are interested in the American Club of Madrid you are invited and encouraged to participate. Immediately following the General Meeting, we will have our Happy Hour, so come meet other ACM members, mingle, network and enjoy yourself. And finally, as a reminder we have special surprises lined-up in our members-only raffle. Sign up to be a member!

Agenda:

5:00 pm - Call to order of the General Meeting and Annual Presentation, the meeting will start in first sitting if at least one third of all members in good standing are present or represented.

6:00 pm - Second sitting with any number of members in good standing or represented.
Approval of the minutes from the last General Meeting (Sepember 2018)

Annual report by the President

Statement by the Treasurer and consideration of the annual budget

Election of the Board of Directors

Comittee and events reports and future plans
7:00 - 9:00 pm - Happy Hour and Raffle
See you there!