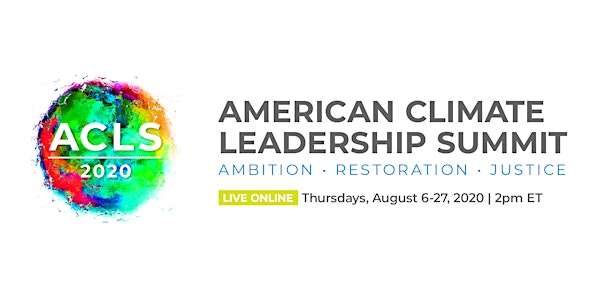 American Climate Leadership Summit 2020 LIVE ONLINE
Join us at ACLS 2020 LIVE ONLINE every Thursday in August from 2:00 - 5:00 pm ET. You only need to register once for all four events.
About this event
In an effort to prioritize peoples' health, safety and wellbeing the American Climate Leadership Summit 2020 (ACLS 2020) will now be a 100% virtual live event! Join us each Thursday during the month of August for a three-hour webcast series featuring thought provoking topics and speakers in an engaging and interactive online experience. This shift gives us an opportunity to greatly expand the diversity of topics, speakers and participants while reducing our carbon footprint.
If there was ever a time to make a difference on climate change, that time is now. Join to hear from the audience and leaders to help raise awareness, understanding and action on climate change in America.
DAY 1: August 6 - Our Future is Now (Relive Day 1 Sessions Here)
Grounding Ourselves: Our Times, Our Call to Action
Session I: Setting the Stage: Where We're At, Where We Need to Go on Climate
Session II: Start with People: Americans and Climate Culture, Ambition, Politics, Ethics
Session III: Uncharted Waters: Climate Justice Amidst Compound Crises
Session IV: Climate Scholars: Reporting From The Front Lines
DAY 2: August 13 - Driving Change (Relive Day 2 Sessions Here)
Session V: Multi-Solving: Pandemic, Economy, Racism, Climate Change
Session VI: Driving Change: Health
Session VII: Driving Change: Our Resilience and Faith
Session VIII: Driving Change: Communities
Session IX: Driving Change: Youth
DAY 3: August 20 - Getting to The Future We Want
Session X: Getting to Global Restoration, Challenging the Assumptions
Session XI: Manifesting Ambitious Vision
Session XII: Restoring Our Urban, Oceans, Forests, Farms
Session XIII: Getting to a Just Future: Addressing Climate Disparities
DAY 4: August 27 - Catalyzing Climate Action
Session XIV: The Politics of Climate Change
Session XV: Climate as a Voting Issue (Polls, Motivations)
Session XVI: Advocacy in Action: ACLA Celebration
Session XVII: The Next 60 days
To see full agenda details including session descriptions and confirmed speakers visit ecoamerica.cvent.com.
In consideration of the hardships of the pandemic and economic contraction, attendance at ACLS 2020 will now be on a pay-what-you-can basis. However, ecoAmerica still needs financial support to offset the costs of hosting the event, so we are asking attendees to voluntarily contribute at any of the following suggested levels:
Custom pay-what-you-can option
$0 – Our no-judgement, current-state-of-the-world option
$50 – Our student-rate
$125 – Covering 50% of the cost of your attendance
$250 – Fully covering your attendance
$1,000 – Covering the full cost of you +3 others to attend
Note: Recordings from each week's ACLS Live Online will be posted each Monday in August starting on August 10th. Please be sure to like and subscribe to ecoAmerica's YouTube channel if you haven't done so already.