Sales Have Ended
Registrations are closed
Registration for this event has now closed.
Join The WNET Group's three-day, VIRTUAL multi-platform public media event spotlighting the challenges and opportunities facing urban areas.
About this event

REGISTRATION HAS NOW CLOSED.
FOR QUESTIONS, PLEASE CONTACT EVENTS@WNET.ORG.
As we attempt to address the long term impacts of COVID-19 and the struggle for social justice across the nation, now is the moment to foster meaningful discussions around reimagining and rebuilding our cities. New circumstances are bringing new challenges, and convening nationally recognized voices and experts to share ideas could not be more pressing. A combination of broadcast, digital and virtual tools will be used to connect dynamic voices from around the country.
American Cities Rebuilding is the first of an ongoing series of convenings that will focus on cities both in New Jersey and across America offering a hyper-focus on urban issues through the dual lenses of COVID-19 and social justice. Conversations and remarks will examine those issues that may determine how cities newly emerge as resilient and thriving ecosystems and also highlight persistent and new problems facing urban communities. Join online to explore potential solutions and programs that can offer paths forward.
American Cities Rebuilding is a collaboration between NJTV News, New Jersey's statewide public media newsroom; partner newsroom, NJ Spotlight, a leading source of digital public policy, environmental and education news in New Jersey; and, WNET, the nation's flagship public media organization.
Participants include:
CHRISTIANE AMANPOUR, Chief International Anchor, CNN and Host, Amanpour & Company
RAS BARAKA, Mayor, Newark, NJ
RICHARD BESSER, MD, CEO, Robert Wood Johnson Foundation
U.S. SENATOR CORY BOOKER
THASUNDA BROWN DUCKETT, CEO, Chase Consumer Banking
PAT FOYE, CHAIRMAN, New York Metropolitan Transit Authority
JONATHAN HOLLOWAY, PRESIDENT, Rutgers University
DON KATZ, FOUNDER AND EXECUTIVE CHAIRMAN, Audible
DARREN WALKER, PRESIDENT, Ford Foundation
AND MORE!
SCHEDULE:
DAY 1: WEDNESDAY, OCTOBER 14
* Special segment to air as part of Amanpour and Company show
Day 2: THURSDAY, OCTOBER 15
• 9:30am - 10:30am EST: Reimagining the Urban Economy
• 11:00am - 12:30pm EST: Moving Cities Forward:Leadership During Crisis
• 1:30pm - 1:45pm EST: Housing
• 2:00pm - 3:30pm EST: Education: Raising Our Cities' Children
DAY 3: FRIDAY, OCTOBER 16
• 9:00am - 10:30am EST: Criminal Justice: Equity for All in America's Cities
• 11:00am - 12:30pm EST: Infrastructure: A Ticket to Ride in Post-COVID-19
• 1:30pm - 1:45pm EST: Arts In Crisis
• 2:00pm - 3:30pm EST: Healthcare: Flattening the Curve & Addressing the Disparities
• 3:30pm - 3:45pm EST: Closing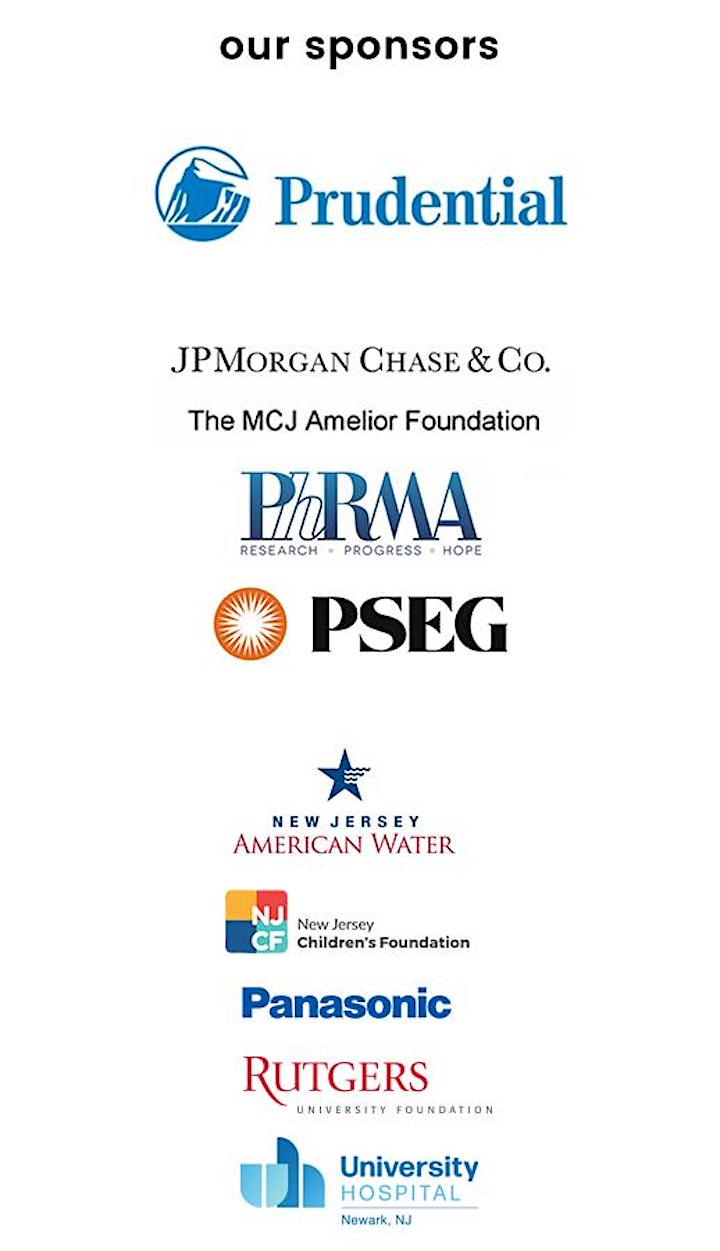 About WNET
WNET is America's flagship PBS station: parent company of New York's THIRTEEN and WLIW21 and operator of NJTV, the statewide public media network in New Jersey. Through its new ALL ARTS multi-platform initiative, its broadcast channels, three cable services (THIRTEEN PBSKids, Create and World) and online streaming sites, WNET brings quality arts, education and public affairs programming to more than five million viewers each month. WNET produces and presents a wide range of acclaimed PBS series, including Nature, Great Performances, American Masters, PBS NewsHour Weekend, and the nightly interview program Amanpour and Company. In addition, WNET produces numerous documentaries, children's programs, and local news and cultural offerings, as well as multi-platform initiatives addressing poverty and climate. Through THIRTEEN Passport and WLIW Passport, station members can stream new and archival THIRTEEN, WLIW and PBS programming anytime, anywhere.
About NJ Spotlight and NJTV News
NJTV News and NJ Spotlight comprise the news division of NJTV, New Jersey's public television network. Each are trusted, member-supported, award-winning independent news sources working in tandem to provide multi-platform reporting across the Garden State and producing live news specials and hosting roundtable discussions.