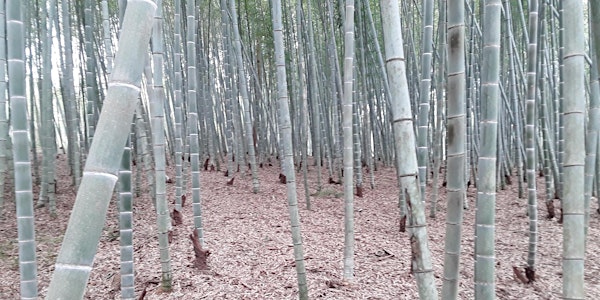 American Bamboo Society 2023 Conference
Take part in a Bamboo Construction Project led by Vinc Math, walk in the historic Avery Island moso grove and enrich your bamboo knowledge.
By Louisiana Gulf Coast Chapter
Date and time
November 2 · 6pm - November 5 · 5pm CDT
Location
Hampton Inn & Suites New Iberia Avery Island 400 Spanish Towne Boulevard New Iberia, LA 70560
Refund Policy
Contact the organizer to request a refund.
Eventbrite's fee is nonrefundable.
About this event
2023 American Bamboo Society National Conference
2-5 November, 2023 in and around New Iberia, Louisiana
Conference Venue
The 2023 ABS National Conference will be held in and around New Iberia, deep in the Cajun country of southwest Louisiana. Much of our time will be spent on nearby Avery Island, where E.A. McIlhenny pioneered the introduction of more than 60 species of bamboo, at that time unknown in the United States; and Jefferson Island, where Mike Richard has introduced dozens of tropical Bambusas.
Conference highlights
(Included in Registration Fee)
(Before the Conference the ABS board will meet 2 November, 9-5)
Thursday 2 November: Hampton Inn, New Iberia. Plan to arrive by 6PM on Thursday as we'll have a Cajun Welcoming Reception and Dinner (be prepared to introduce yourself and talk about how you got involved with bamboo)
Friday 3 November: Hampton Inn, New Iberia. Talks, panel discussions, lunch, ABS general meeting, vendor displays, silent and live auctions & Cajun cocktail and supper. Presentations & panel discussion topics include Bamboo in the Urban Garden, Understanding Rhizomes, The Miracles of Bamboo Charcoal, Bamboo Cooperatives, It all Depends on the Soil & Permaculture, Bamboo Construction, & Bamboo for Wood, Fiber & Food.
Saturday 4 November: bus to nearby Avery Island, home of bamboo pioneer E.A. McIlhenny's flamboyant Jungle Gardens, a bird refuge as well as site of unique tropical plants; the historic Moso grove planted by E. A. McIlhenney more than a century ago; as well as the Tabasco sauce factory (extra charge for tour), all surrounded by bamboo as well (see Andy Ringle's excellent paper on E.A. McIlhenny's work with bamboo). Talks from world experts Garrie Laundry on the botany of Avery Island. Lunch included. Workshops include prepping for bamboo construction (building on Sunday), bamboo art, yoga in the grove. A traditional cochon du lait (roast pig) next to the Moso Grove will be shared later in the day!
Bamboo Construction Workshop
The workshop will be led by international bamboo consultant, Vinc Math (no extra fee for workshop - this is included in the registration fee). The workshop will focus on showcasing how to build with the local bamboo species. Participants will have an unique opportunity to work with Vinc and learn from his extensive experience in bamboo construction. Vinc has worked on projects across the globe and is now sharing his passion for sustainability, innovation and construction with bamboo in the USA. Throughout the workshop you will learn joinery techniques and cutting and shaping bamboo using basic hand and power tools.
The workshop is designed for both beginners and seasoned builders and anyone interested in sustainable building materials and traditional craftsmanship. Participants will leave the workshop with a better understanding of the unique properties of bamboo as a construction material as well as the skills and knowledge to incorporate bamboo into your own building projects.
Don't miss this rare opportunity to learn from international bamboo consultant Vinc Math for two days of learning, creating and exploring the creating, and exploring the possibilities of bamboo construction.
Sunday 5 November: bus to nearby Jefferson Island and its special collection of exotic bamboo. Workshop on bamboo construction, art, and more. Talk by the eminent Mike Richard, owner and curator of Rip Van Winkle Gardens. Lunch included. The Bamboo Construction Workshop will be in full swing on Sunday.
Note: A conference t shirt is included in the registration fee - so please indicate your shirt size when you register.
Questions? send email to LGCC.ABS@gmail.com
If you are not sure of your American Bamboo Society Membership Status please email membership@bamboo.org to check.
If you are not a member - Become an American Bamboo Society Member and save on your registration fee!
Frequently Asked Questions:
Where to stay:
Rooms with special rates have been reserved in the newly renovated Hampton Inn and Suites (400 Spanish Town Boulevard, New Iberia, LA 70560). Call the hotel directly to make your special-rate reservations ($90 +tax for one king and $93 +tax) for two queens) at 337-321-6700 and ask for the American Bamboo rate. The Hampton Inn provides a hot breakfast; most meals will be provided during the three day Conference.
Airport access to New Iberia
The Conference site is serviced by two airports (both with car rentals):
1. Lafayette Regional Airport (LFT ) - is 30 minutes north of the Hampton Inn; Ubers are around $45)
2. New Orleans International Airport (MSY) - is two hours drive east of the Hampton Inn.
Can I display my bamboo goods and be a vendor?
There is ample, but limited space on Friday in the conference room - please indicate on your registration form if you would like to have vendor space. (first come, first served). You can also set up on Thursday afternoon.
Silent and Live Auction to benefit the American Bamboo Society
Both auctions will be on Friday - please bring any bamboo paraphernalia to donate.