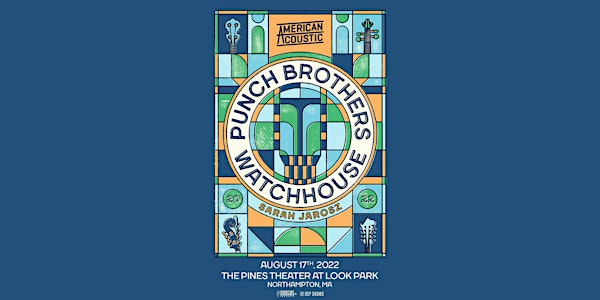 American Acoustic: Punch Brothers and Watchhouse featuring Sarah Jarosz
Presented by DSP Shows & Signature Sounds
Performers
Punch Brothers, Watchhouse
Sarah Jarosz
Location
The Pines Theater at Look Park
300 N Main St
Northampton, MA 01062
Punch Brothers and Watchhouse featuring Sarah Jarosz at the Pines Theater at Look Park (Northampton, MA)
About this event
Click HERE for venue info.
Entry requirements are subject to change. By purchasing tickets to this event you agree to abide by entry requirements in effect at the time of the event. If there are any changes to entry requirements, ticket holders will be notified by email and updates will be posted at dspshows.com.
Current Protocols:
Proof of Vaccination: Not required
Proof of Negative COVID Test: Not required
Face Coverings: Encouraged, but not required
Punch Brothers are mandolinist Chris Thile, guitarist Chris Eldridge, bassist Paul Kowert, banjoist Noam Pikelny, and violinist Gabe Witcher. Their accolades include a Grammy® for Best Folk Album for their 2018 release, All Ashore, and praise from the media, including The Washington Post, which said, "With enthusiasm and experimentation, Punch Brothers take bluegrass to its next evolutionary stage, drawing equal inspiration from the brain and the heart."
In November of 2020, when the world felt so full of uncertainty, Punch Brothers did the one thing that they could rely on: they stood in a circle, facing one another, and made music. A weeklong recording session, after quarantining and minimal rehearsal aside from a few Zoom calls, had culminated in their new record, Hell on Church Street -- a reimagining of Bluegrass great Tony Rice's landmark album, Church Street Blues -- out on Nonesuch in January 2022. Hell on Church Street is a potent work by a band realizing their own powers and returning to the foundations of their music.
Kowert considers this album to "harken back to our early days in the band when we were playing regularly on the Lower East Side, learning all this new material to expand our sonic arsenal."
Pikelny adds, "It made me think of how many times Punch Brothers closed doors for ourselves as far as covering other people's material beyond one or two songs here and there. But I can't imagine making a more personal record, solely through the power of interpretation and delivery. It felt right and proper."
This band of virtuosi had spent more than a decade changing the face of acoustic music, stretching the limitations of instruments, and influencing a generation of young musicians -- but life has a way of keeping a band from getting in the same room. Thile elaborates that "these sessions were a reminder for me of what's really important. I felt silly having this band take up so little of my creative year; it reminded me that us five together is critical to my happiness."
Church Street Blues was Tony Rice's great statement. Rice had already made his name as a member of the legendary bluegrass band JD Crowe and The New South. He also pushed the boundaries of string music as a founding member of the David Grisman Quartet, but this album was him on his own, stripped back to just his guitar, his voice, and an inspired collection of songs. Performing songs by heavyweights like Gordon Lightfoot and bluegrass founder Bill Monroe, Rice's interpretations of these songs and tunes have since become the standard.
Punch Brothers formed in 2006. Their first Nonesuch record, Punch, was released in 2008 and combined elements of the band's many musical interests. In 2009, they began a residency at New York City's intimate Lower East Side club The Living Room, trying out new songs and ultimately spawning Antifogmatic (2010). In 2012, the band released Who's Feeling Young Now?, which Q magazine praised for its "astonishing, envelope-pushing vision," while Rolling Stone said, "The acoustic framework dazzles -- wild virtuosity used for more than just virtuosity." Their 2015 album, the T Bone Burnett-produced The Phosphorescent Blues, addresses with straight-up poignancy and subversive humor, the power and the pitfalls of our super-connected world.
By the time 2019 came to its fitful end, Andrew Marlin knew he was tired of touring. He was grateful, of course, for the ascendancy of Mandolin Orange, the duo he'd cofounded in North Carolina with fiddler Emily Frantz exactly a decade earlier. With time, they had become new flagbearers of the contemporary folk world, sweetly singing soft songs about the hardest parts of our lives, both as people and as a people. Their rise—particularly crowds that grew first to fill small dives, then the Ryman, then amphitheaters the size of Red Rocks—humbled Emily and Andrew, who became parents to Ruby late in 2018. They'd made a life of this.
Still, every night, Andrew especially was paid to relive a lifetime of grievances and griefs onstage. After 2019's Tides of a Teardrop, a tender accounting of his mother's early death, the process became evermore arduous, even exhausting. What's more, those tunes—and the band's entire catalogue, really—conflicted with the name Mandolin Orange, an early-20s holdover that never quite comported with the music they made. Nightly soundchecks, at least, provided temporary relief, as the band worked through a batch of guarded but hopeful songs written just after Ruby's birth. They offered a new way to think about an established act.
Those tunes are now Watchhouse, which would have been Mandolin Orange's sixth album but is instead their first also under the name Watchhouse, a moniker inspired by Marlin's place of childhood solace. The name, like the new record itself, represents their reinvention as a band at the regenerative edges of subtly experimental folk-rock. Challenging as they are charming, and an inspired search for personal and political goodness, these nine songs offer welcome lessons about what any of us might become when the night begins to break.
"We're different people than when we started this band," Marlin says, reflecting on all these shifts. "We're setting new intentions, taking control of this thing again."
When 2020 dawned, Emily and Andrew hatched a plan to break old habits: For the first time, they'd leave Ruby with Emily's mom and escape with their longtime bandmates to a cabin on the edge of Smith Mountain Lake, a sprawling hideaway at the foot of the Appalachians. Also for the first time, after a decade of Andrew engineering and producing most of the music the band made, they'd bring help—Josh Kaufman, the producer and multi-instrumentalist who had wowed them with his work alongside the likes of The National and his trio Bonny Light Horseman. There were no expectations. This was simply a full-band retreat with a new friend and co- producer, working together in the refulgent sunshine of grand lakeside windows.
Almost immediately, they realized this wasn't some audition; they were making Watchhouse. On the first day, Kaufman told Emily and Andrew to imagine this were their first record and to realize that conceptions of how they had worked, recorded, or even sounded belonged only in the past. In a way, Andrew had new permission and space to lean into his vision for what Watchhouse might become.
"Andrew is so confident in what he wants to hear, so full of ideas. Even beyond what we'd worked out together on tour with these songs, he knew what he wanted," Emily says. "Having Josh in the studio meant Andrew didn't have to bear the whole weight of getting there."
Alongside drummer Joe Westerlund, guitarist Josh Oliver, and bassist Clint Mullican, Andrew and Emily indulged novel structures and textures. "Better Way," a kind-hearted meditation on online meanness, shifts slowly from a bluegrass trot into a spectral marvel before an immersive acoustic drone frames a new future. The gentle harmonies of "Belly of the Beast" eventually turn into a tangle above baying strings, Andrew and Emily guiding each other through the shared perils of whatever comes next.
These songs, after all, started with a fundamental shift in Emily and Andrew's life. In the first few months after Ruby's birth, they split the day into shifts: Emily minded Ruby during the waking hours, while Andrew sat beside Ruby all night, watching their firstborn sleep as he quietly strummed strings. In those wee hours, he allowed his writing to wander, capturing the uncanny sense of wonder and intrigue that pervades the darkest parts of night. "If I didn't have Ruby in my hands, I had an instrument in them," remembers Andrew. "And watching Ruby sleep, being surrounded by that mystery at night, led to a feeling of magical realism in these songs. I used melodies and ideas I'd never use."
Long-lost relatives, for instance, gather with him around the crib in communion during "Lonely Love Affair," mentoring him through this staggering upheaval. He expresses the fears of a new father, alleviated by the possibility and goodness he sees in his sleeping baby. These songs allowed Marlin and Frantz to take the chance Kaufman proposed because they're about the value of doing exactly that, of trusting in grand acts borne of personal uncertainty.
Likewise, Emily's dual turns here as lead singer are absolute breakthroughs, equally wrought from the confidence of past success and the excitement of present energy. As Emily coolly considers the ups and downs of mere existence, "Upside Down" pirouettes from the country thump of Neil Young in 1971 to the surging epiphanies of Radiohead a quarter-century later. Andrew wrote "Beautiful Flowers" after crashing into and presumably killing a butterfly with his car—this quiet triumph is a history of the automobile that doubles as a poignant chronicle of the modern tragedies and miracles we normalize. It reckons with climate change and the fatal side- effects of our industrious, industrialized nature with beguiling humility. Emily delivers all this with a gospel conviction, astral horns slowly unspooling beneath her as a reminder of the fragility at work.
With harmonies so easy they sound like kitchen-table talk, Andrew and Emily sail through "New Star," an ode to the self-sacrifice and renewal of trying to create something, like a child, that might make the world better. Revolutionary kindness, social responsibility, collective understanding: These simple but staggering ideas are the unseen threads of Watchhouse, a miraculous expression of measured domestic protest.
In our era of recalcitrant typecasts and incessant cultural churn, it is rare to witness anyone press ahead into the unknown while holding fast to what's best about their past, too. That's what Watchhouse have done with their self-titled debut. Emily and Andrew have discarded neither their tenderness nor thoughtfulness; instead, they've enriched those essential qualities by submitting to the risks of new sounds, structures, and inputs. They've embraced surprising notions that make their steadfastness stronger.
It will be tempting to summarize this record as Watchhouse's inevitable parenthood record, or maybe the one where they got a little strange, or maybe the one where they change their name. It is, instead, a record about growing up without growing old, about experiencing the world and letting it change you, whether through the mystery of a newborn or the vagaries of improvising or the comforts of familiar and wondrous love. Watchhouse is a perfectly rendered link between their longtime allure as Mandolin Orange and an unwritten future as the band Watchhouse, one that's only as hopeful as we can imagine it might be.
With her captivating voice and richly detailed songwriting, Sarah Jarosz has emerged as one of the most compelling musicians of her generation. A four-time Grammy Award- winner and ten-time nominee at the age of 30, the Texas native started singing as a young girl and became an accomplished multi-instrumentalist by her early teens. After releasing her full-length debut Song Up in Her Head at 18-years-old, she went on to deliver such critically lauded albums as Follow Me Down, Build Me Up From Bones, and Undercurrent, in addition to joining forces with Sara Watkins and Aoife O'Donovan to form the acclaimed folk trio I'm With Her. Her fifth studio album, World On The Ground, produced by John Leventhal, went on to win the Grammy award for Best Americana Album. In 2021 Jarosz released the Grammy-nominated Blue Heron Suite, a much- anticipated song cycle which she composed after being the recipient of the FreshGrass Composition Commission. She will continue to tour in 2022 in support of both releases.