About this Event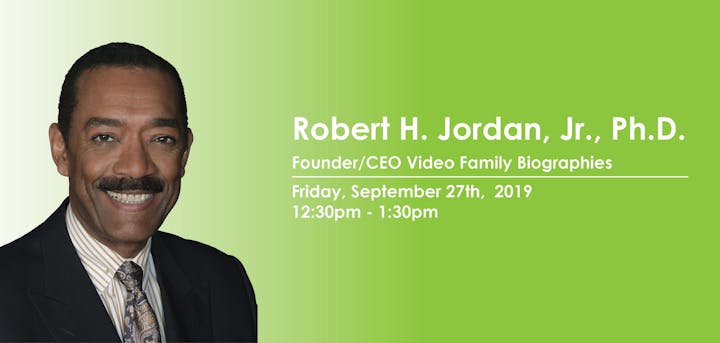 AMDG September Speaker Series featuring:
Robert H. Jordan, Jr., Ph.D.
Topic:
Multigenerational families have found that it is of utmost importance to educate younger generations on the significance of their heritage. We will explore how video biographies become a valuable instrument in helping to instill the understanding of family values and traditions throughout generations.
About Speaker
Robert H. Jordan, Jr., is a retired, weekend anchor for WGN-TV's News at Nine. His journalism career has spanned over 48 years. He earned his undergraduate degree from Roosevelt University, a master's degree from Northeastern Illinois University and a Ph.D. in Educational Leadership & Policy Studies from Loyola University in Chicago.
Jordan, who served in the United States Army as a surgical assistant, began his broadcast adventure in 1970 at WSM-TV in Nashville, Tenn. Where he anchored an early morning variety show and was responsible for on-camera news breaks. In 1973, he began work at WGN-TV, in Chicago, as a general assignment reporter and an anchor for the One O'clock News.
Twenty-five years ago, Jordan opened his own video production company -- Jordan & Jordan Communications, Inc. He has produced many independent projects, including biographies for affluent families across the country. In 2000, Jordan began devoting all of his energies to the biography projects and his production company -- Video Family Biographies -- began working exclusively with high-net-worth families in preserving the family legacy by chronicling generational stories for this "special" niche. In 2009, Jordan expanded his production company to include Video For Foundations as a dedicated arm of his company. In 2015, Jordan added two additional biography companies to his existing businesses – Sports Legacy Biographies and Heirlooms on Video – a specialty firm that helps collectors of Fine Art and memorabilia tell the fascinating stories behind their collections.
An active participant in the community, Jordan serves on the Board of Directors of several local organizations, including, The Safer Foundation, The Night Ministry, The John G. Shedd Aquarium and the Loyola Family Business Center. He also sits on the Salvation Army advisory board.
Jordan recently published his first book, entitled, "Murder in The News: An Inside Look at How Television Covers Crime."
http://www.Videofamilybiographies.com
Wise Words
It's important to hear what people in our community have to say, especially those who are well informed. We are honored to be able to host leaders on topics ranging from creativity and design to globalization, faith, and technology.