AMCC & EFNEP are hosting a Cooking & Nutrition class! (CL & NR)
About this Event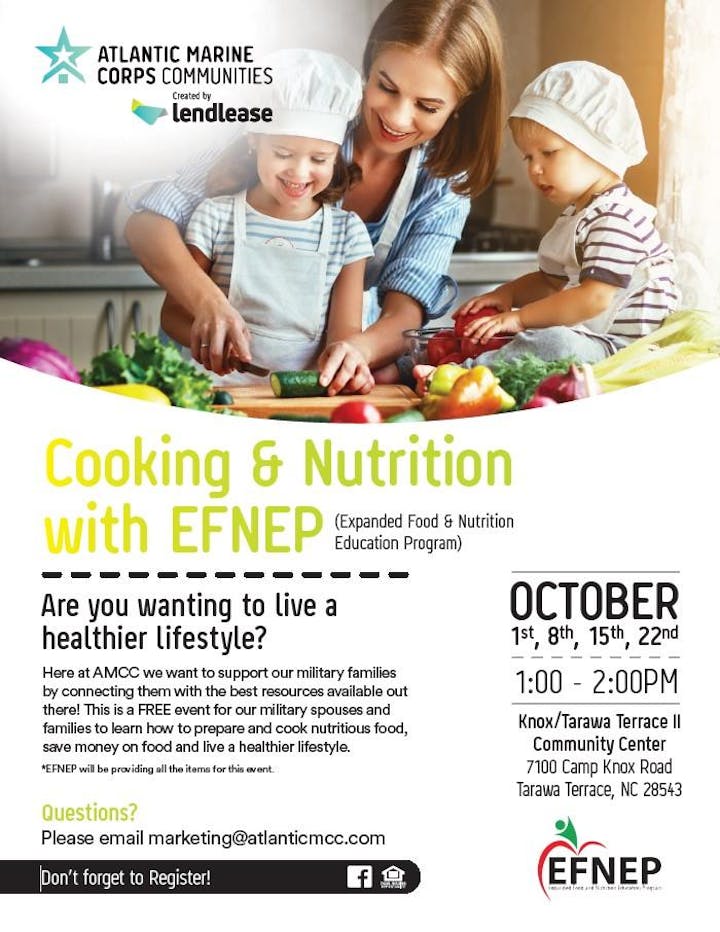 This event is FREE for our military spouses who live with us on MCAS Camp Lejeune & New River Residents. This is a 4 week 1 hour cooking class where Rosie Burton our NC State EFNEP is coming out to bring you amazing cooking supplies and provide instruction on cooking and nutrition. Throughout the course you will receive a variety of cooking utensils, taste amazing food, look about nutrition and how to save money of groceries. Rosie also provides everyone with a cookbook and certificate of completion at the end of the course. This program is an amazing opportunity and is first come first serve as spots are limited!
***By attending or participating in this event, you grant Atlantic Marine Corps Communities and/or any of its affiliates permission to take your picture and/or record your voice and to use your likeness or image and/or voice in photographs and/or still or motion pictures, for purposes of publication in newspapers, newsletters, reports, magazines, and/or other printed or electronic media and/or broadcast by means of radio or television transmission. If a minor is attending or participating in the event accompanied by you as an adult, you are in effect providing this release as the parent or legal guardian of, and on behalf of, such minor.
As such, you relieve and hereby agree to hold AMCC and its parent, affiliates, members, partners, officers, directors, employees and agents, free and harmless from any and all liability arising out of the photography and recording of your (or that of a minor of which are parent or guardian) image and voice and any publication, use and broadcasting of such images or recordings. You understand that the photography and/or recording is being carried out with your consent and you give permission for any such photos, recordings and/or other materials to be used by AMCC for as long as they deem necessary. The foregoing permission is granted without any expectation or allowance of compensation, fee or royalty for any publication, broadcast and/or other use of the images and/or recordings, as described, unless otherwise expressly agreed in writing by AMCC.