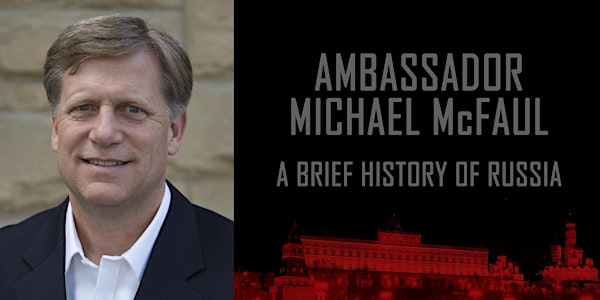 Ambassador Michael McFaul: A Brief History of Russia
When and where
Location
Commonwealth Club 110 The Embarcadero San Francisco, CA 94105
Description
Michael McFaul, Former U.S. Ambassador to Russia; Author, From Cold War to Hot Peace: An American Ambassador in Putin's Russia; Twitter: @McFaul
Dr. Gloria Duffy - President and CEO, The Commonwealth Club (moderator)
Since the dissolution of the Soviet Union 27 years ago, Russia has been both a central figure in our foreign relations and a surprise actor in our domestic politics. Given the unprecedented attention paid to our Cold War foe, how did we get here? Ambassador Michael McFaul may have some answers. McFaul served as the 7th United States Ambassador to Russia from 2012-2014 and is one of America's leading scholars, with unparalleled insight into the Russian Federation and how it functions.
in his new book, From Cold War to Hot Peace, McFaul shares his knowledge and provides a unique perspective on one of today's most contentious and consequential international relationships. Come listen to reflections on US and Russia relations, election interference, the rise of the hostile, paranoid Russian president and a first-hand account of McFaul's ambassadorship.
Location: 110 The Embarcadero, Taube Family Auditorium, San Francisco
Time: 6 p.m. check-in, 7 p.m. program, 8 p.m. book signing
Note: McFaul photo by Tiffany Ong

This is a Good Lit event, underwritten by the Bernard Osher Foundation
All ticket sales are final and nonrefundable.