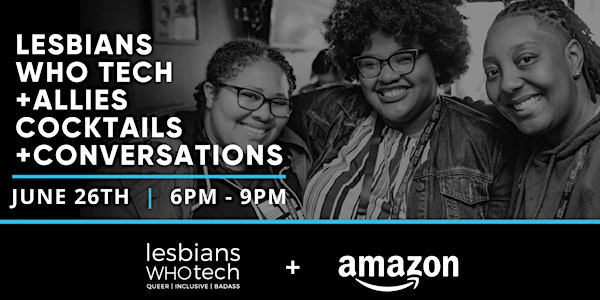 Amazon x Lesbians Who Tech + Allies Seattle || Cocktails & Conversations
Location
Blanchard Plaza - Coral
2201 6th Ave
Seattle, WA 98121
Description
Join the #LWTSQUAD and tech leaders at Amazon on June 26th for an evening of cocktails, mocktails, talks, and networking as we explore the changing landscapes of technology.
This is for LGBTQ women, women of color, transgender + gender non conforming folks, + our allies for an evening to actually connect, learn, and to share what it's like to be on the frontlines of tech across the world.
Featuring Amazon leaders + your local #LWTSQUAD!
Agenda (open to add more):
6:00pm​ ​-​ ​6:30pm Check-in and Mingling​
6:30pm​ ​-​ ​7:00pm Welcoming Remarks from Lesbians Who Tech + Amazon
7:00pm - 9:00pm Networking, Talks, and Connecitng
This event space is wheelchair accessible with ADA compliant entrance and restrooms.
All ages welcome.
Use #AmazonOpsTechLWT to follow the event online!
Agree to follow our Code of Conduct:
Lesbianswhotech.org/code-of-conduct
Lesbians Who Tech + Allies is the largest LGBTQ Technology community in the world. We are 40,000 women, people of color, non-binary, allies, and LGBTQ people in tech, empowering the next generation of diverse tech talent in 40+ cities worldwide. Our 5th Annual Summit in 2018 was the most-attended tech conference for women in San Francisco with over 5,000 attendees who are 40% women of color -- making us the largest professional LGBTQ event in the world. To learn more go to Lesbianswhotech.org