An engaging webinar for manufacturers and brands to sharpen their vision for success on Amazon.
About this event
Brief summary of introduction to Amazon selling, with a concentration on advanced tactics and "best practice" execution that leads to long-term success.
An excellent presentation to answer the who, what, when, how, why of selling as a third-party on Amazon.com.
Led by Toucan Advisors, experts in Amazon selling.
Who should attend?
Consumer goods brands with $1M to $30M US market size
Owners, CXO, SVP in Ecommerce, marketing, sales
Topics Covered
How to plan for direct-to-consumer selling alongside traditional wholesale models
How to evaluate your Amazon potential market size
Compare net margin from Amazon vs existing channels
Fulfilling Amazon orders – What are your options and the impact on sales and operations?
How much does it cost to sell on Amazon?
How does Amazon A9 search engine determine search results ranking?
Why is Amazon advertising critical for success?
How do product page elements contribute to sales?
How Amazon SellerCentral has an impact on business operations and customer service
SellerCentral vs VendorCentral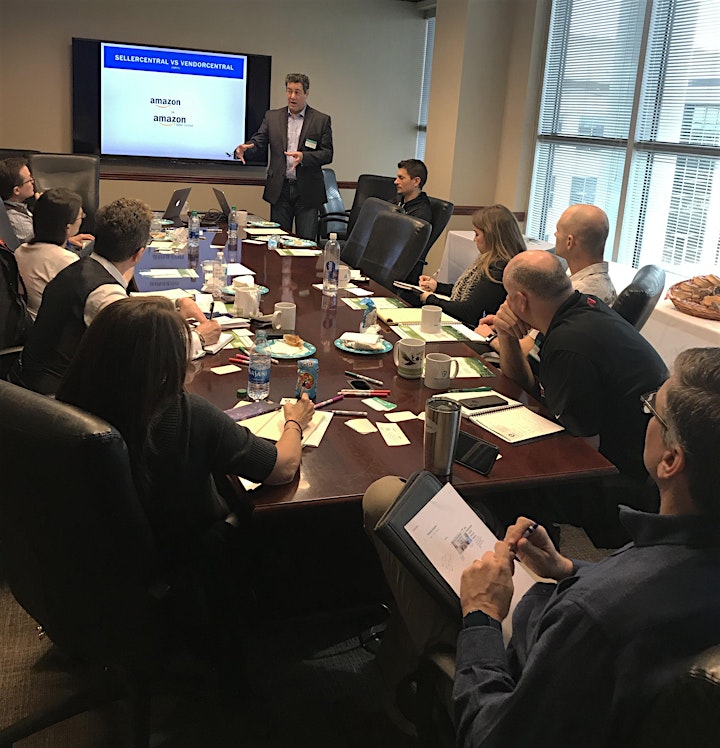 Quote from previous attendee:
"Great presentation, great group of peeps, great format. I would have happily sat there another hour. (Perhaps scheduling 3 hours would have been the only thing I can think of to improve it! Ha!)"
David Worrell, Managing Partner, FuseCFO
How can I contact the organizer with any questions?
Email the host at this address: freddie at toucanadvisors dot com.
Who will be presenting and what is their experience?
Eric Mindel: Eric has been involved in the business side of web technologies and ecommerce for more than 20 years. His background includes racing through two tours during the dot com era, helping design web applications for data analysis and reporting, and building an ecommerce company that he later sold. His specialty is understanding business needs and numbers, and then executing successful web-based solutions.
Beginning in 2015, Eric has focused on helping other small/medium B2C companies improve their websites' sales performance. With a particular emphasis on bringing successful Amazon strategies to manufacturers of consumer goods, Eric's 'been there' experience and skillset is tough to find in any Amazon consultant.
Freddie Sexton: Freddie has spent his entire 16 year professional career online in digital marketing, researching and understanding the top strategies he could employ to grow his client's sales. In the early 2000s, right out of college he leapt cannonball style online starting his own web design firm which grew into a 12 person inbound marketing agency, specializing in SEO, paid search and marketing automation. In addition to leading a successful Amazon agency, Freddie planned and executed large scale 7 figure advertising strategies. A number of years ago, he noticed the profound and immediate impact Amazon affords manufacturers who are looking to sell direct to their end customers. Freddie spends most of his time these days meeting with these businesses and dissecting their pain points with Amazon, then leveraging his agency experience as well as his holistic marketing and business chops to best ensure their success on this ever changing platform.