Actions and Detail Panel
Amazon and Connected Lab Present: the Amazon Alexa and Echo Hackathon
Fri, Mar 11, 2016, 6:00 PM – Sun, Mar 13, 2016, 3:00 PM EST
Description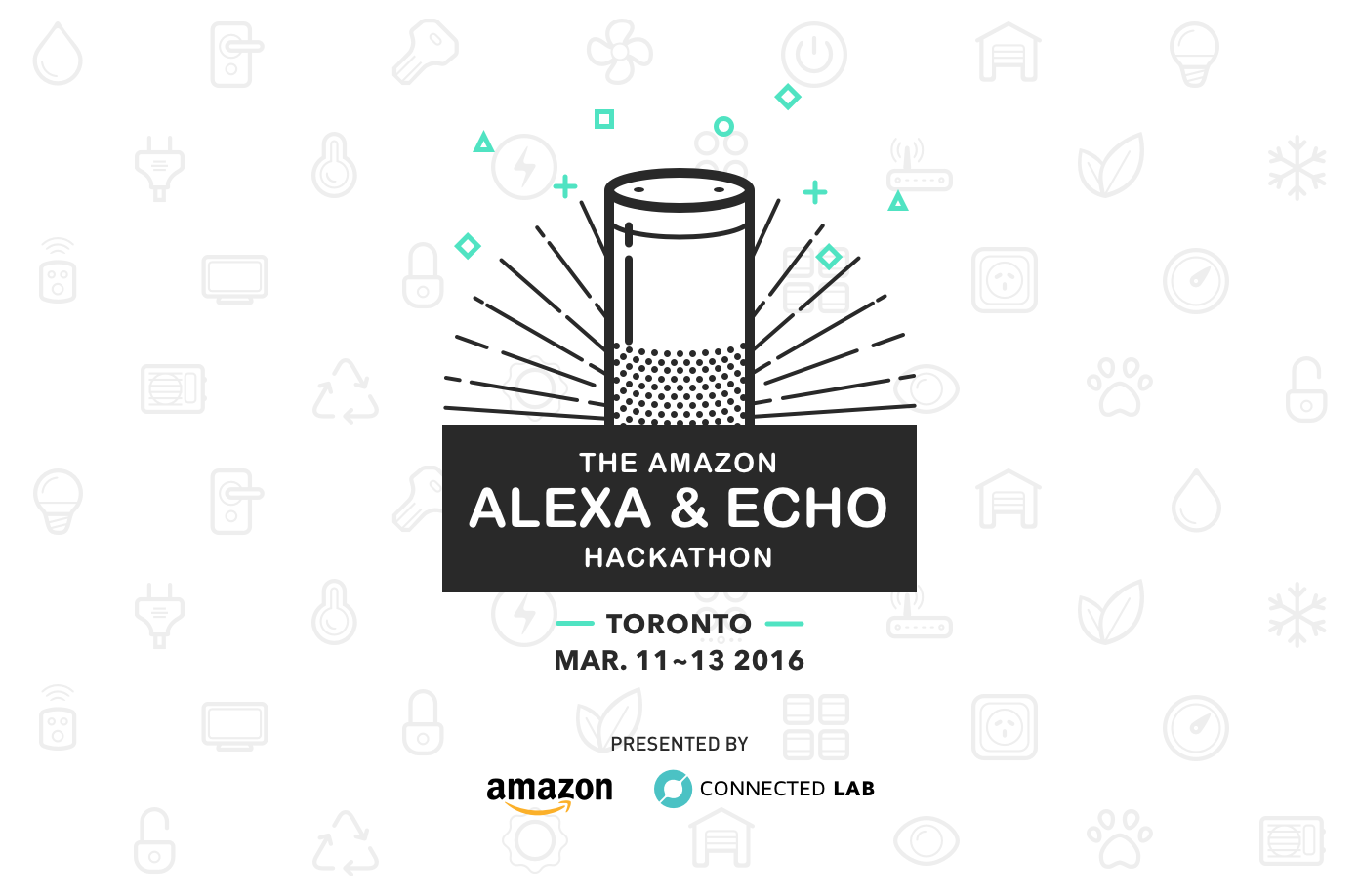 Connected Lab, the global leader in connected software experiences, is hosting the Amazon Alexa and Echo Hackathon from Friday, March 11, 2016 to Sunday, March 13, 2016 at Connected Lab's Headquarters in Toronto, Ontario. The Amazon Alexa and Echo Hackathon will explore voice-based user interfaces for Alexa, the software that supports Amazon's Echo hardware.
Alexa's Skills enable people to interact with connected devices using just their voice. Attendees will build voice capabilities, called Skills, for Alexa. The Amazon team will provide training prior to the hackathon for using Amazon Web Services with the Alexa Skills Kit.
There is a $10 registration fee to hold your spot, which will be refunded 100% when you arrive and sign in.
You bring:

Laptop

Chargers

Any other hardware (i.e., devices you want to integrate with Alexa)
We supply:
Dinner Friday, breakfast, lunch, and dinner Saturday, breakfast Sunday

Snacks

CAFFEINE
Event schedule (tentative):
Day 1: Friday, March 11, 2016
6PM - 6:30PM: Registration and dinner
6:30PM - 9PM: AWS and Alexa developer workshop (Presented by Amazon), team networking
Day 2: Saturday, March 12, 2016
8AM - 9AM: Team registration (Bright and early… Just focus on getting here, we'll have plenty of caffeine)
9AM: Hackathon begins! You have 24 hours to build something awesome. Also, breakfast will be served around here.
1PM: Lunch
7PM: Dinner
Day 3: Sunday, March 13, 2016
10AM: Hackathon over! Breakfast is served
10:30AM - 12:00PM: Demos
12:15PM - 12: 45PM Judging
12:45PM - 1PM: Winners announced
Prizes:
Amazon Echos

Amazon will feature winners on Amazon's developer blog

Connected Lab will offer winners a chance to interview for a full time position or paid internship
Registration:
Each individual participant must register though Eventbrite.
Teams will be assembled Friday night after the workshop. Teams can be up to 4 members, you can come with a pre-determined team or find a team on Friday night. Do not worry if you don't have a team before the event, we encourage people to sign up even if they don't have a pre-determined team.
There will be a registration desk upon your arrival on Friday night. Please provide your name and you will given a ID badge and your refunded deposit.
Rules:
Demos must work. No pure design mockups.

Fresh code only. APIs and libraries are fine (as long as you didn't write them). Winners may have code reviewed.

Have excellent personal hygiene.

Be kind.
Social media:
https://twitter.com/connectedlab
https://www.facebook.com/connectedlab
https://medium.com/@connectedlab
Judges:
Paul Cutsinger, Principal Alexa Evangelist at Amazon
Paul Cutsinger is the Principal Alexa Evangelist. He works with developers to design and develop voice based user experiences for web services and the internet of things. Previously Paul was Chief Evangelist of the Amazon Appstore and VP of Technology at Disney Interactive. Paul regularly speaks to developers at conferences like Game Developers Conference (GDC), Mobile World Congress (MWC), Berlin Games Week, AWS ReInvent, the Tokyo Game Show, and hackathons. Follow him on Twitter, LinkedIn, and Twitch @PaulCutsinger.
Damian McCabe, VP Engineering at Connected Lab

Damian leads the Product Design and Engineering teams at Connected Lab. Before starting Connected, he worked at Pivotal Labs, Xtreme Labs, and IBM Global Business Services. Damian has been focused on mobile computing for the past 5 years and has worked on apps for CIBC, Uber, Target, Air Canada, Walmart, and Instagram.
Nathan Dyck, Emerging Tech Lead at Nanoleaf
Nathan currently manages technology development at Nanoleaf, a company that creates beautiful, energy efficient LED lighting products. Coming from a materials science background, Nathan was attracted by the innovative hardware Nanoleaf makes, although soon came to realize software as the amplifier that makes hardware truly great. He loves playing with his Echo (which is hard to come by here in Canada) and sees voice control as central to the connected home. He's excited to see the innovative ways Alexa can be taken beyond connected lighting this weekend.
Trevor Hunter, CTO at Rakuten Kobo
Trevor is the Chief Technology Officer at Rakuten Kobo, and is responsible for the innovative technology behind all facets of Kobo's world-class eReading service. He oversees the engineering practice that holds quality and innovation in high regard, while always keeping the key focus on what customers want and need in a digital reading ecosystem. Previously, Trevor held the role of Enterprise Architect at Rakuten Kobo, where he devised actionable strategies to support the company's business goals by employing best practices, while ensuring development and operational reliability for internet-scale architectures.
Prior to joining Rakuten Kobo, Trevor held various roles at Infusion, where he grew his experience as a trusted advisor through his work across a diverse set of verticals including retail, travel & hospitality, and financial services.