Description
Attend this Free event presented by Amazon and Code District and dive deep into Amazon's new devices for smart home, smart screen and developer tools! Also, learn how to build skills for Alexa-enabled devices!



Lucky participants will win a free Amazon Alexa devices. The perfect holiday gift!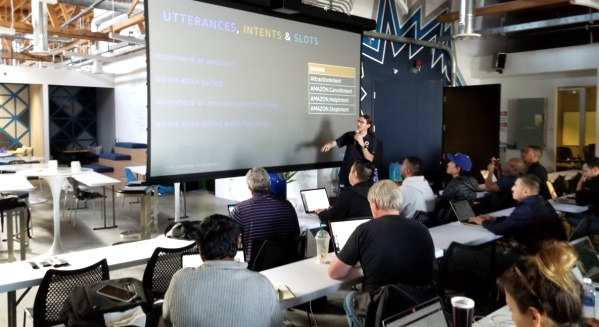 PLEASE FOLLOW THE DIRECTIONS CAREFULLY IN THE DOCUMENT BELOW IN REGARDS TO PAYING FOR PARKING. WHEN YOU PAY THE $3.00 FOR THE PARKING, PLEASE PLACE THE TICKET IN THE WINDOW OF YOUR CAR!!
About this Event
New Device Preview
Amazon launched more than 70 new products, features and tools in September alone -- new Echo Auto, Echo Show, Echo Dot, Fire TV Recast and even a wall clock -- as it continues to put Alexa everywhere. See some of these new devices and learn how you can use them to make your home and business smarter and reach new customers with increased capabilities.


Alexa Skill Building Workshop - December 8, 10:00 a.m. - 5:00 p.m.
Updated content for new Amazon developer console and new AWS lambda function interface. Alexa is a cloud-based voice service from Amazon and the brain behind tens of millions of devices including the Echo family of devices, FireTV, Fire Tablet, and third-party devices with Alexa built-in. Learn how to build capabilities, or skills, that make Alexa smarter and make everyday tasks faster, easier, and more delightful for customers. Hands-on labs will teach you how to code cool skills for Alexa.
What you will learn:
How to build engaging voice experiences

Create natural, engaging voice experiences and reach and delight customers through Alexa-enabled devices.

How to add visual and touch elements

Learn how to design, build, and deploy visually rich experiences to tens of millions of Alexa devices with screens.

How to make money with Alexa when you build delightful skills with compelling content.
Hackathon - December 9, 10:00 a.m. - 5:00 p.m.
Got a great idea for an Alexa skill? Start building it in this full day Alexa skill hackathon. Skills that are built during this hackathon that pass the Alexa certification test will be published to the Amazon Alexa skills store for anyone to enjoy!


First and Second Prize for Best Skills
First and second place prizes will be awarded. Winners will be selected based on the uniqueness of the skill, creativity and best use of the Alexa Skill Kit especially the use of in-skill purchasing. Prizes will be Alexa-enabled devices!
Pre-requisites For this Event
Get a developer account: developer.amazon.com (free)

Get an aws account: aws.amazon.com (free - but CC required for signup)

Download sample templates to your desktop: https://github.com/alexa

Laptop computer and a willingness to learn