Description
2017 KING & QUEEN AMAZING "GRACE" PAGEANT
DATE: SATURDAY-SEPTEMBER 23RD, 2017
TIME: 11.00 A.M.

LOCATION:
BLJ Grace Center
225 Joyce St.
Statesboro, Ga.
OPEN TO ALL!!
---
REGISTRATION:
Deadline: Friday September 1st, 2017
If paid after the deadline it is a $10.00 late fee
There will not be any refund given for any reason!!
Absolutely NO door entries
Age Divisions:
1-4- Tiny Miss
5-6- Little Miss
7-9- Young Miss
10-12- Pre-teen Miss
13-15-Teens
Registration Fee:
$65.00 to enter all categories: Beauty, Best Smile & Most Beautiful (If you have more than one child participating, the fee for the second child for all categories will be $45.00)
*Participants may be sponsored by a business or individual. Contestants will be judged on beauty, poise, personality and overall appearance.
Mail checks to:
Bethesda House Ministry
C/O Teresa Jackson
P.O. Box 2299
Statesboro,Ga. 30461
Make checks payable to Bethesda House Ministry
---
ADMISSIONS: DAY OF THE EVENT
Note: ONE parent admitted free with participating child
CHILDREN- $ 3.00
ADULTS- $ 5.00
---
Pageant Awards:
Queen: Queen crown, trophy, sash, gift bag
King: King crown, trophy, sash, gift bag
Those placing 1st thru 4th: Trophy and gift bag
All other contestants not placing will receive a participation gift bag.
Questions please contact: please call JaToya Grant at 912- 515-7236 or email at jatoyamccoy86@gmail.com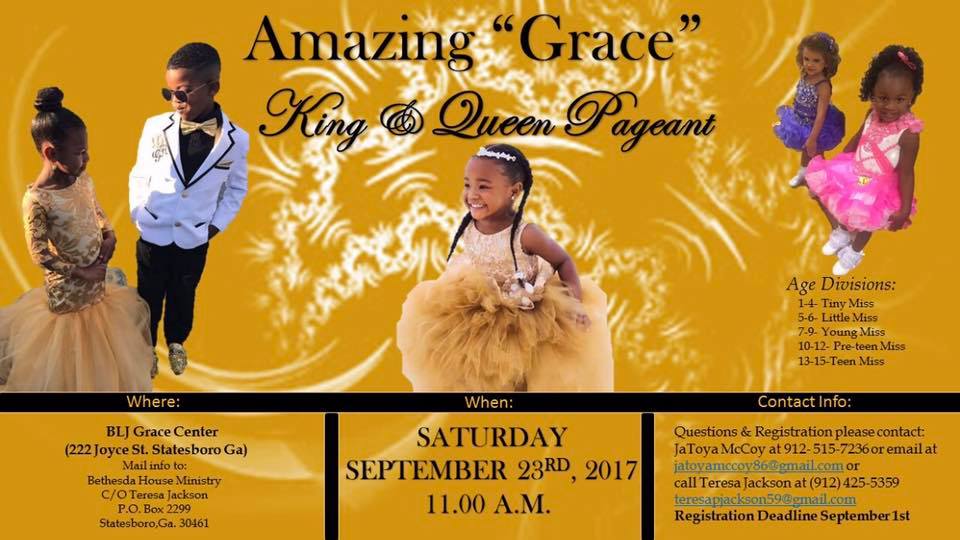 Date and Time
Location
Refund Policy