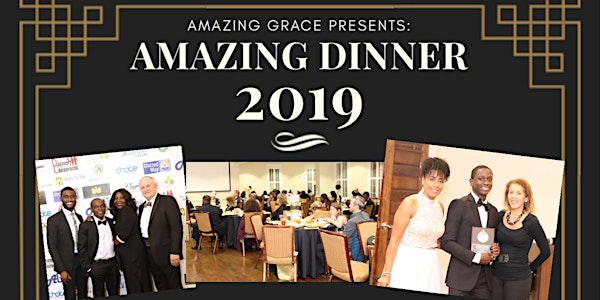 Amazing Grace - Honoring Africa's Children's Fund & Chairman Turner
Location
7643 GA-85
7643 Georgia 85
Riverdale, GA 30274
Amazing Grace Evangelical International Ministries Inc. presents Amazing Dinner 2019!
About this event
"Honoring: Africa's Children's Fund & Clayton County's Chairman Jeffrey E. Turner "
Who:
We are Amazing Grace Evangelical International Ministries Inc.
Founded in 2009 by Evangelist Martha Harley, Amazing Grace is a 501(c)(3) non-profit organization with a mission to reach the unreached, empower the community, and promote life through the right choices.
We pride ourselves in our grassroots approach to community outreach. Our resource center located in the heart of Jonesboro Georgia has served as an invaluable asset to the community through its food and clothing bank, homeless and woman in crisis intervention, internet cafe, educational programs, counseling, community events, and much more.
In less than a decade, Amazing Grace has left a definitive mark on the community through several key events such as the CHOICE Youth Empowerment Program, Back to School event, Christmas event, the Ahorbre project, and of course, our annual fundraising dinner.
Amazing Grace has been blessed with the privilege to partner with a plethora of organizations such as the Clayton County Police Department, The Neighborhood Foundation of Greater Atlanta, United Way, Belk, Publix, and many more. We wouldn't be here without the support of our partners, board members, staff, volunteers, donors, and our community. Thank you all for your continued support.
This year, we are honoring Africa's Children's Fund, a private non-profit 501(c)(3) organization headquartered in Atlanta, Georgia. Africa's Children's Fund was founded in 1993 by Victor Mbaba. Since its inception, Africa's Children's Fund has impacted over 200,000 children in the United States of America, Africa, and the Caribbean through their development and relief programs for children.
We will also be honoring Clayton County's Chairman Jeffery E Turner who has been exceptional support and guide to Amazing Grace Resource Center and Youth CHOICE empowerment programs.
Chairman Turner is known as an honest and approachable leader and is dedicated to the constituency of Clayton County. He devotes many hours to be "out and about" in the county engaged in community activities and listening to issues and concerns that are important to residents and businesses. Beginning as a patrolman and rising through the ranks to the position of Chief of Police in March 2007. Chief Jeffrey E. Turner was the first African-American Chief of Police in Clayton County. Jeffrey E. Turner was elected by the voting constituency of Clayton County as Chairman of the Board of Commissioners in August 2012. Chairman Turner has been the backbone and played a very integral part of Amazing Grace community Resource Center and Amazing Grace's Youth Empowerment outreach, a special program design for youth living in challenging situations. The programs offers hope and a better alternative to life choices. Please join us as we honor Chairman Jeffrey E. Turner, and publicly recognize him as a dedicated and gracious leader for Clayton County
What:
We are hosting our annual fundraising dinner to raise funds for the organization, foster new partnerships, and personally connect with our community.
There will be plenty of food, live music, networking, special performances, guest speakers, and much more. This year will be our largest fundraising dinner in history. You do not want to miss it!
Our goal is to raise over $20,000 - and we are proud to announce that our Board Members and Partners have been so gracious to put together a $20,000 matching fund. This means every dollar you donate will be matched dollar-for-dollar! 100% of proceeds go directly towards community impact.
When:
Saturday, November 2nd, 2019
Doors open 5:00 PM EST
Where:
Prime Restaurants and Events
7643 GA-85, Riverdale, GA 30274
Attire:
Black-tie Event
Cost:
General admission: $50
Silver Package: $500
Gold Package: $1,000
Platinum Package: $1,500
Invite your friends, family, loved ones and let's have a good time while supporting a great cause! We look forward to seeing you!