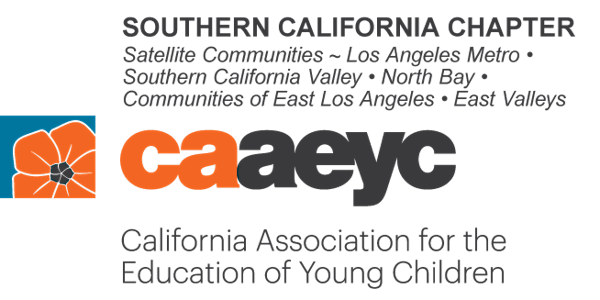 Amaze Your Kids and Yourself with Science!
Southern California Chapter of the California Association for the Education of Young Children presents
About this event
Southern California  Chapter of the California Association for the Education of Young Children
presents
Amaze Your Kids and Yourself with Science!—It's as Easy as Getting Messy and Asking Questions
Featured Presenter
Sylvia Rath, School Director and Parenting Coach
Sylvia started her career as a Preschool Teacher for La Playa Cooperative Nursery School almost 30 years ago when she had a young preschooler herself. In 1999 she moved on to become Director at Little Village Nursery School overseeing a staff of 9 Teachers. Working with a small community of 40 children and 20 in a "Parent and Me" class, Sylvia was able to support parents with parent education and promote developmental preschool education. Working through the State of California's ECE Director Mentor program, Sylvia has also been a leader in her community, coaching both Teachers and Directors to encourage more growth and longevity in the ECE field.
Saturday, May 1, 2021
10:00 a.m. – Log on/Welcome/Introductions/Resources
10:30 a.m.-11:30 – Presentation by Sylvia Rath
1.5 hour Zoom Webinar/1.5 Hours of Professional Development
Professional Development Certificates Provided to Attendees After Completion of Evaluation/Survey Following Event.
Become a Member! - Membership Information, www.naeyc.org
ONLY THE FIRST 300 ATTENDEES WILL BE ADMITTED TO WATCH THE WEBINAR LIVE. ALL REGISTRANTS WILL RECEIVE A RECORDING OF THE WEBINAR.
To allow for all to participate, there will be no set fee. Donations appreciated.
Also, check out www.sccmasks.com for stylish and purposeful hand-crafted masks to keep us all safe!
Register online at: https://amazekidswithscience.eventbrite.com
Directions for obtaining the Zoom link will be sent closer to the event to all registered attendees
For general information please contact:
Fran Chasen, SCC-CAAEYC Programs at scc.caaeyc@gmail.com
Registration and attendance at, or participation in, SCC-CAAEYC events and other activities constitutes an agreement for SCC-CAAEYC, or anyone authorized by SCC-CAAEYC, to record and use, as SCC-CAAEYC may desire in its sole and absolute discretion, all recording and reproductions or depiction of such exhibitor's, or attendee's name, likeness, voice, persona, words, actions, and /or biography, which SCC-CAAEYC may make, including without limitation, the right for SCC-CAAEYC, or anyone authorized by SCCCAAEYC, to use such recordings, reproductions, or depictions in or in connection with any legitimate purpose, including for advertising, publicity, trade, and editorial purposes, at any time in the future in all media now known or hereafter developed, throughout the world.