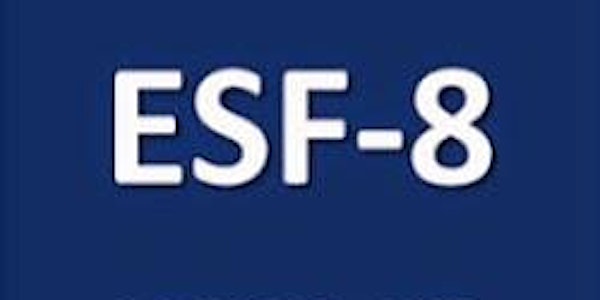 Amateur Radio in Public Health & Medical Services (ESF #8)
This seminar will focus on amateur radio support for ESF 8 functions during a disaster where normal methods of communication are impaired.
When and where
Location
Cooper Hospital University Med Center 1 Cooper Plaza Camden, NJ 08103
About this event
Public health and medical services are stressed by surge in the event of a disaster. Loss of external services, especially communications can further increase the load on healthcare services. Natural disasters have crippled infrastructure in many major cities this past year. Puerto Rico went weeks without basics like food and water. It took weeks to restore electrical service and communications. The middle of a disaster is not the time to be developing new communications solutions. Facilities, counties, township must prepare in advance to handle a catastrophic infrastructure collapse.
This symposium is an opportunity for the Amateur Radio community and Health Care professionals to come together to learn, discuss and shape the future of ESF #8 disaster communications.
Seating for this event is limited to 250 people.
Presenters:
Robert E Bruninga (WB4APR) Bob has a long and distinguished career as a senior research engineer at the Aerospace Engineering Department, US Naval Academy. He developed APRS as a global, on-air protocol for supporting handheld position reporting and text messaging via VHF radio. APRS was developed as a real-time local tactical communications system for rapidly exchanging digital data of immediate value to operations. This really took off when GPS became available and MAPS were integrated into the system for tactical situational awareness of everything in the net. In the 18 years since its introduction, it has grown to encompass just about every aspect of Amateur Radio. Bob is also a member of IEEE National Committee on Transportation and aerospace Policy and Electric Vehicle Association of DC in conjunction with his work on Solar powered Electric vehicles. Bob will be talking about APRS & Solar operations during a disaster.
Joe Everhart – (N2CX) Joe is a retired RV design and systems engineer, having work in the land mobile two-way radio, aerospace and defense industries. He had many varied assignment, many involving remote communications sites, vehicular, military command sites and the International Space Station, with antennas and equipment across the RF spectrum from LF through microwaves. He has participated in many facets of amateur radio and has always included portable and mobile operation. Starting in his early days, he was often involved with Civil Defense, RACES and emergency communications both in setting up stations and amateur repeaters and participating in public events and emergency drills. In addition, he has made presentations at national hobby symposia and published over 100 articles in radio amateur hobby publications, many dealing with amateur made equipment and antennas. Joe will be discussing Antenna Technology, Propagation and how to successfully deploy NVIS antennas.
Randy Smith (WU2S) – Randy is a retired information security professional and avid experimenter. Randy became interested in amateur radio after several years of shortwave radio listening in the 1980s. He passed his advanced class test in 1989 and several years later he upgraded to Extra as WU2S. He became involved with mesh networking using Broadband-Hamnet on Linksys routers in 2013 and contributed to the testing of version 1.01 on Ubiquiti equipment at the end of that year. He later wrote detailed installation instructions for the firmware. His activities with mesh networking include participating in a number of local events where capabilities for Voice-over-IP, text messaging and video surveillance are demonstrated to public officials. Randy continues to test new versions of AREDN firmware on a wide variety of gear. He deployed and maintains AREDN nodes on the Fair Lawn Amateur Radio Club site on the 900 MHz, 2.4 GHz and 5.8 GHz bands. Randy will be presenting the Amateur Radio Emergency Data Network using low cost commercially available Wi-Fi equipment to support local and regional communications during an emergency.
Cory Sickles (WA3UVV) – First licensed as a Novice over 40 years ago, he enjoys exploring various facets of amateur radio, from the latest state of the art technologies, to the elegant simplicity found with a one-tube transmitter and straight key. He has an extensive background with computers and likes to restore 8, 12 and 16-bit classics from the 1970s. He owns a television production company and creates series programming, as well as marketing and training videos. Corey is a manufacturer representative for everything Yaesu. He will be discussing how Yaesu system fusion can be deployed in a disaster to support healthcare.